Bring Mac OS X 10.7 Lion Text Editor To Windows 7 With Lion TextEdit
TextEdit is a Mac OS X word processor and text editor which comes pre-installed with Mac. TextEdit was a replacement for the legacy text editor known as SimpleText. Mac OS X Lion TextEdit for Windows is a portable Mac style text editor for Windows which can be used as an alternative to the native Windows Notepad. This Mac's TextEdit clone is yet another third-party attempt to create an application which aims to mimic features of a Mac application. Some other examples include, the previously reviewed PhotoBooth and JumpPad.Mac OS X Lion TextEdit for Windows is quite a simplified replica of the Mac version and provides all the functionalities which one would expect in a common text editor. Its interface completely imitates the native Mac TextEdit design. Some additional features which make it different from Windows Notepad, is role TextEdit windows instead of minimizing them and the option to change button style on the main interface. The diagnol imaged arrow button isn't mean to turn Mac OS X Lion Full Screen Apps like mode On; clicking it will roll up the entire interface.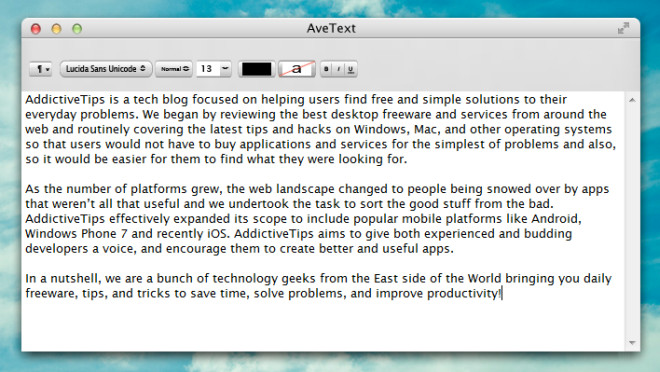 It comes with 2 themes which can be switched by right-clicking the toolbar followed by selecting the theme. The default theme is default which seems quite similar to Mac's TextEdit default skin.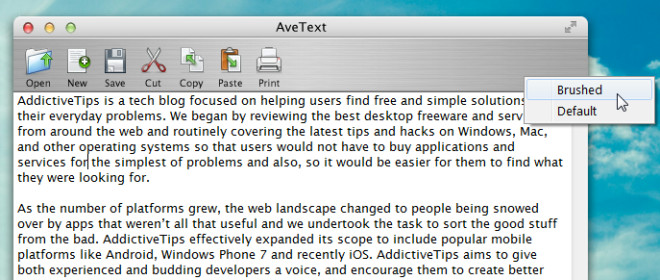 It is worth mentioning here that  unlike the feature rich Mac TextEdit application, Mac OS X Lion TextEdit for Windows only saves files in TXT format. It's in early development stage and the developer has assured of adding more features to make the upcoming versions better. At the moment, the Windows TextEdit might not have a lot of robust features but it does provide a stylish Mac style interface and Window rolling feature to keep multiple notepad windows on the screen. Give Mac OS X Lion TextEdit for Windows a try and see if you find it more classy than the default Windows Notepad. It works on Windows XP, Windows Vista and Windows 7.
Download Mac OS X Lion TextEdit for Windows (The developer removed the app so we have hosted it on our servers)