BurnAware Free: CD/DVD/Blu-ray Disc Burning Software
BurnAware is a free disc burning application which is capable of  creating and burning audio CDs, video DVDs and ISO images. We first reviewed it back in 2008. You can also use this application to format rewritable discs and copy your CDs/DVDs to ISO images. It offers four different sets of features; creating data CDs, DVDs and Blu-ray discs, burning multimedia files to CDs and DVDs, creating disc images, and formatting discs.
It offers a simple interface, presenting all disc burning features under one platform. You do not have to navigate across complicated options and features. The Data section refers to creating and burning Data on CD/DVD or Blue-ray Disc. Clicking Boot Disc will let you create a boot able disc. In multimedia section, you can burn audio CDs, MP3 discs, and DVD-videos (again, very easy to make your choice). You can use image creation options to create images (ISO) or to burn images to CD/DVD/Blu-ray. Rewritable files can be erased using Erase utilities.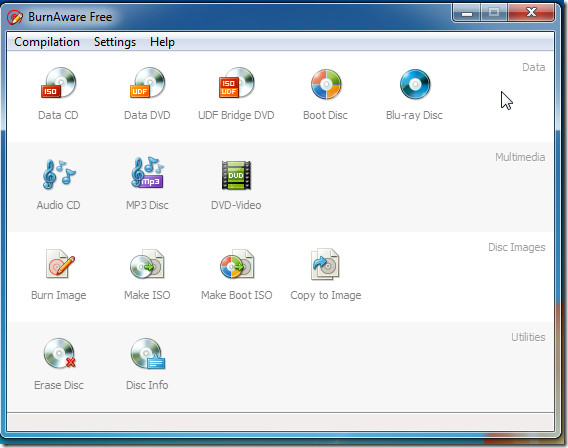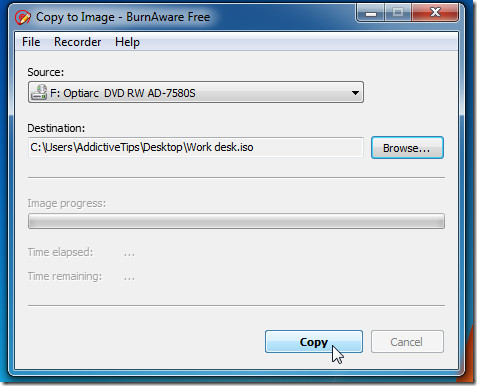 The application offers several useful features, gathered in one pack. Perhaps, the most interesting feature of this program is its simple interface. All options have been configured to provide amateur as well as professional users with an easy disc burning experience.
It supports Windows XP, Windows Vista and Windows 7. Testing was carried out on Windows 7 x86 system.
For more, you can check out Nero BurnLite 10 and BDDecrypter.