Quickly Backup Data Onto Or Off A USB Drive With Drive Backup
Drive Backup is an opensource tool for backing up data onto or off the USB drive. The application serves the need of creating backup quickly without much effort involved. It backups all the specified data onto/off to drives whilst keeping the folders/files hierarchy.
It offers two backup schemes. Usage is simple, it sits in system tray to detect a USB drive. Once the drive is plugged in, it will automatically notify user to start backing up the data. The main interface doesn't have many options to confuse you. All that is required is to add new drive as backup drive. Click the respective button and follow the procedure and specify the folders/file to be backed up.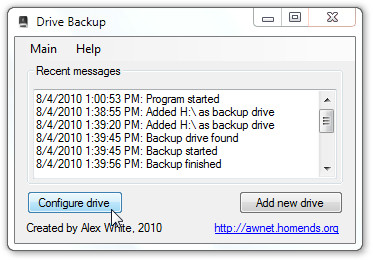 Changing drive configuration helps you in choosing a direction of backup (from or to USB drive). Once drive is configured, next time you wont need to do much, it will automatically start creating backup of specified files and folders.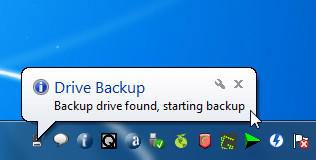 The application is suitable for users who frequently need to backup data onto or from USB drives. Once drive is selected, it automates the process of data backup without requiring any input from user.
It runs on all Windows based OS, we tested it on Windows 7 x86 system.
Download Drive Backup (Mirror)
For more, check out BackUpAnyWhere