Cascade Windows Console And Change CMD Colors With ColorConsole
Users who deal with Windows CMD utility every day hate not having enough options to change colors, open multiple windows quickly, use tabbed interface, open Windows CMD in web browsers, etc. Today we have come across yet another previously featured Console-like alternative for Windows Command Line Interpreter, called ColorConsole. Aside from adding colors to background of Windows CMD window, it incorporates a slew of GUI related features to make working in Windows command line environment not only easier but productive too. Additionally,  it offers MDI based multi-tabbed interface which lets you open multiple tabs to work at multiple locations, cascade opened CMD windows in main interface, and send whole CMD interface as HTML page to default browser.
ColorConsole also contains a list of most frequently used one-click accessible commands such as, Ping, tracert, cd, tree, dir, help, etc. You can add as many commands as you want to your favorite list and edit existing list as well. The toolbar holds a command input box to directly run commands without setting focus at desired CMD insertion place. Adjacent to command box, you have options to set font styles and change font color and font background color.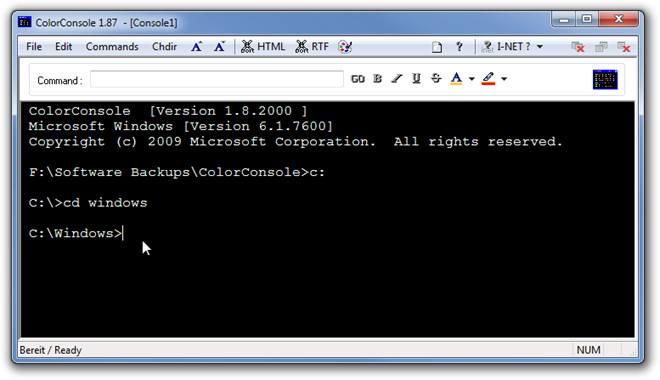 When you want to add another tab, click New from File menu. However, you can open a new cascaded window in ColorConsole UI by double clicking the tab title bar.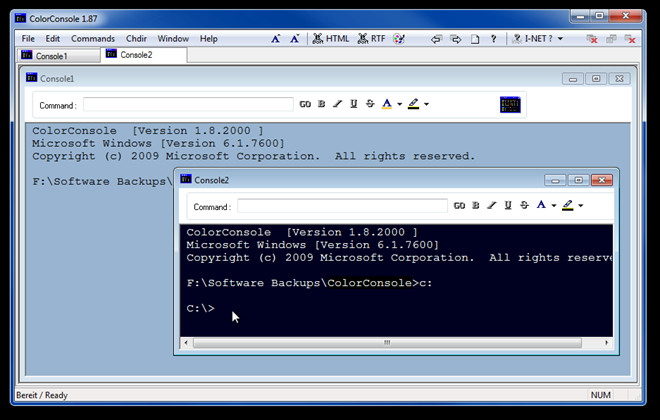 Next to font size options on toolbar, the HTML options enables you to open CMD window in browser by sending the HTML page request.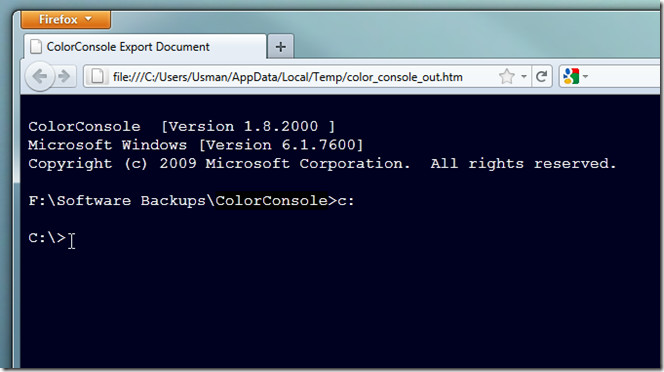 The Chdir menu allows you to open disk drives locations instantly. You just have to select the path from menu to open in current console. ColorConsole brings numerous UI related enhancements to Windows ever-boring CMD utility, however it's not that much feature-rich as recently covered Console.