CheckDrive: Quickly Perform Thorough Hard Disk Scan
When it comes to checking your disks for a complete scan, you might have several options and tools to go around with, each hosts several options, features and scans either track-wise or sector-wise inspection of disk drives. Check Drive is simple portable utility which offers both simplicity and efficiency in checking and repairing your hard disk for bad sectors, errors, and other anomalies.
Since it is a portable application, so hassling with installation is not in the books. All you'd need is to launch the application with administrative rights and specify the disk to be scanned, you also have an option for thorough disk scan (including surface scan) which involves sector-wise inspection & recovery. At the left side of the window, you can also enable Correct errors option to fix them in realtime. Once all settings are in place, Click Check Drive button at the lower part of the window.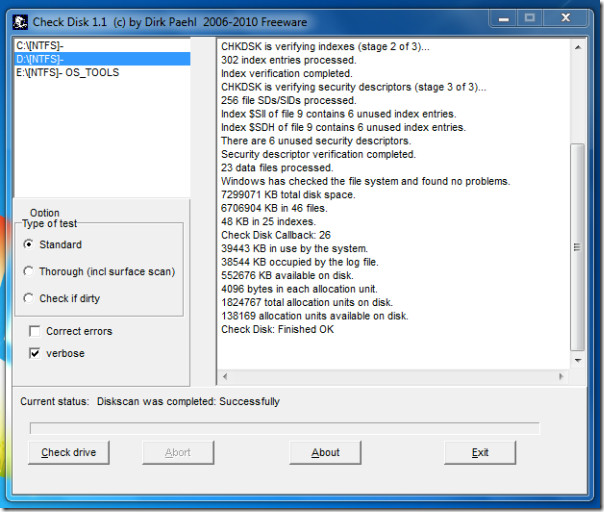 It will provide you with all scanning-relevant information including; indexed entries, processed data files, file system relative issues, etc. It also supports almost every type of Removable drives and Optical discs, etc. Though Windows has build-in scanning tool, which is quite efficient as well, but the mobility factor and speed it offers is remarkable which comes in useful to quickly find out disk health & for fixing bad sectors, errors, etc.
It runs on all Windows based OS, including the latest Windows 7. Testing was carried out on Windows x86 system.
Download CheckDisk (Softpedia link provided since author does not have direct product page)
For more, you can check out RecoveryDesk and VueScan.