Taksi: Take Screenshots & Record Videos Of Games
Taksi is an open source utility which allows you to take screenshots and record video clips of your favorite games and other 3D-graphics application. It also supports user-defined key mapping and allowing them to register hotkeys to quickly either capture screen or to start recording video in uncompressed HD AVI file. It is inspired from Fraps, which offers the very same options for taking screenshots and recording video.
As it is built to work in backend, hassling with too many options is not required. It has a simple interface which will easily let you start the process in question. To begin with, launch the application and run the game (must supports DX8, DX9 or OpenGL). At the top-left corner of the window if you see the green rectangle then it will be able to hook in the game. Once game is hooked with it, you can either start taking screenshots or record a video by pressing pre-defined hotkeys. The nifty little interface will also let you record the video, pause it anytime or stop the video to save in specified location.

Before starting out with it, it is recommended to change the default settings and configurations. Click the Config button at the left side of the application window to bring up advanced settings dialog. It contains multiple tabs to change relevant settings, under Directory tab, you can specify captured video and screenshot location, enable debug logging along with its prefix. Under Format tab, you can specify FPS (Frames Per Seconds) rate, specify video codecs to be used, enable half sized video frame, etc. From Hotkeys tab, you have an option for registering hotkeys for App Hook Mode, toggle Indicator, starting/ending video recording, standard and for small screen capturing.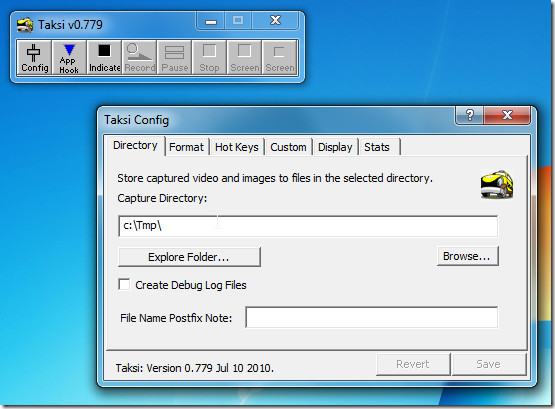 Under Custom and Display tabs, you can specify Frame weight and frame rate for certain applications like Pro Evolution Soccer, Gaim, etc, and configure other hooking options.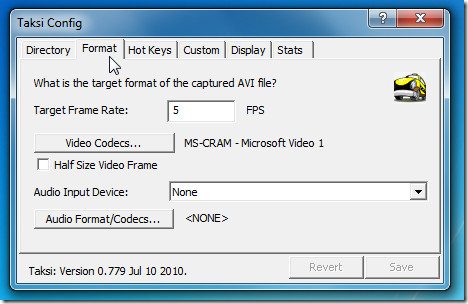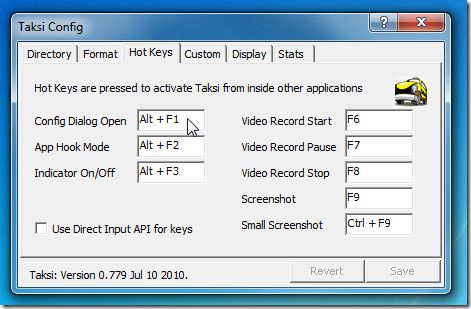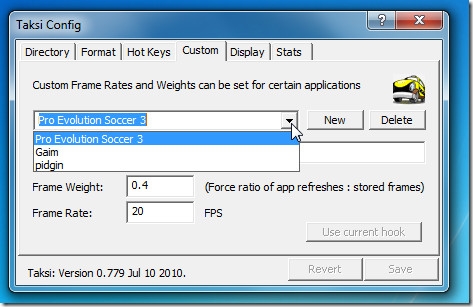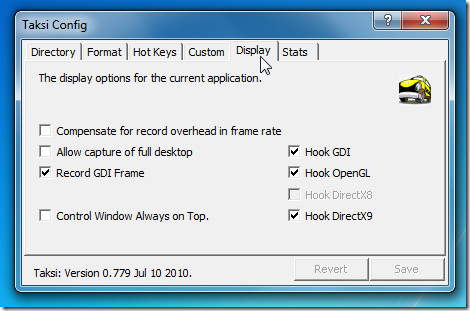 All-in-all, it is one great application which addresses the problem users have found out in Fraps, such as, not being able to use user-defined codecs. Being an opensource application, advanced users can tweak to make the most of it. If you're a big games buff and require one great application to record/capture screenshot of what you've or will be achieving, give this application a shot.
It runs on all Windows based OS, including the latest Windows 7. Testing was carried out on Windows 7 x86 system.