How To Choose Individual Files To Download From A Torrent
Torrents have a really bad name and they are usually referred to alongside piracy. There's no doubt that some torrent sites do facilitate movie, software, and game piracy but that doesn't automatically make torrents evil. That said, say no to piracy. As I said, torrents aren't all bad and if you're looking for a particular file to download, one that you can only find bundled with significantly larger files, you're likely going to be in for a long wait while they all download. If you use uTorrent to download torrents though, you can selectively pick out which file it is you want to download from a large torrent file. Here's how.
Open uTorrent and under the Options menu, select Show Detailed Info. This will enable a pane to appear at the bottom of the list of active, queued, or seeding torrents.
Next, find the torrent file you want to download and start the download. Once the initial check is complete though, pause the download and click the Files tab in the Detailed Info pane. Here you can see a complete list of files included in the torrent file.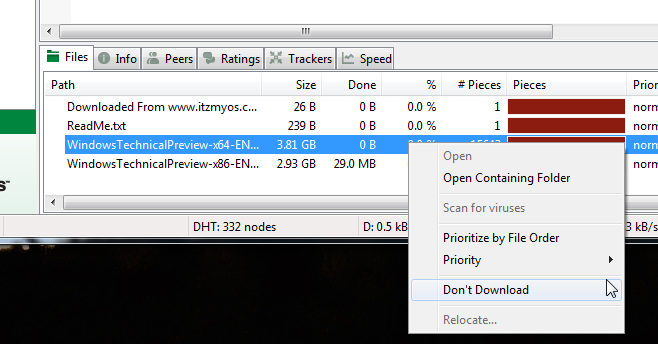 Each file in that torrent is listed along with its size and name. Right-click the file you don't need and select 'Don't Download'. In the Priority column, this file's status will read 'Skip'. Repeat for all files you don't want to download and then resume downloading the torrent.

It's likely you can do this on other torrent clients if the feature is supported.