Compilation Of 6 Kickass Free Antivirus Software
Antivirus software has a constant battle to weed out the malicious malware and spyware out of your system while users are forever inundated with new releases and updates. This post picks up the best free antivirus softwares based on its virus detection abilities, features, and breadth of protection. Each of the following product provides superb virus protection for Windows-based PCs. Because every system is unique, evaluate several of these antivirus products to find the software best suited for your PC and your level of experience. This post aims to provide a brief review on the Top free Anti-Virus Suites available in 2008.
AVG Antivirus V 8.0
AVG has always been praised for its simple and easy-to-use user experience and the new interface is still very clean and simple with a cool blue color scheme and tabbed/module-like interface allows for quick interaction. The new SafeSearch Link Scan feature checks search results when you use one of the major search engines against AVG's database for known malicious sites. It is definitely a great feature for today's web users who have to be careful to dodge potentially dangerous sites where your computer could become infected with viruses or spyware. Overall, AVG 8.0 is a must have anti-virus program if you are in the market to upgrade your old AVG or switch from another program.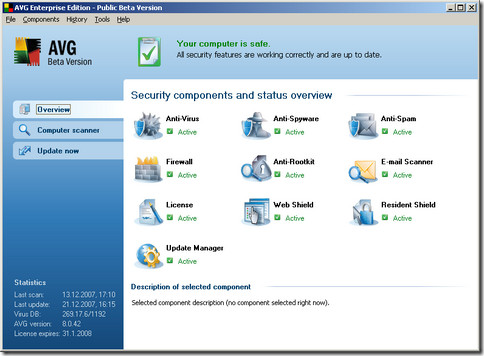 Download [ AVG Antivirus ]
Avira AntiVir Personal
The free version of Avira's AntiVir is probably all you need to keep your computer free of viruses. Consistently rated in the top five for effectiveness and is also low-profile which means that it spawns only two background services and if there weren't a system tray applet to access the program, you probably wouldn't even know it was running. It's interface is easy to use for beginners unlike some of its competitors which make it difficult to access advanced settings, it also gives you all options with a simple switch to expert mode. Probably AntiVir's neatest trick is auto-scanning directories as you navigate though them.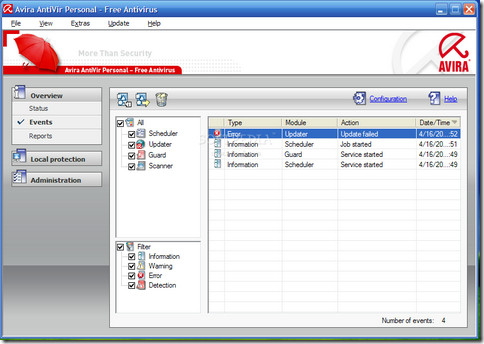 Download [ Avira AntiVirus ]
avast! 4 Home Edition
AVAST 4 Home Edition installs an interface that could be described as either clever or cumbersome, depending on your point of view. Borrowing on the WinAmp-style skins, the look can be changed by downloading a new skin from the vendor's website. Regardless of the skin, however, it's less than intuitive for those who prefer a standard Windows interface with easy-to-browse menus. AVAST 4 Home Edition is the only one of the free scanners to offer scans on bootup. This can greatly increase the chance of removing stubborn infectors, particularly those that use resuscitators to thwart removal attempts. All the protection elements on offer are easily configurable, easy to understand and can be operated even by the most novice of users.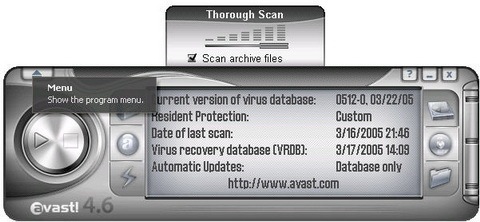 Download [ Avast Home AntiVirus ]
ClamWin Antivirus
ClamWin is a Free Anti-virus for Microsoft Windows 98/Me/2000/XP and 2003. ClamWin has high detection rates for viruses and spyware. It has automatic downloads of regularly updated Virus Database. You may schedule or launch scans at your whim. A right-click menu choice provides more-selective scans of specific files or folders. ClamWin Free Antivirus also offers integration with Microsoft Outlook for inspecting message attachments that could be carrying dangerous code.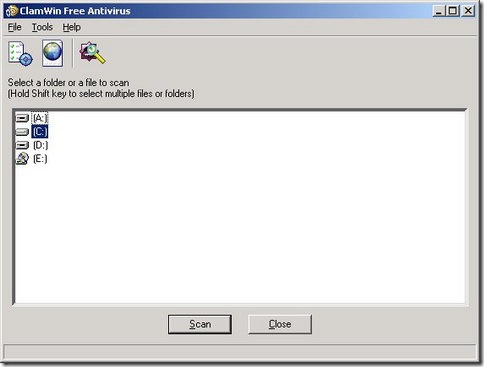 Download [ ClamWin ]
Comodo AntiVirus
Comodo AntiVirus is a free offering from the suit of freeware tools that is produced by Comodo, it can detect and eliminate viruses from desktops and networks, constantly protects with real-time On Access scanning, has a heuristic scanning tool, blocks malware before it can run and daily updates its virus definitions.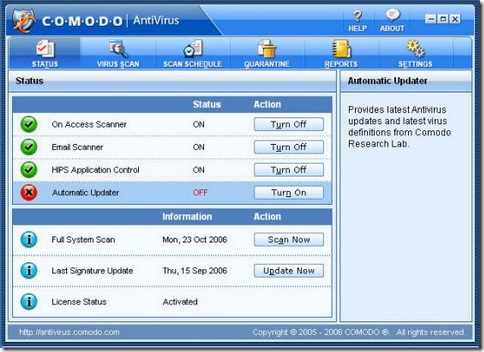 Download [ Comodo ]
Bit defender
Bitdefender also offers its own version of free antivirus and it features an on-demand virus scanner, which is best used in a system recovery and is ideal for users who connect to the internet on a regular basis, however it's not for users who are "always-on" the internet because it does not offer a realtime scan. It also comes with other features such as Skinable Interface, where you can customize the looks of the scanner. Also included in this version is the "Quarantine" and "Report" feature. In Quarantine you can isolate the infected file to reduce the risk of your other files and in the Reporting feature you can check the statistics of your last scan.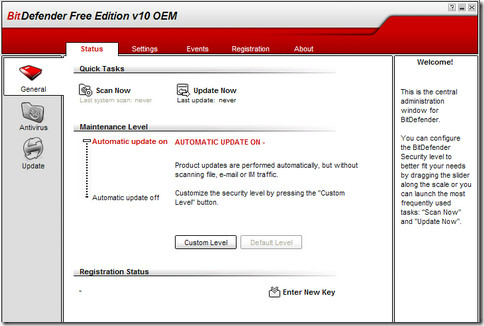 Download [ Bit Defender Free Edition ]
These Antivirus softwares will help you stay secure from trojans and viruses. If you think I have missed any software or would like to add something, feedbacks are welcomed.