Create Windows Aero Stylish Tiles To Replace Desktop Icons With AeroTile
AeroTile is a portable application designed to provide you with stylish tiles, which can be used as a replacement for conventional desktop icons. It contains the option to create Aero based tiles for many useful Windows utilities such as My Computer, Control Panel, Administrative Tools, Documents, Downloads, Music, Pictures, Common Videos, Network, etc.
Launch Aero Tile and select the items to create tiles for. Close the application after selecting desired options for the tiles to appear on your desktop. If you would like to create a tile for Public Folders, then choose the "Common" options. For example, you can create a tile for your Public Downloads by checking the Common Downloads options. On the contrary, to create a tile for local user paths, select options such as Downloads (instead of common downloads).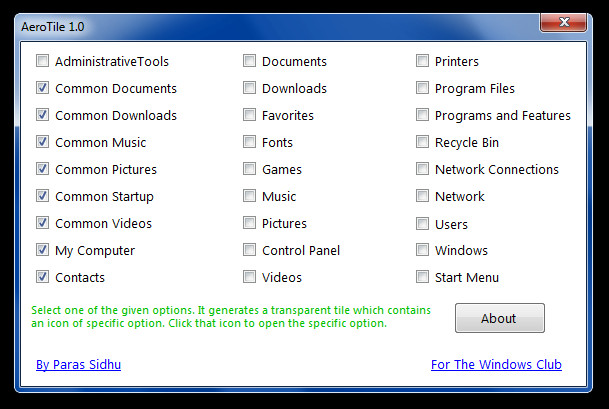 Once the tiles appear, you can drag them around to place them, in a convenient location on your desktop. It must be noted that you might find the tiles to be a bit larger than desired. We hope that the developer provides a customization option for changing the tile size in the future.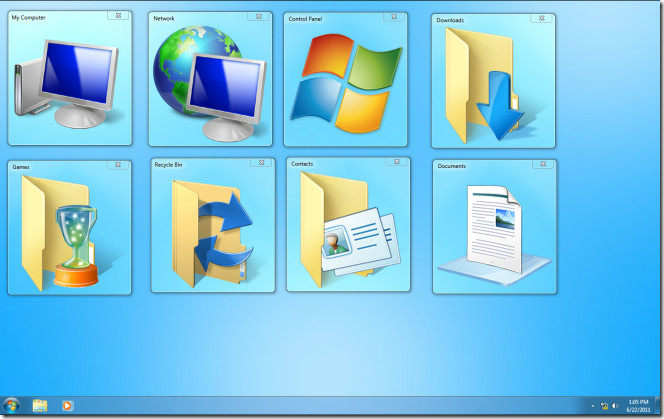 AeroTile works only on Windows 7.