Delete Obsolete Application Data From Your System With AppCleaner
The widely acclaimed system cleaning applications, like CCleaner, Glary Utilities, Advanced SystemCare, etc., often fail to completely remove junk from the system, which compels user to try other cleaning utilities to ensure that the left over data of uninstalled applications and obsolete files are no more present in the system. AppCleaner is a freshly baked junk cleaning utility, allowing you to scan system for applications' data, Temp directories, hidden locations containing junk files, browsing history and traces, etc. In addition to pre-listed applications and system paths, it lets you specify folders which are to be scanned during the cleaning process for junk data. Unlike CCleaner, it allows you to select all the important Windows registry locations to remove junk entries in order to optimize the registry structure. Similarly, a host of Windows locations can be included in cleaning process, which includes, FTP accounts, Recycle Bin, Windows Explorer's MRU lists, Chkdsk File Fragments, User Assist History, Old Prefetch data, Menu Order cache and so on.
On the main screen, you will see all supported applications under Apps tab. Next to Apps, Browsers, Registry and Windows tabs are present to scan system for respective elements. It supports 3 browsers, namely, Firefox, Google Chrome, and Internet Explorer.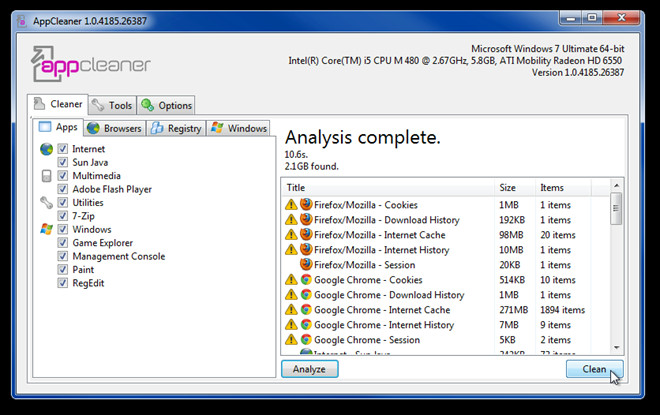 AppCleaner includes Uninstall, Startup and System Restore managers. The Uninstall Manager lets you not only uninstall applications but allows deleting uninstalled applications entries from the list as well. This enables user to forcibly clean those applications which due to some reasons couldn't be removed from Windows Add/Remove Programs list. The Startup Manager lets you deactivate and delete the application/script that runs with Windows logon, whereas, System Restore allows you to remove selected system restore points.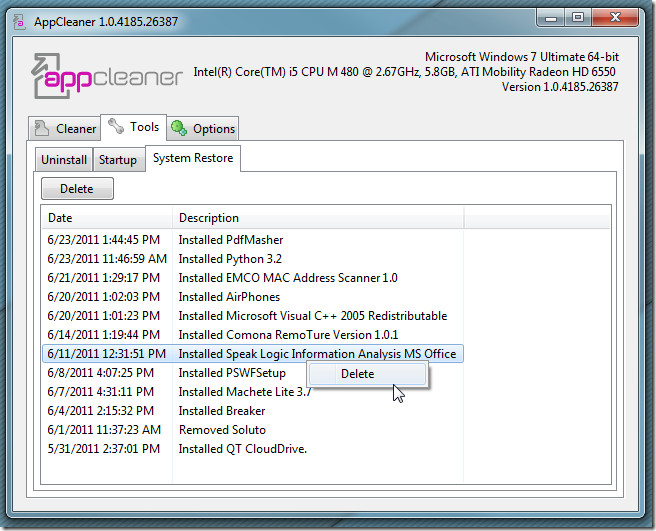 From Options tab, you can select file and free space deleting methods along with drives which you want to scan for irregular free space. Here, you can also create ignore list to exclude specified locations from junk cleaning process, and conversely, list those folders which you want to thoroughly scan for junk data. AppCleaner works on Windows XP, Windows Vista, and Windows 7.