Mixxx Is An Awesome DJ Music Mixer Software
Mixxx is an opensource feature-rich & full-fledged DJ software contrived especially for Disc Jockeys to create mixed music. As DJs are always on the frantic look out to fuse list of squiggly musical pieces, this one provides hundreds of options and features to let you insert and customize intrinsic sound qualities. It includes thousands of pre-defined sounds which you can easily change & customize according to the tone of music playing at background.
Usage is a cinch as it is targeted towards amateur & professional DJ alike. The snappy and full of stunning aesthetics interface will give you indelible experience of making DJ-mixed music. The left side bar (Channel 1) holds the main controls including playback options, REV wave controls, and mixed –sounds SYNC controls. At the lower part of the bar, you have 4 essential DJ-mixes, each carrying different wavelengths that you can insert in original musical piece.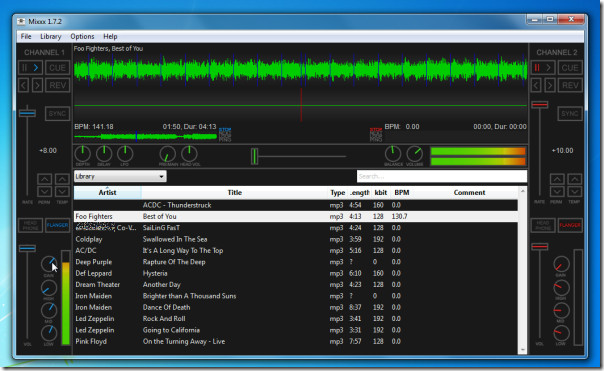 You can add music files whenever required, however, on first time usage it lets you choose music archive path to populate its library. Above the library area, it shows basic info along with other fusion controls to insert Depth, Delay, and  LFO. You will also find Volume & Balance control here.
At right-side, Channel 2 bar can be seen which further includes same controls as in Channel 1. To use both channels, from the library, right-click the song and select Load in Player 2. This will load the song instantly with one being played in Channel 1. Once loaded, you can insert different wavelengths in it  by handling different controls.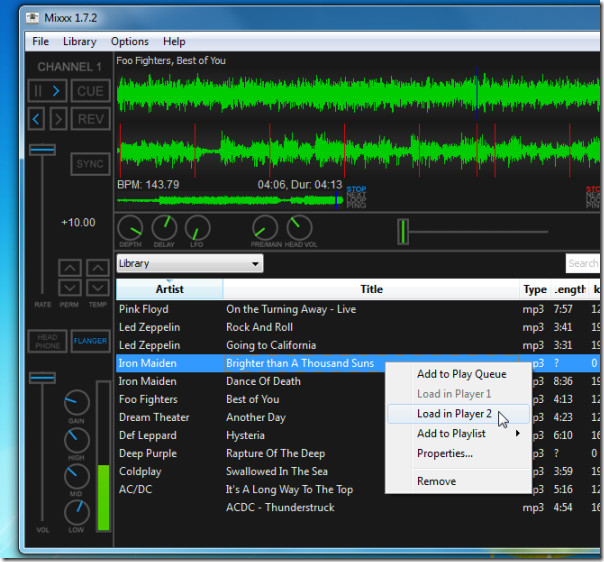 The slider beneath visualizations will let you to mix the two songs being played in the background. Move the slider across to fuse two musical pieces promptly while other mixed sounds being enabled.
For configuring advanced options, under Options click Preferences. You will be able to customize each functionality it offers and configure basic hardware-related settings.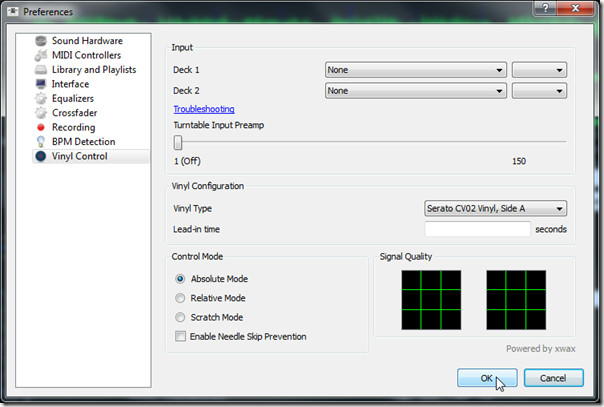 To put in a nutshell, it is one awesome DJ software that comes with stunning broad layout. The features, sound controllers, and ability to fuse two musical pieces makes it one worth using application for mixing music. If you're a DJ and haven't been lucky with other DJ mixer available, give this one a shot.
It runs on all Windows OS including the latest Windows 7. Testing was carried out on system running Windows 7 32-bit.
For more, you can check out previously covered Aviary's Music Creator and 2710 DJ.