BB FlashBack Express Is A Free Windows Screencast Video Software
For those of our readers that often find themselves marveling at some computer geek showing off his computer screen in a tutorial video, and wondering how he managed to do that, or for those people who want to make such videos themselves or record a screencast, webcam feed, etc, we present the solution. BB FlashBack Express is a free software that allows recording of screen, sound and webcam, sharing the recorded videos and export them as Flash or AVI files.
The software is straight-forward and easy to use. It records videos in its own .fbr format, and comes packaged with a player to play these files. After the installation, the first run will bring you to this rather annoying prompt.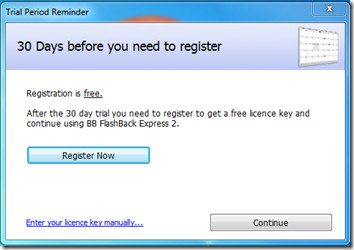 While you can skip it for the first 30 days by just clicking continue, it is advisable to go through the free registration process, since this prompt will continue to nag you every time you use BB FlashBack Express.
Once done with the registration prompt, you get the simple startup window.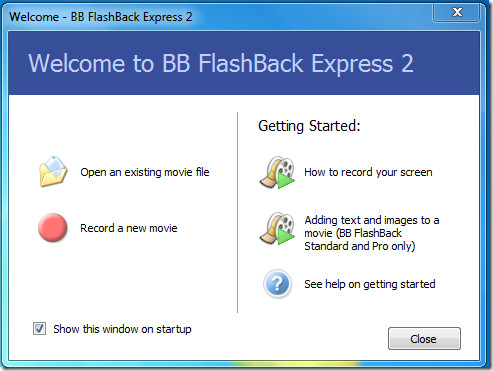 The Getting Started links will take you to online video tutorials, which are useful enough. On your left hand you get the option to either record a new movie or open an existing one. If you choose you record a new one, the setup/options begin.
The first step requires you to set you display settings. You can choose which display to record (in case you have multiple ones), change resolution and more options.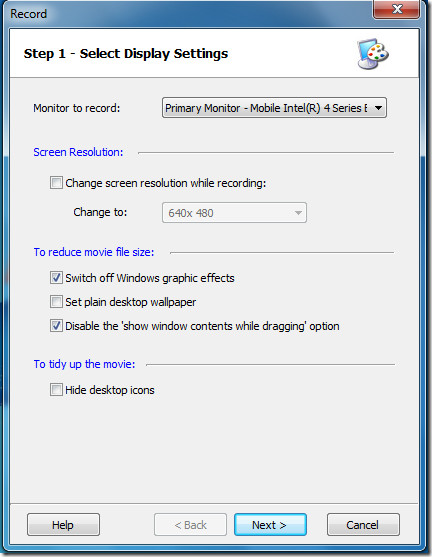 The second step gives sound recording options. You can have the sound input either from microphone, from PC speakers (which essentially record whatever playback is happening), or other sources, if any. Also define the sound format, channels, and level of compression.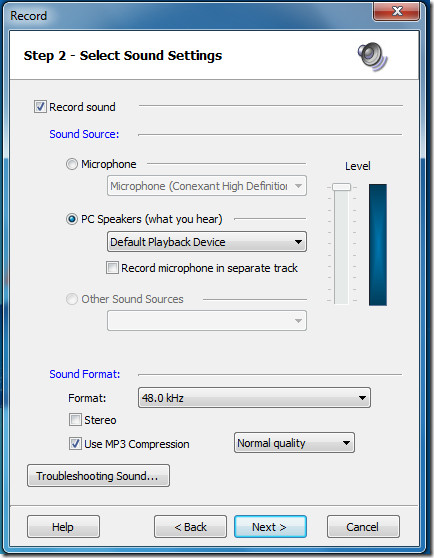 Next you get to choose whether to include webcam capture in your output file. Format control is again present here.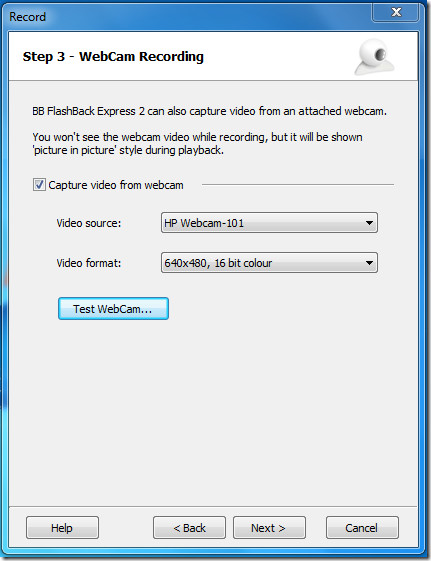 Step 4 defines the recording mode. This is specially applicable to Windows 7 and Windows Vista users, since these operating systems use the Aero interface. Selecting GDI recording mode here will capture the Aero effects and you can also boost the performance, but note that this will considerably increase your output file size.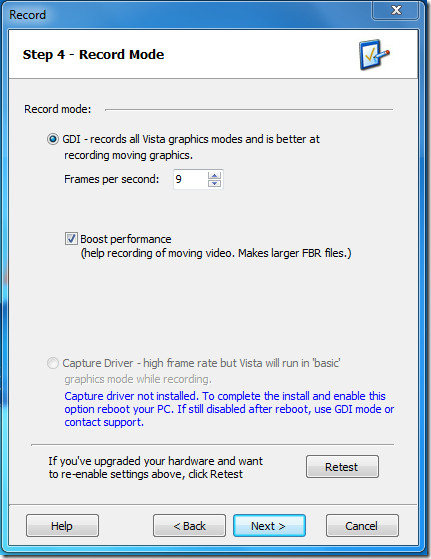 Step 5 presents the options dialog, where you get some advanced controls over file size, keystroke recording etc.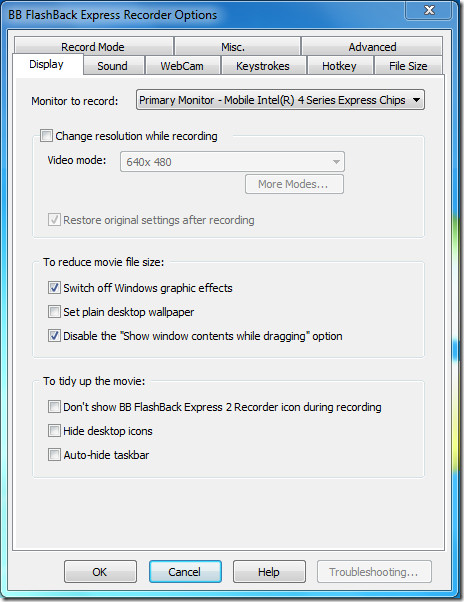 Finally, last step defines the region of capture. You can choose between full screen recording, windowed recording or a certain region of your display to capture. Also control the recorder toolbar positioning in this step.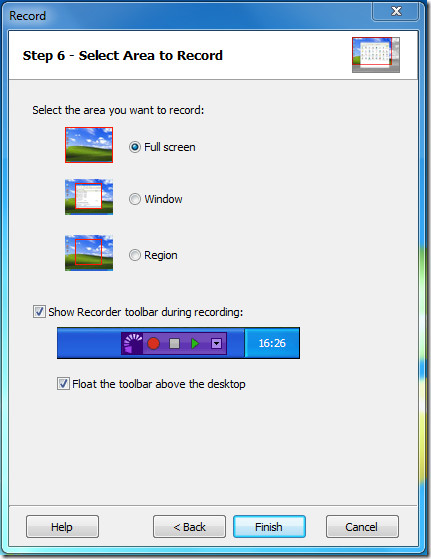 Once all the configuration steps are complete, click the record button to start screen capture. Depending on your selections, your webcam and microphone may become active.

During recording, the floating recording toolbar allows control over the process, and you can either pause the recording at any point or stop it. Stopping will prompt the program to ask you whether to save the screen capture or discard it.
Once you have gone through all the configuration steps, it would be wise to use the quick record feature, which lets you bypass all the six steps in between and begins recording based on the last used configuration. As you may notice, you also get a set of other quick-use functions through the floating recorder toolbar.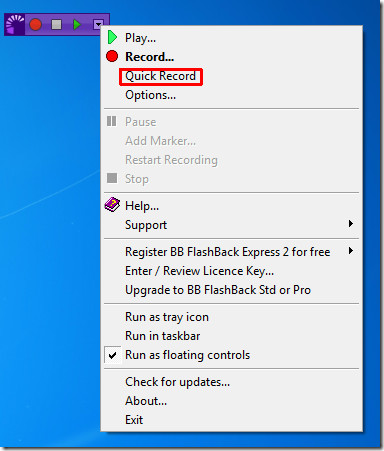 Finally, the software comes with a player to review your screen captures. It offers thumbnail navigation for easy reviewing, and offers some basic control over what to include. A timeline view is present, as shown in screenshot below.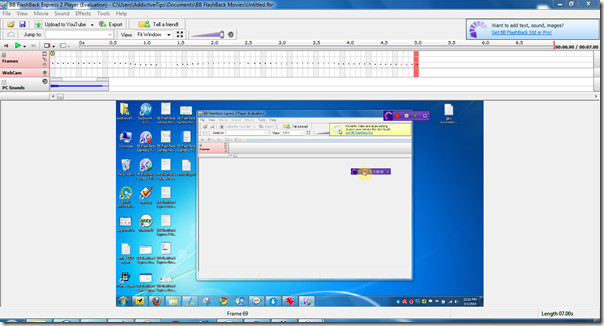 Once you are satisfied with your recording, you can either upload it to services like YouTube and Revver etc, or export it as an SWF or AVI file.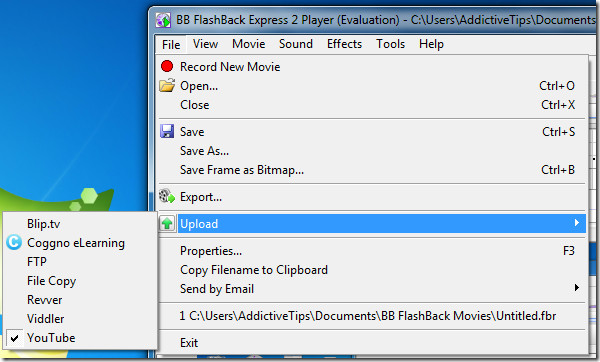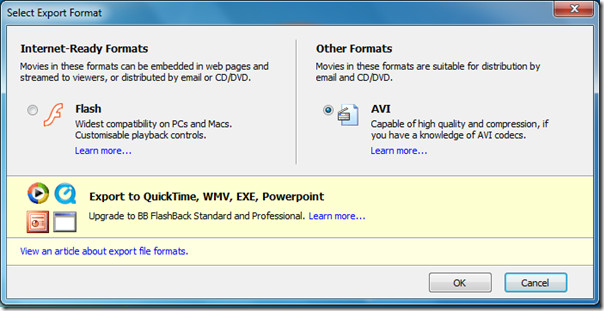 BB FlashBack Express is a must-have for those who would like to capture screen, sound and/or webcam for any reason. It's free, easy to use and allows a great set of options in its free version. The program also comes with two paid versions, Standard and Pro, which add additional layers of sweet features like video editing and annotation, more export formats etc.
You can also check out our previously reviewed minimalist screen cast tool Free Screen To Video.
BB FlashBack Express works with Windows 7, Vista, XP, 2003, and 2000, with both 32-bit and 64-bit architectures.