How To Enable / Disable Windows 7 System Protection
Windows 7 includes System Protection feature that allows users to restore unwanted system changes without having to use Windows installation disk. It creates backup of system and user files that you've modified, so you can easily pick and use any previous version of files. It basically creates and saves information about your computer's system files and settings on a regular basis. This feature saves all the modified files and other data to System Restore Point. In order to restore all previous versions of files, all you need is to use the Windows default Restore Point utility to restore the settings as well as files. By default, it is enabled on drive where Windows is installed, but you can enable it for other drives as well. To enable / disable Windows 7 System Protection, please go through the following steps.
First of all right click the Computer icon on your desktop and choose the Properties option, a new dialogue box will be displayed, here you will click the System protection option which is located in the left side menu bar.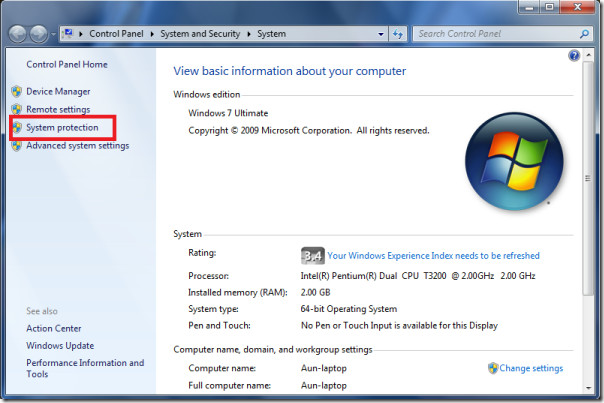 Now, in the System Properties dialogue box, choose the disk on which you want to enable the function of System Protection. Just as an example, I have chosen D drive, click the Configure button to proceed further.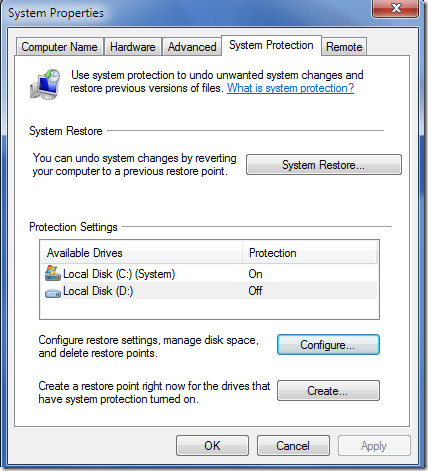 Select the option Restore system settings and previous versions of file and then click Apply, you can also limit the maximum disk space used by this feature in the  Max usage option. To disable it, check Turn Off System Protection.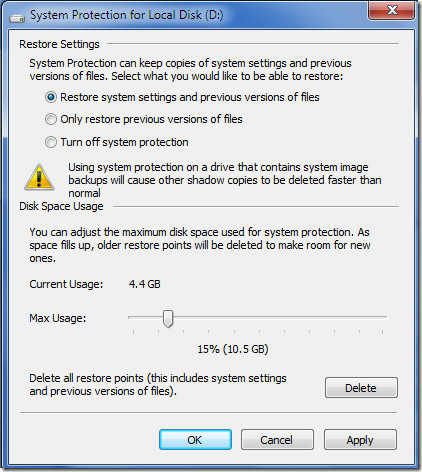 Click OK and the system protection feature will be enabled/disabled on the particular drive, if you want to read about system restore points then you can find some useful information here. Enjoy!