How to Uninstall Chromium and Get Rid of It From Your Computer
Chromium is the open-source web browser project used by Google to create Google Chrome. It has an interface and functionality similar to Chrome, allowing you to navigate the Internet and take advantage of privacy features. You can set it up on any operating system, including Windows and Mac. It's also possible to install Chromium on Linux.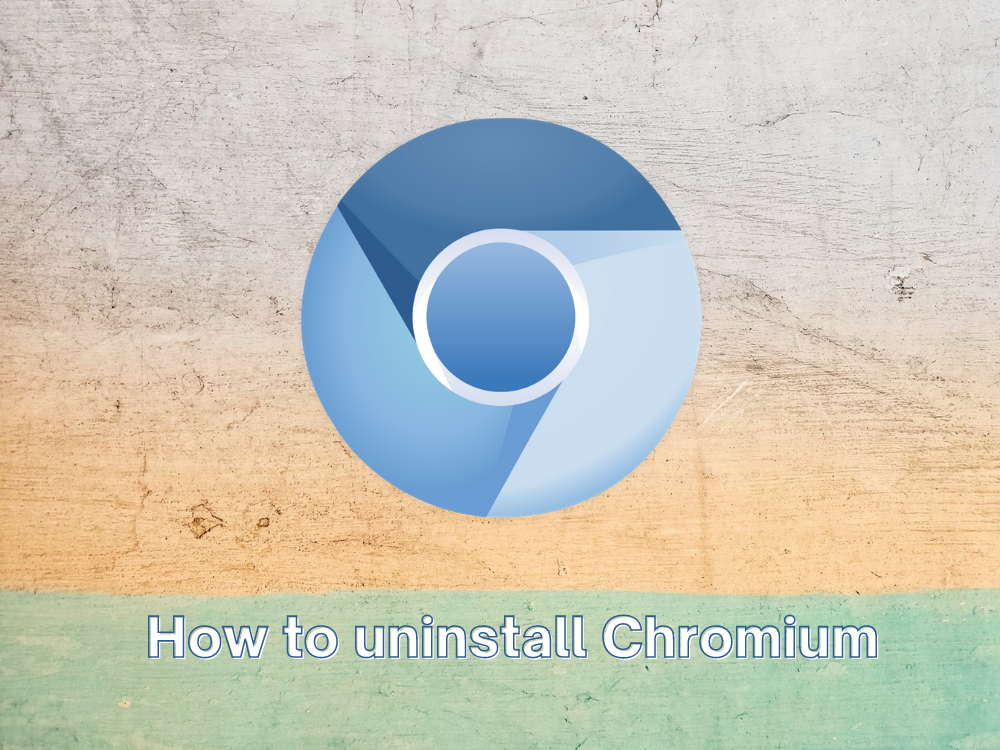 Being an open-source application means that anyone can use and modify the source code to create a personalized web browser based on Chromium. Notable examples include Microsoft Edge, Brave, Vivaldi, and Epic Privacy Browser.
However, Chromium becomes a threat when used for malicious intent. If you downloaded a suspicious web browser based on Chromium, it could end up changing your computer settings and ruining your browsing experience. The only solution is to uninstall Chromium and restore your browser settings to default.
Unfortunately, many users report that Chromium won't uninstall. It may seem impossible to get rid of it when the software application wasn't delivered with an uninstaller. Nevertheless, you can still explore some options to find out how to remove Chromium. And, if everything else fails, you can roll back Windows 10 to a previous restore point.
Signs that your Chromium-based browser is infected with malware
It's essential to keep in mind that Chromium itself isn't a malware agent. For example, if you download and install Chromium right now from the official website, your PC will be safe.
If you want to point fingers, then you should take a look at the software developers who take advantage of Chromium's stellar reputation for malicious gain. Examples include BoBrowser, eFast, Olcinium, Pelikan, and Qword.
Here are some telltale signs that your Chromium-based browser is harming your operating system:
You find traces of Chromium on your computer although you don't remember installing any application that uses the open-source project
Your default web browser was changed to Chromium although you haven't given it explicit permission to do this
Your default search engine was suddenly modified to something you don't recognize, even in your trustworthy web browsers like Chrome or Edge
Your web browser session is flooded by extensions, popups ads, and URL redirects when you start the Chromium-based application
How to uninstall Chromium on Windows 10
If the Windows built-in uninstaller doesn't seem to be effective at removing Chromium from your Windows PC and keeping it at bay, it's not necessarily its fault. It's quite possible that the malicious agent has left various triggers that force the reinstallation of Chromium as soon as it detects any attempts to eliminate it.
You just have to be more thorough when it comes to closing the Chromium processes, uninstalling the browser, and deleting all associated items.
1. Force close all Chromium apps
Click End task
2. Remove Chromium using Control Panel
Find and double-click Chromium. Click Yes to confirm and proceed with its removal
If you can't spot Chromium, click the Installed On column to sort the installed programs by date (newest first)
Double-click the first application you don't recognize to uninstall it
If you want to be thorough when it comes to uninstalling Chromium, you should resort to a third-party programs uninstaller for Windows. In addition to removing a program, it finds and gets rid of all leftover files and registry entries.
3. Delete Chromium leftover files
Switch to the View tab
Select Show hidden files, folders, and drives
Press Win key + E to open Windows Explorer
Type %appdata% in the address bar to open this folder
Explore the Local and Roaming folders to find and delete anything related to Chromium or the application you just uninstalled
Locate the setup file of Chromium or the associated program and delete it
4. Fix browser settings and get rid of Chromium redirects
If your web browser keeps redirecting you to Chromium, here's how you can easily fix it. The following solutions will also get rid of any suspicious browser extensions and reset your search engine to default.
How to restore Google Chrome settings:
Open Chrome
Click the More button on the top-right corner
Scroll down and click Advanced
Click Reset settings to confirm
Relaunch Chrome
How to restore Mozilla Firefox settings:
Launch Firefox
Click the ≡ hamburger button on the top-right corner
How to restore Microsoft Edge settings:
Open Edge
Click the More button on the upper-right corner
Go to Reset settings on the left side
As a shortcut, you can visit the edge://settings/resetProfileSettings address
Relaunch Edge
4. Restore your default web browser
Click the entry at Web browser and choose the default browser app you prefer
Uninstall Chromium — it can be done
In conclusion, if you can't uninstall the Chromium browser from your computer the traditional way, you just have to arm yourself with patience and be a little more thorough.
For instance, you should close all Chromium processes using force, remove the browser using the Windows 10 built-in uninstaller, delete any leftover files, as well as restore the factory settings of your reliable web browsers.
How did you manage to finally get rid of Chromium on your device? Did we miss any important steps? Let us know in the comment section below.