How to Fix the Orange Screen of Death on Windows 10
The Orange Screen of Death (OSOD) is a rare event that happens on Windows 10 when your computer stumbles upon an issue and shuts itself down in an effort to prevent data loss and corruption.
It can be triggered by a hardware or software error, such as an incompatible driver or a malfunctioning RAM card. Fixing the orange screen issue is not that different from repairing a blue screen problem.
Whatever the cause of the orange screen might be, you can fix the issue without having to turn to outside help. And you don't need special PC experience either, as long as you follow the instructions below.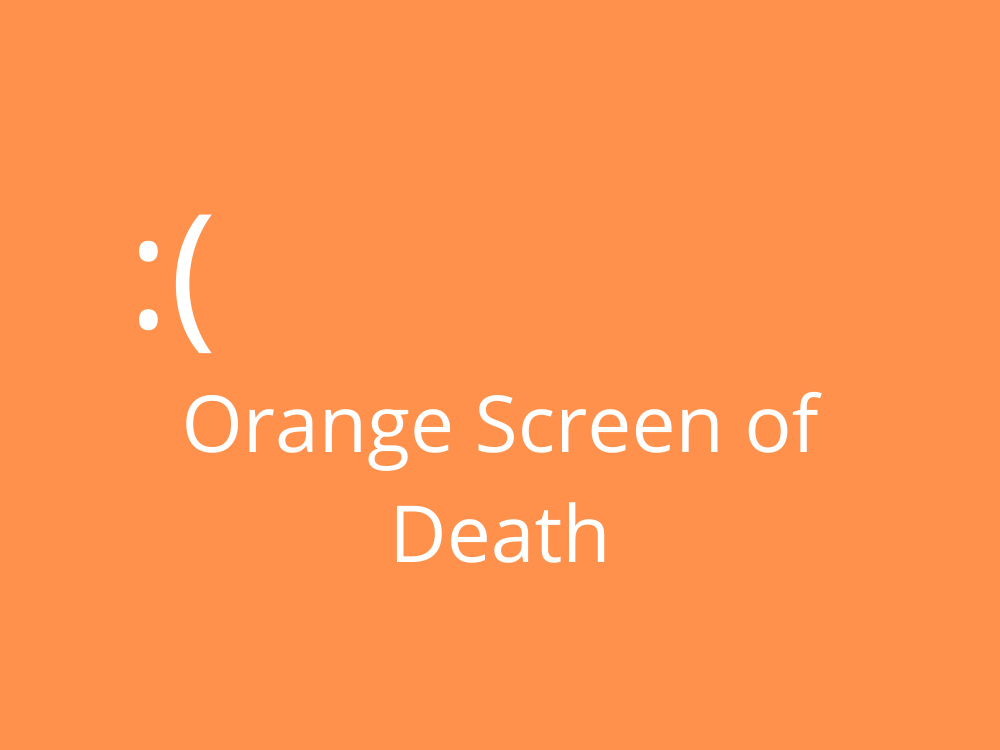 How to fix Orange Screen of Death errors on Windows 10
Before getting started, it's recommended to create a system restore point if your operating system allows you to access that part of the PC. It makes it possible to roll back Windows 10 to a stable checkpoint in case you need to undo your changes and start from scratch again.
1. Reboot your computer
It's a simple action that fixes the orange screen issue more often than you realize. If you can't reach the shutdown screen or it doesn't work, just press and hold the power button until your Windows 10 PC turns off.
Then start it up again and check if you still get the OSOD. If the problem isn't persistent, then there's nothing major to worry about. Otherwise, you should proceed to the following solutions on this list.
2. Unplug new peripheral devices
Certain hardware components aren't fully compatible with Windows 10, depending on the specifications of your computer. If you have recently purchased or received new gear as a gift, it could be the reason why your display turned orange.
To fix this issue, just detach all new hardware components from your computer, especially the ones that require a USB port, including Wi-Fi adapters, headphones, and pen drives. Then, restart your computer to see if you still get the orange screen.
It's also possible that at least one of your USB ports is malfunctioning, which could also lead to the orange screen problem. To easily test this, just plug the external device into a different port to see what happens.
If your USB ports are damaged, you should stay away from them until they get repaired and use a multi-USB adapter in the meantime. On the other hand, if there's something wrong with the new device, you should contact the manufacturer.
3. Disable your overclocking software
Numerous PC users turn to overclocking tools to amp up the GPU, CPU or RAM, especially gamers who need to get more juice out of their operating system. However, overclocking means turning up the heat on your hardware.
And if your desktop or laptop isn't equipped with a powerful cooler, this can lead to serious problems. As a result, Windows 10 shuts itself off and shows the orange screen as a precautionary measure to prevent data loss and corruption.
But you can fix this problem by disabling any third-party overclocking programs you installed on your computer. If you enabled overclocking mode in BIOS, then you need to disable it. Check out the next solution to find out how.
4. Reset BIOS configuration to factory settings
If you or someone else with access to your computer used BIOS mode to configure options, there's a small chance that it messed up with critical system settings, triggering the Orange Screen of Death as a result.
For example, it happens when trying to overclock your PC. However, you should be able to fix this issue by resetting the BIOS configuration to default settings. Here's what you need to do.
How to restore BIOS to default:
Restart your computer
Before Windows boots, press the key shown on the screen to enter your PC's BIOS mode
In BIOS, access the advanced settings
Locate the option that resets configuration data and enabled it
Save the current BIOS layout and exit
Wait until Windows boots and check if you still get OSOD
5. Update BIOS
Another way that BIOS could cause trouble to your computer is by being obsolete. If you have never updated BIOS or too much time has passed since then, don't postpone it any longer. It could be the reason why your screen turns orange.
How to update BIOS:
Go to the System Summary area
Visit your BIOS manufacturer's website
Look for a newer BIOS version that's compatible with your PC
Download and unzip the file to a USB flash drive
Restart Windows and enter BIOS mode
Create a backup of the current BIOS version and save it to the same flash drive
Deploy the BIOS update and follow the on-screen steps
Wait until the update is complete and don't shut down or reboot your PC during this time
Start Windows and check if you still get the orange screen
6. Uninstall Duet Display
Duet Display is a software application that turns iPads into Mac monitors, designed for users looking for a multi-display setup. It also has a Windows edition.
However, because it uses hardware acceleration, the tool is known to cause orange screen issues. More specifically, it has a component called Ddkmd.sys, which triggers Windows stability problems.
If you do have this tool installed on your Windows 10 PC, make sure to remove it. Then, restart your computer to see if this fixed the OSOD.
7. Uninstall softOSD
softOSD is also a Windows application related to graphics, which provides an OEM for managing your display. However, just like Duet Display, softOSD has been reported to cause system errors that led to the orange screen.
To get rid of this problem, make sure to remove softOSD. On the other hand, if the Windows 10 built-in uninstaller prompts you to delete the sds64a.sys file, skip that step so that you can keep that item on your hard disk.
8. Check your graphics driver
Your graphics card driver might be directly related to the orange screen issue. Maybe the GPU card is not properly connected to the computer unit. Otherwise, it might have an incompatible or obsolete driver.
Whatever the case may be, you should check the graphics driver for compatibility issues. Here's what you should do.
How to quickly reinstall the graphics card:
Open the Display adapters category
Click Uninstall to confirm
Restart your computer. Windows 10 will automatically install the GPU device
How to update your graphics driver:
Head over to Device Manager
Reboot your PC and check for orange screen issues
Microsoft usually fails at locating newer drivers through Windows Update. In this case, you should write down the make and model of your graphics device, visit the manufacturer's official website, then find and download a newer driver.
After doing this, you can retrace the steps above to click the Uninstall driver option. This time, however, select Browse my computer for drivers instead of the automatic search. Just point to the downloaded driver file and let Windows do the rest.
If you don't want to go through all this trouble and risk downloading an incompatible driver, you could turn to a driver update tool. You can use it to regularly update all your drivers by finding and installing newer versions automatically.
In case you accidentally installed a driver that's not compatible with your GPU, you can roll back changes, provided that the previous version still exists on your PC. Here's what you need do to.
How to roll back your graphics driver:
Head over to Device Manager
Switch to the Driver tab
Click Roll Back Driver and follow the on-screen instructions
If the button is greyed out, there's nothing you can do except finding and installing an older version of your GPU driver
Click OK
Restart your computer and check for OSOD errors
9. Reset game settings to default
Many gamers have reported that they started receiving the Orange Screen of Death after tweaking the in-app settings of their games or gaming platforms like Steam. If you're one of them, you should revisit your game properties to restore everything to the factory configuration.
After doing so, reboot your computer, launch your game with default settings, and check if you still get OSOD errors. You might have to update your GPU card to permanently fix this problem.
10. Run a clean boot
The orange screen issue could have been caused by a malfunctioning process, service, or driver. In that case, you can clean boot Windows 10 to create a safe environment by running only the mandatory software components.
How to clean boot Windows 10:
Go to the Services tab
Uncheck Hide all Microsoft services
In the Startup tab, click the Status column to sort all apps by status (Enabled first)
Repeat this step for all processes with the Enabled status
Restart your PC and check for OSOD errors
11. Uninstall suspicious software
We previously said how the Duet Display and softOSD tools have been known to caused the orange screen issues. But these aren't the only ones. There are many programs unsupported by Windows 10 that can lead to OS compatibility issues, including free antivirus apps and VPN services for Windows.
If your display first turned orange after recently installing a new piece of software, that could be the culprit. But you can fix this problem by removing new and suspicious programs from your Windows 10 computer.
How to uninstall recent programs:
Click Uninstall again to confirm and follow the wizard steps
Reboot your computer and check for OSOD errors
Unfortunately, certain pieces of software make permanent changes to the system registry when installing them on your computer, modifications that can be rarely undone without having to use System Restore.
Since the Windows 10 built-in uninstaller isn't capable of detecting and fixing registry modifications, we suggest opting for an app uninstaller that gets rid of all leftover files and registry entries.
12. Uninstall recent Windows updates
Certain system updates aren't fully compatible with Windows 10 and they may cause problems. If your computer screen started to turn orange after a recent OS update, then you should remove it to restore the stability of your computer.
How to remove recent system updates:
Double-click the first update in the list
Reboot your computer and check for OSOD errors
13. Use System Restore
If you have created a system restore point before you started getting the orange screen problem, you can roll back Windows 10 to fix all computer problems that led to this issue, assuming that it's a software error.
However, keep in mind that all software applications installed after that restore point will no longer exist on your PC, so you have to reinstall them.
How to use System Restore:
Select a restore point and click Scan for affected programs to see the exact applications that will be affected by this modification
If a recent checkpoint is not on this list, select Show more restore points
Click Next and follow the instructions
Restart your PC and check for OSOD errors
14. Check your disk space
System Restore, Windows Update, web browsers, and other tools require a certain amount of disk space to be available all the time. Otherwise, they will fail to work properly and could even lead to the orange screen problem.
To fix it, you can either add more disk space to your main partition or remove existing files. Adding more disk space is possible by using a partition manager to shrink the size of another drive and allocate it to the Windows partition. You don't need to install any third-party tools since you can use Windows Disk Management.
How to use Disk Management:
Press Win key + R, type diskmgmt.msc, and press Enter
Once returned to the main window, right-click the Windows drive and click Extend Volume
Write the new partition size
Restart your computer and check for OSOD errors
An alternative solution is to remove existing files to clear the area for Windows. For instance, you can uninstall large applications and games you no longer play. When it comes to photos and videos, you can delete the ones you don't need and transfer the rest to an external hard disk.
If you still don't have sufficient disk space after this step, you can use a system cleaner to delete junk files. Or, if you don't want to install any third-party utilities, you can resort to Windows Disk Cleanup.
How to use Windows Disk Cleanup:
Log in to Windows 10 with the admin account
Review the Downloads folder and Recycle Bin to save or restore any important files since these locations will be emptied
Choose the operating system drive (usually C:) and click OK
Wait until the cleanup is over, then restart your PC and check for OSOD errors
15. Repair hard disk and system file corruption
Hard drive failure causes major computer problems, including the Orange Screen of Death. But you can quickly find and repair HDD errors by turning to CHKDSK (Check Disk).
However, if your operating system files are damaged, you should use SFC (System File Checker). More serious OS errors can be resolved by DISM (Deployment Image Servicing and Management), which checks the component store of the Windows image.
Windows 10 comes bundled with the three utilities, so you don't have to go through the trouble of installing anything else. They can be operated from the command-line environment.
How to repair HDD problems with CHKDSK:
Press Win key + R, type cmd, and press Ctrl + Shift + Enter to open Command Prompt with elevation rights
Run chkdsk c: /f if Windows is installed on the C: drive. Otherwise, replace c: with the correct partition letter
Type y to schedule CHKDSK at the next system boot
Restart your computer and wait until CHKDSK does its job
How to fix corrupt system files with SFC:
Launch Command Prompt with admin rights
Exit CMD
Restart your computer and check for OSOD errors
How to handle component store errors with DISM:
Open the console environment after applying admin rights
If it reports any issues, run DISM /online /cleanup-image /restorehealth to fix them
Reboot your computer and launch CMD as admin again
Run SFC and restart your PC
Check for OSOD errors
16. Run a malware scan
Graphics issues could be caused by a malware attack that hijacked your operating system and disabled critical processes. It's recommended to run regular scans on your computer and check it for malware. So, if you postponed it until now, you should proceed with a scan.
How to scan for malware using Windows Defender:
Wait until the scan is over. If it doesn't show any suspicious activity, run another scan using Windows Defender Offline scan mode
When the second scan is over, reboot your PC and check for OSOD errors
17. Use BlueScreenView
To get more information about the Orange Screen of Death, you can use BlueScreenView to analyze the minidumps left behind by the error. They should give you an insight into the drivers and other files involved in the system crash.
How to use BlueScreenView:
Download BlueScreenView from the official website
Open the app and locate the DMP file created by the OSOD
Discover the files involved in the crash, including drivers
Go to Device Manager to reinstall and update those files
18. Use Event Viewer
If you don't want to install a third-party tool like BlueScreenView to investigate the orange screen error, you can turn to the Windows Event Viewer instead. Here's how to use it:
Reboot your operating system right after your screen turns orange
Expand the Windows Logs folder on the left
Select System
Click the first error displayed in the list
Using this new piece of information, you can find more details online about the files involved in the orange screen system crash.
Orange screen issues can be fixed
To recap, the Orange Screen of Death is a pretty rare system crash issue that turns your display orange and shows white text on top of it. Sometimes it's accompanied by a stop code and it's usually triggered by software or hardware issues involving the graphics device.
To fix it, you can try to reboot your computer, unplug new peripheral devices, disable your overclocking software, reset BIOS configuration to default, update BIOS, as well as uninstall Duet Display and softOSD.
Furthermore, you can check your graphics driver, reset your game settings to default, run a clean boot on Windows 10, uninstall any suspicious software and faulty system updates, as well as use System Restore.
If that also fails, you can check your disk space, repair hard disk and system file corruption, check your computer for malware, or use BlueScreenView or Event Viewer to further investigate the OSOD error.
How did you manage to get rid of the orange screen issue on your Windows 10 PC? Tell us about your experience in the comment section below.