JetClean: Clean Clutter And Boost PC & Internet Performance
There are very few free system cleaners that also provide good optimization options to enhance system performance. One such example is the infamous Ccleaner, which is a widely used junk file remover. However,  it does not provide many system optimization features. On the contrary, other applications like Advanced System Care, which do offer comprehensive PC tune up, add many useful features only to their paid version. JelClean looks to fill that gap.
It is a lightweight system cleaner and performance optimizer that provides a large number of tune up options for enhancing many aspects of your system's performance. It can clean junk files, system registry, act as a trace eraser, remove broken shortcuts, clean RAM, uninstall unwanted applications, optimize start up, defragment system registry and boost internet performance. Although JetClean is present only with an installer package, however, once it is installed, you can create portable copies of the application to run it from a pen drive.
The main interface is pretty easy to understand, yet comprehensive. The 1-Click tab (as the name suggests) enables users to cleanup the system registry, junk files, application traces, broken shortcuts and to clean the RAM. Each section is pretty self explanatory, and provides a list of items that can be cleaned from the left side menu. You can select items to cleanse from this menu and click Scan Now to see the amount of clutter you can clean. Once done, click Repair to initiate the cleaning process.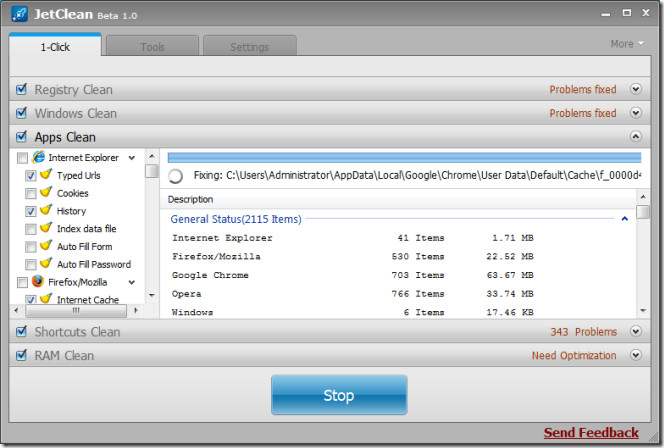 Similarly, the Tools tab provides many useful options such as system information of the installed operating system, processor, graphic card and storage type, peripheral devices, etc. This section also has a built-in uninstaller, which lists each kind of software in separate categories including, toolbar, recently installed items, large programs, windows updates and All programs. This way, you can easily identify and uninstall unwanted applications.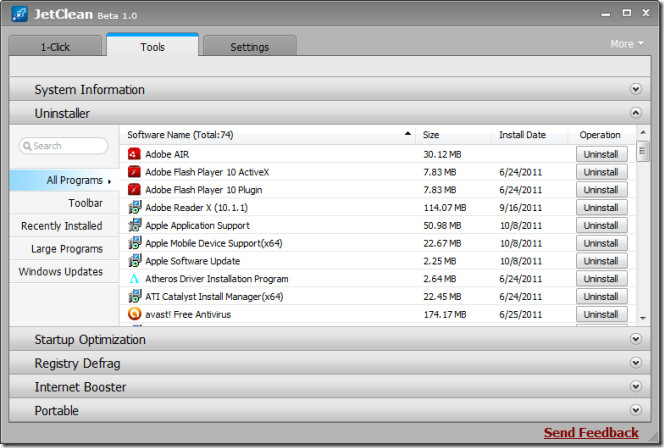 The Startup Optimization section allows you to control which programs should start with system start up. Here, you can disable programs to avoid longer boot times. This section clearly lists the amount of memory and startup status of each application to help you determine the programs that can be prevented from automatically kicking in once Windows starts to load.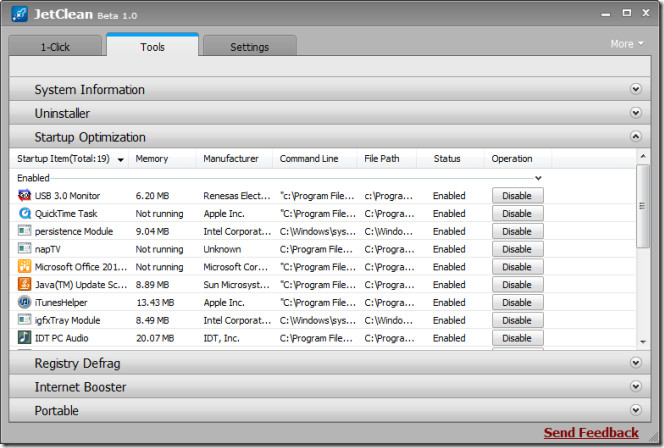 The good thing about JetClean is that it enables purging the registry by two means, i.e., by cleaning unwanted registry entries, and defragmenting it. This helps in resolving registry issues more efficiently. The Internet Booster section provides details about DNS pre-fetching and page loading performance, navigation error suggestion details, the local, hosts, DNS and netBT priority, LAN request buffer etc. You can scan and optimize your system performance by adjusting these settings in a single click, unleashing your internet connection's maximum potential.
In case you would like to make JetClean portable, head over to the Portable section, select a directory to save the portable version and click Generate.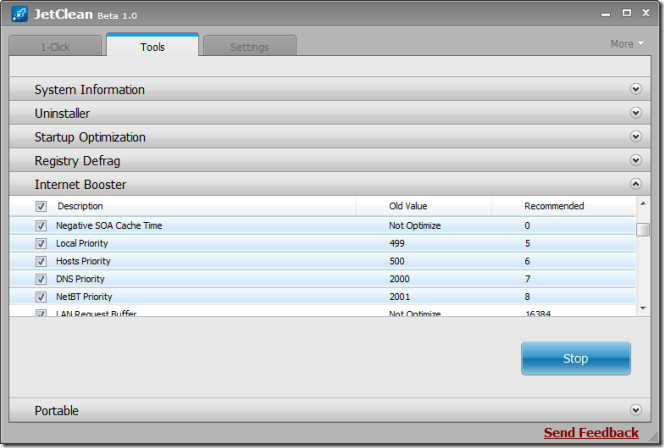 You can configure some generic settings for JetClean such as launching it with Windows start up, change it's interface transparency and scheduling cleanup tasks from Settings tab. Overall, JetClean holds enough promise to perhaps match GlaryUtilities in terms of performance and features. During testing, we found the memory stamp of JetClean to be a mere 6 MB (approximately), which makes it a significantly lightweight application.
JetClean works on Windows XP, Windows Vista and Windows 7.