We are reader supported and may earn a commission when you buy through links on our site.
Learn more
Are VPNs Legal in Germany? Here's what you should know
Whether you are a recently relocated expat or a tourist in Germany, chances are you are having trouble accessing your favorite content from back home on websites like Netflix. Although Germany is considered to have low internet censorship and high internet freedom, regional blocks get in the way of limitless internet access, and tie you down to content available to German users alone. A quality VPN will grant you a secure, anonymous, and geographically unrestricted connection to unblock the free and open Internet. With functionality like this, it's common to ask: are VPNs safe and legal in Germany?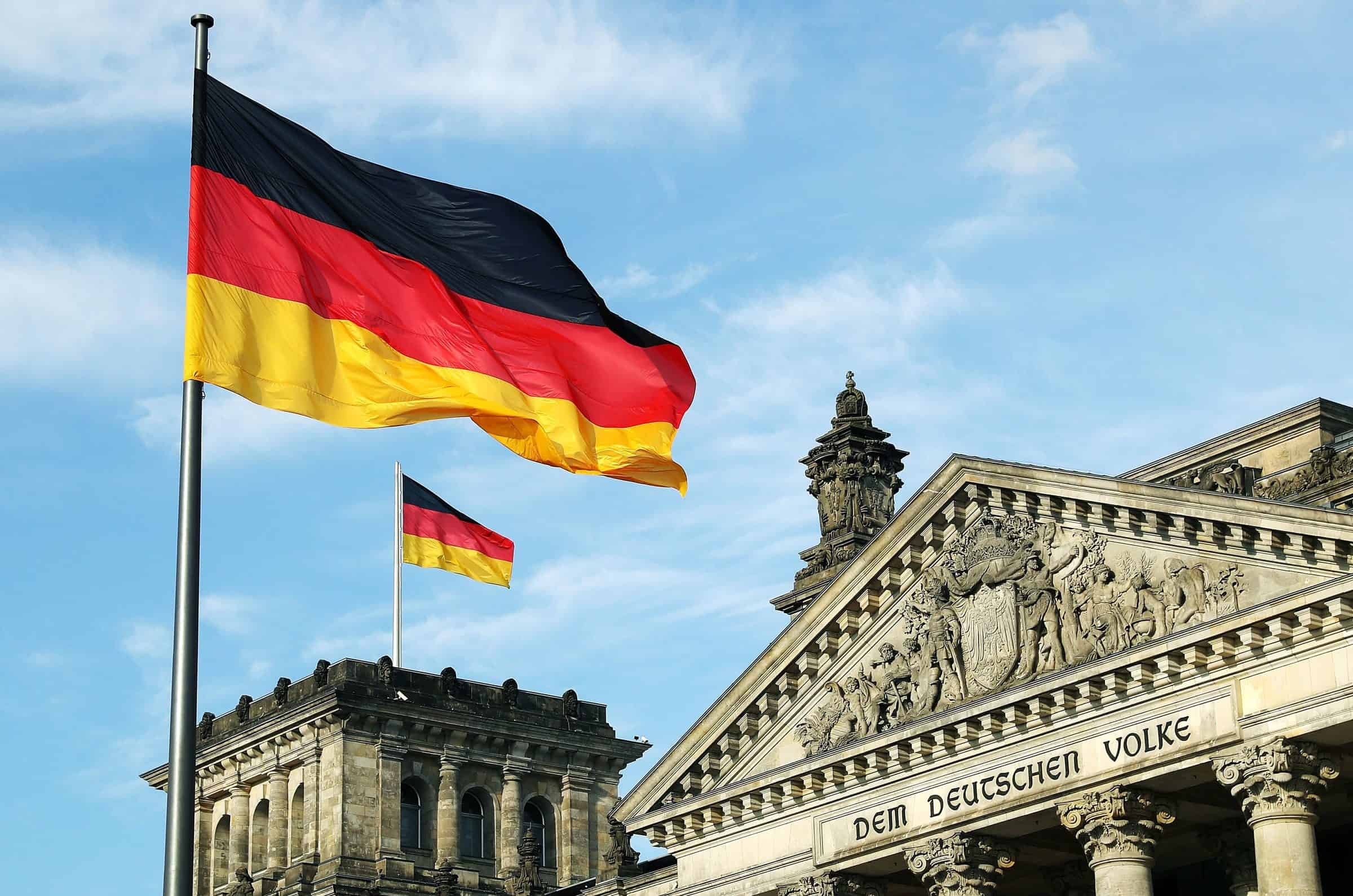 Going around regional blocks and, in turn, copyright laws – is this allowed? Now that you know that a VPN can help you access wider content libraries and keep your identity private, we will address the issue surrounding the service's legality. Furthermore, we will explain how to pick the right service, give you our top VPN recommendations, and delve into the details surrounding using a VPN in Germany.
Are VPNs legal to use in Germany?
Before we get you started with a VPN, it's important to address whether or not it is legal and, hence, worth it to German users. In a nutshell, VPNs are legal in Germany. There are no specific laws within the country that explicitly ban using a VPN. One of the main advantages of using a VPN is having your online data go through encryption which, consequently, keeps it private and prevents your connection from being tapped or monitored. Since Germany has some of the most solid privacy laws in the world, it only makes sense that using a VPN for safety purposes is not only allowed, but encouraged.
The other end of the coin, however, is more of a grey area. It just so happens that re-routing your traffic also results in a change of your IP address. This means that depending on the server you connect to, your geographical location changes and allows you to bypass regionally blocked or restricted content. Put simply, if you are in Germany but want to access the American Netflix library, all it takes is switching to a server within the U.S.
Copyright laws and infringement
This brings up a separate issue with breaching copyright laws. Even though VPNs on their own are legal, and there are no laws addressing their usage. Infringing on copyright and accessing content that shouldn't be available in your country can result in legal consequences. For example, if Netflix has a license to air a film in America but not in Germany, viewing said movie in Germany with a VPN wouldn't earn the copyright-holder any money and would be considered illegal. Having said that, in the past there has been very little evidence of government officials going through with prosecuting people who use a VPN for this.
Choosing the best VPN for Germany
Now that you are up to speed on the legality of the matter, let's take a look at some crucial VPN features that will allow you to establish a secure, reliable connection. With hundreds of service providers available, it's important to prioritize based on your internet needs. To help you out, below, we have outlined the criteria for picking the best legal VPN in Germany and explained why.
Top VPN recommendations for using a VPN in Germany
Now that you have prioritized VPN features based on your internet needs, take a look at our top provider recommendations for Germany.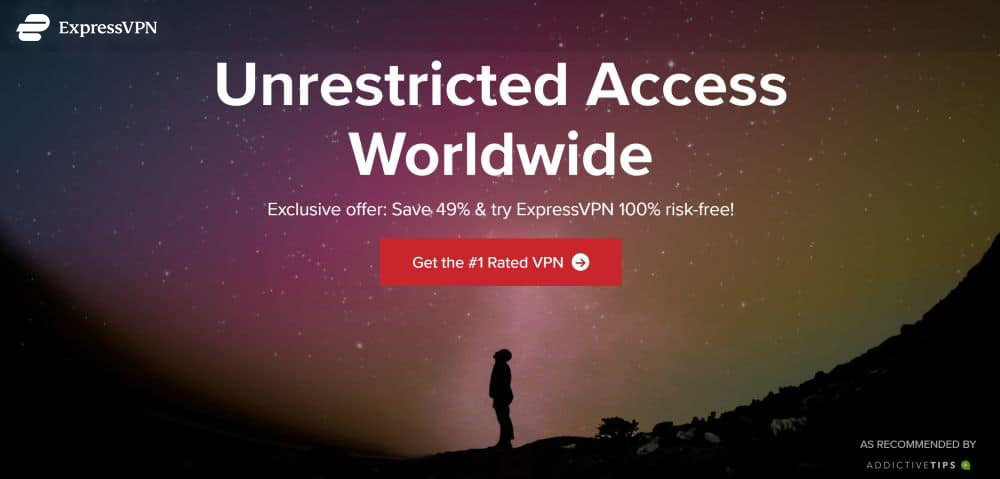 ExpressVPN, true to its name, is one of the fastest VPNs on the market. With 2,000+ servers in 94 countries, you will have plenty of connection options that will provide you with buffer-free streaming, fast downloads, and seamless browsing. Furthermore, with so many countries on the list, you can bypass regional blocks and access a wider catalogue of content from around the world. The service employs no limitations on bandwidth or speed caps, so you will be able to enjoy ExpressVPN all day, every day.
While the speed is ExpressVPN's speciality, it does not compromise on security in any way. The provider uses military-grade 256-bit AES encryption with five encryption protocols, including OpenVPN's UDP and TCP, as well as SSTP that beats hardcore censorship blocks. The no-logging policy on traffic, DNS requests, IP addresses, and even browsing history, will ensure that you remain anonymous online throughout the entire experience. Other important security features include an automatic kill switch and DNS leak protection, which shuts down your entire internet should you ever get disconnected.
Pros
Unblocking Netflix, iPlayer, Hulu, Amazon Prime
Super fast servers (minimal speed loss)
Secure encryption & VPN protocols
No logs for personal data
24/7 Customer Service.
Cons
Power-users configuration options.
Want to learn more? Read our full ExpressVPN review.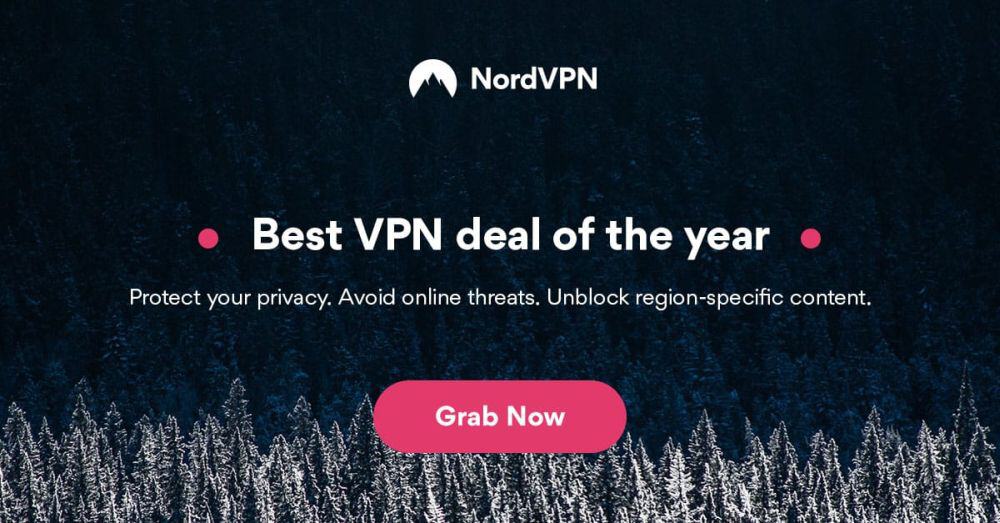 NordVPN stands out for its massive server network consisting of 5,200+ servers across 62 countries, which is bigger than most providers in the industry. As a result, NordVPN provides one of the fastest connections and is one of the most solid choices for bypassing regional blocks and VPN blockers, which often interrupt your access to websites like Netflix. NordVPN also offers a variety of speciality servers that are perfect for advanced users looking for use-case alternatives. These include 'anti-DDoS', 'Onion over VPN', and 'double VPN', which adds an extra layer of encryption, making your data inaccessible.
NordVPN is just as advanced in security. With 256-bit AES encryption and five encryption protocols, it would take the world's strongest supercomputer millions of years to even come close to cracking it. Furthermore, the provider's zero-logging policy is one of the most complete in the industry. It ensures that no logs on traffic, IP addresses, timestamps, bandwidth, or even browsing history are being stored. These advanced features make NordVPN ideal for bypassing VPN blocks and accessing wider ranges of content.
Pros
Works with Netflix, BBC iPlayer without breaking a sweat
Extensive server park of over 5,400 different servers
DNS leak protection, kill switch
Strict zero logs policy on both traffic and metadata
Money back guarantee policy.
Cons
Apps can be a bit cumbersome to use.
For more information on this provider's speed and security, check out our full review of NordVPN.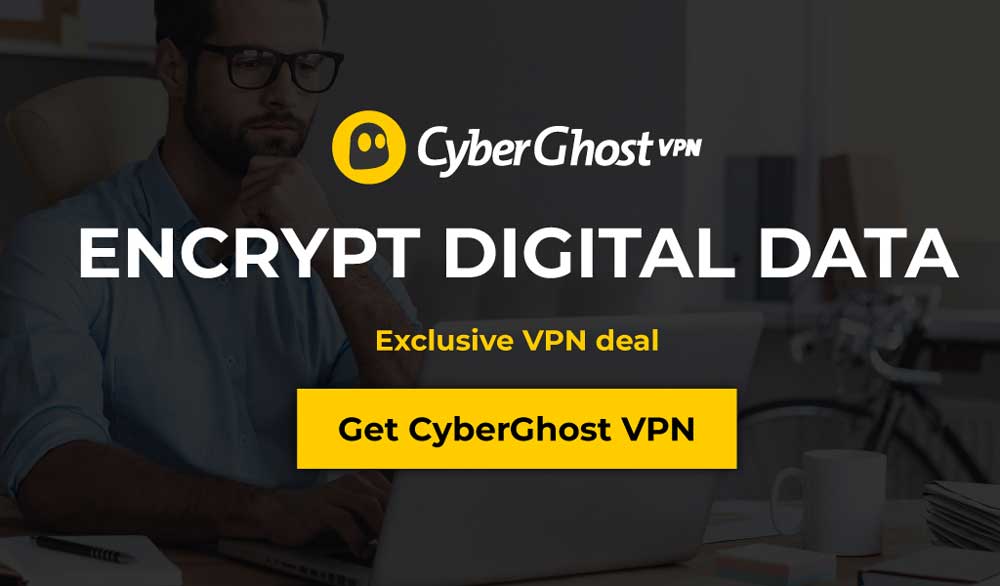 CyberGhost is the perfect VPN choice if what you're looking for is both reliability and ease of use. The provider's service is surprisingly easy to install, and the colourful, minimalist display makes it just as simple to use. Upon launch, you will be given the option to pick one of the 6 pre-configured profiles. Each of these profiles then apply the best VPN settings depending on the case, such as 'unblock streaming', 'unblocking basic websites', and 'choosing your VPN server'. Once you choose the profile, you can customize it even further with simple toggles like 'block ads' or 'block online tracking'.
Despite the service's simplicity, CyberGhost is one of the most advanced providers both in terms of speed and security. The immaculate no-logging policy stores data on practically nothing at all, including your e-mail address. Furthermore, CyberGhost uses 256-bit AES encryption via OpenVPN, which will keep your identity and activity logs protected at all times. With a server network of well over 3,100+ servers in 59 countries, you will never have a problem with finding the fastest available server whilst maintaining your privacy. Other security measures include a DNS leak test and a kill switch that keeps you safe and secure should your connection ever get interrupted.
Pros
Unblocks US Netflix, Amazon Prime, YouTube, Hulu
Torrenting allowed
Located in Romania (out of 14 eyes)
Zero logs
Money-back guarantee.
Cons
Can't unblock some popular streaming sites.
If you want to learn more about CyberGhost and its fast connection speed, check out our full review of CyberGhost.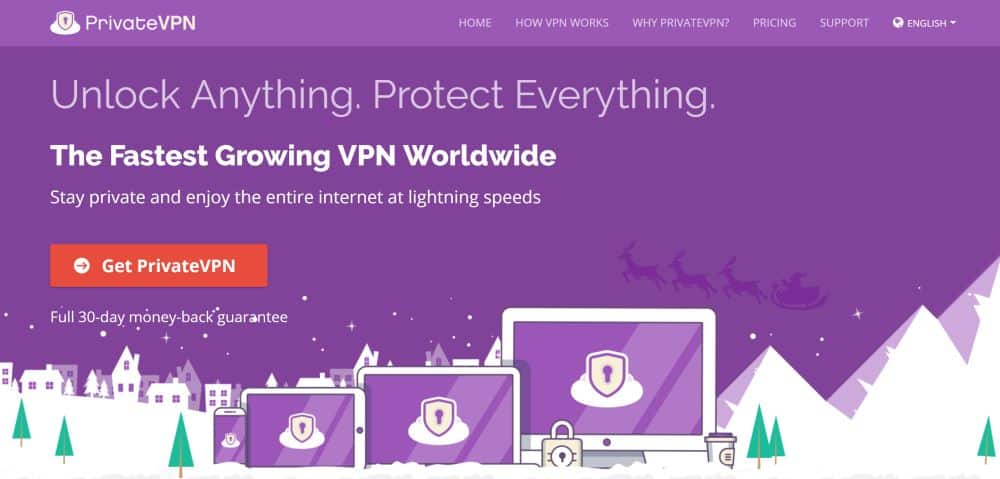 PrivateVPN is a reliable VPN provider, particularly known for its ability to securely and consistently access American Netflix from anywhere in the world. With a modest network of servers across 100+ locations in 59 countries, it may seem like the provider's service isn't as competitive. However, with 9 servers in the U.S., each providing a 1Gbps connection at least, you will be able to not only bypass regional blocks but enjoy seamless streams for extended periods of time. Moreover, you get unlimited access to torrent and P2P connections, as well as no limitations on bandwidth or server switching.
PrivateVPN also lives up to its name in terms of security. With 256-bit AES encryption, as well as the option to downgrade to 128-AES to boost speed, you can be sure that your data is secure. Furthermore, the no logging policy ensures that your data is not stored on the company's servers for long periods of time. Said data includes traffic information, IP access logs, and timestamps. Other major security features include an in-built DNS leak testing, which protects your identity, and kill switch protection, which ensures that your connection is never unencrypted without your knowledge.
Read more in our full PrivateVPN review.
PureVPN brings a unique mix of functionality to the market. First and foremost, it is a top-grade VPN with powerful 256-bit AES encryption with a competent logging policy, both of which act in tandem to deliver incredible privacy. There's also a kill switch, DNS leak protection, and anonymous browsing features to round out the provider's core VPN offering. Beyond that, PureVPN offers a battery of cybersecurity measures for your device, including app filtering, DDoS protection, dedicated IP addresses, a NAT firewall, anti-spam filtering and antivirus software.
PureVPN's server network numbers 2,000+ servers in 140 countries, allowing you to bypass regional blocks and watch your favorite films, TV shows, and exclusive videos anywhere in the world. Furthermore, you can always have multiple options to search out the fastest available connection, providing you with seamless browsing, streaming, and downloading experiences. Whether you are looking to use the VPN on Android, Mac, or iOS, PureVPN has you covered. The service is available on most operating systems and devices, including Windows, Firefox, Chrome, and gaming consoles.
How to bypass geo-blocks with a VPN
Now that you know what to look for in a VPN and have chosen a provider that's right for you, it's time to get started. Whether you are looking for extra security or want to unlock geo-blocked content from Germany, a VPN will provide you with a safe, secure, and reliable connection. Simply follow the easy steps below to get started; it takes a few minutes and will have you enjoying an array of international content with just a few clicks.
Sign up for a subscription with your provider of choice. Follow the links indicated in the recommendations section above – they will direct you to the right page with special offers for our readers only.
Now that you have your account credentials, select and download the right app for your device and operating system. For example, if you need to use a VPN on your iPhone, choose the app dedicated to iOS. You may be redirected to the device's app store, so do not be alarmed.
Once you are done with downloading the app, launch it and sign in using your account credentials from step 1. When you do, most VPN providers will immediately assign you to the fastest available server. If you want to manually select a server, you can choose to do so within the app. Once you picked a server, connect to it and give it a few minutes to establish a connection.
You are almost done, however, verifying that your connection is secure is one of the most important steps. Visit ipleak.net through your browser and give the page a few moments to load. This page will run an automatic IP address lookup test and will determine whether the VPN is working properly. Under "your IP addresses", if you see the location you have manually chosen, you are ready to enjoy the browsing and streaming. If, however, you still see your physical connection in Germany, there may be a leak and you need to contact your VPN provider directly to resolve the issue.
Conclusion
While Germany has some of the most lax internet laws in the world, there are certain location-based restrictions that you simply cannot avoid. With more and more services like Netflix and Hulu, working with location-based permissions, the harder it is to get limitless access to your favourite content. With a VPN, however, you won't need to worry about accessing wide ranges of content or staying secure online.
In Germany, VPN usage is not illegal as the government recognizes its benefits for security purposes. It is important, however, to keep in mind the potential risks when dealing with copyright infringement. Have you had any issues with using a VPN in Germany? Leave us your comments down below!