We are reader supported and may earn a commission when you buy through links on our site.
Learn more
Are VPNs Legal in France?
France has long valued freedom of communication, but many people wonder if using a VPN to hide online is going too far. If you fall in this camp, stay on this page, as we'll be discussing the laws the French government uses to police the Internet, and how VPN encryption and IP spoofing fit into that picture.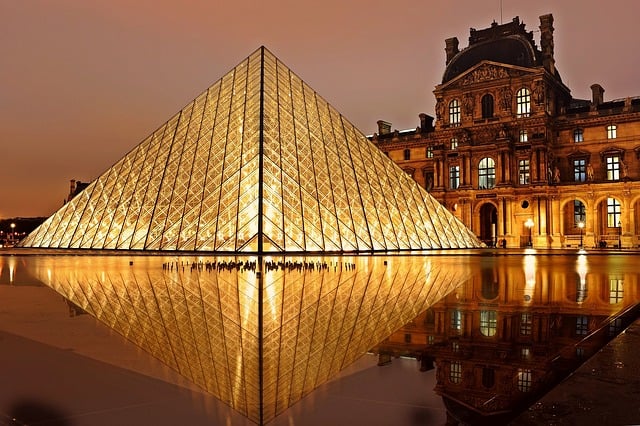 In 2015, the French government passed a bill into law that is locally termed the "Big Brother act." This law gives government surveillance agencies the ability to pry into residents' personal life, including online. Although the UN and other organizations called on the government to use due diligence and conform to France's founding principles of legality, proportionality, and necessity, this means your online activity can be pried into without a warrant. If you've had your life intruded on, or you just want to keep your activity private 'cause it gives you the creeps – a VPN can help you out lock your data down. But, with strict surveillance laws, is it legal to even use a VPN in France?
The short answer is yes, VPNs are legal and France. Boost your cybersecurity with these VPNs:
NordVPN – Best VPN France – NordVPN is our top recommendation for French users due to its massive encrypted network, adblocker, specialty servers, and solid logging policy.
Surfshark – One of the least expensive VPNs, but chock-full of premium security features. Unlimited simultaneous connections.
ExpressVPN – When speed is a top priority, choose the provider with the fastest network.
CyberGhost – A good choice for VPN newbies, with plain-language setting profiles configured per use-case.
PrivateVPN – Small but dedicated network, entirely owned and operated by the provider and shared by no one else.
PureVPN – Trusted by thousands of users for getting past harsh government censorship.
Today, we'll bring you an answer to this question, plus make some suggestions about how best to protect your privacy in France. We'll introduce what makes a great VPN, then cover some of the market's top choices. Finally, we look at what else can be done with a VPN, as well as its limitations.
30-days money back guarantee
VPN legality in France – the brief answer
It's understandable to wonder if VPN use is legal in France – the Big Brother act gives intelligence organizations a lot of freedom to dig through every aspect of your life. With that much freedom granted to them, it's easy to imagine VPNs being outlawed to prevent unsavory individuals from being able to hide their activity.
READ ALSO: The 5, 9, and 15 Eyes surveillance groups explained
But what about regular folks? You just want the private details of your online life to be kept just that – private. Thankfully, the short answer is this: Yes. VPNs are completely legal in France.
As a caveat to that, however, if you plan on doing anything illegal, it does not become legal just because you're using a VPN. Breaking laws is still breaking laws, regardless of whether you use a VPN or not.
What to look for in a VPN
So if VPNs are legal in France, how do you pick the right one? There are a lot of things to keep in mind, a lot of technical details that providers throw at you, and literally hundreds of VPNs to sort through. You don't have to worry about that, though – we went down the rabbit-hole for you, and found these qualities to consistently show up in the best VPNs. They'll keep you safe, give you options, allow you to bypass restrictions, and most importantly – keep your data private.
Most secure, 100% legal VPNs for French Internet users
Here are our picks for VPNs for France that will keep you private, safe, and free online: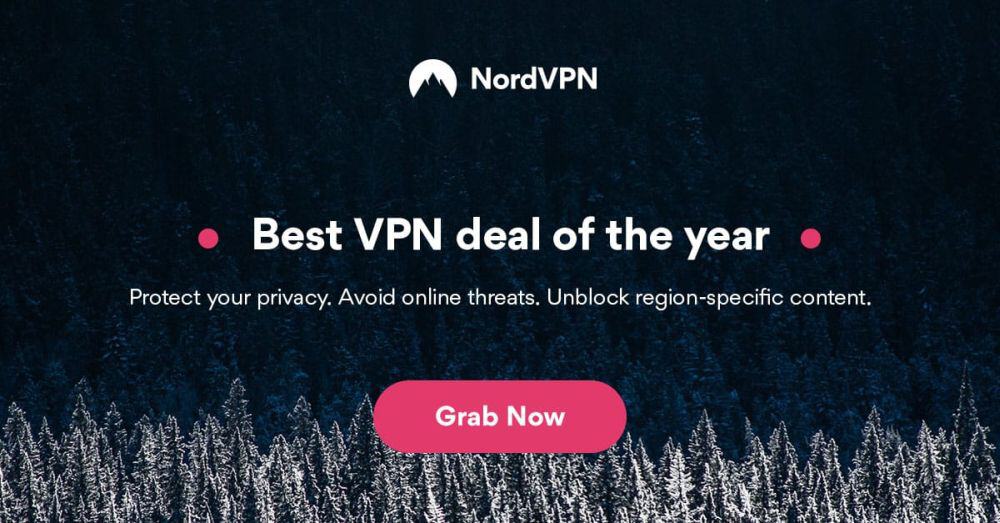 NordVPN is the elephant of the industry – they have over 5,500 servers in 58 countries. This puts them in the unique position to offer a wide array of specialty servers for things like Onion over VPN for anonymity, Anti-DDos for gamers, Double VPN for extra encryption, P2P for torrenting, Dedicated IP addresses for beating blacklists, and Obfuscated servers to hide your VPN-usage. They offer military-grade, 256-bit AES encryption, and continuing the trend of settings for advanced users, NordVPN even provides the option to customize your DNS settings or add a security toggle that blocks ads and malware.
But despite its bulk, NordVPN has plenty of speed – they're one of the best available for streaming video and reliably bypassing VPN blocks. A logging policy that refuses to log your traffic, IP address, timestamp, bandwidth, or browsing history, as well as a location in the neutral government of Panama ensures your data is exactly what NordVPN says it will be: private.
Read our full NordVPN review.
Pros
Very affordable plans
Most VPN servers with different IP addresses
256-bit AES encryption with perfect forward secrecy
Retains no metadata of your browsing
24/7 Live Chat.
Cons
Not much
Apps can be a bit cumbersome to use.

Launched in 2019, Surfshark is less a scrappy upstart than it is a VPN prodigy of sorts. In just a short time, they've already amassed a huge network of 3200+ servers in 65 countries, all of which have access to advanced features most providers reserve for their handful of specialty servers.
For instance, any server can be obfuscated when Surfshark's intelligent app detects the need. The same goes for their special NoBorders method, which pummels government censorship to unblock the free and open Internet. Connections are established through OpenVPN, IKEv2/IPSec, and WireGuard tunneling protocols guarded by NSA-grade 256-AES-GCM encryption.
If that weren't enough, there's a built-in adblocker, settings for individual Wi-Fi networks, 24/7 live support, student discounts, and IP/DNS/WebRTC leak protections. And for privacy-conscious French users, Surfshark offers an independently audited no-logging guarantee.
Pros
Break through harsh censorship to securely access social media and foreign news sites
Every server is a speciality server
Trial in confidence with a 30-day money back guarantee
Based in the British Virgin Islands, where there are no data retention laws
Responsive customer support available 24/7.
Cons
Speeds occasionally suffer a noticeable drop
Relatively young VPN still has to prove itself trustworthy over the long haul.
Read our full Surfshark review.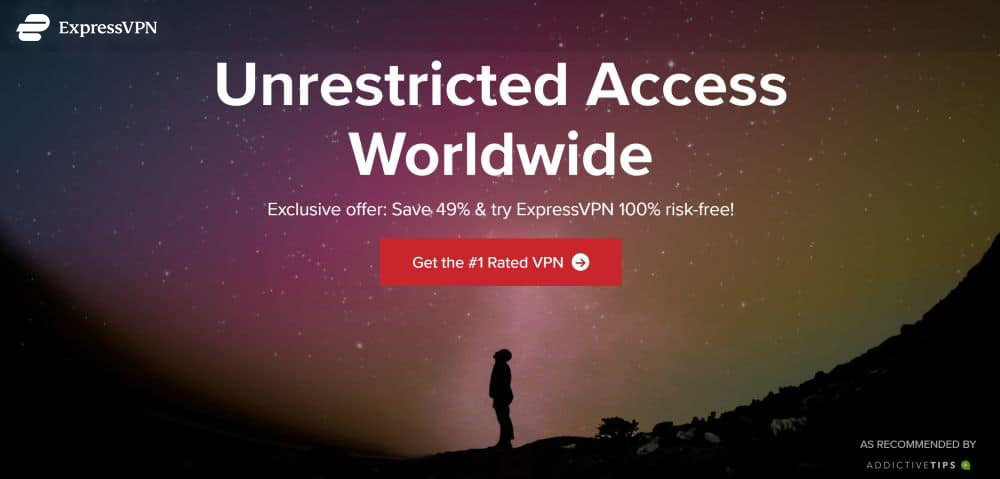 ExpressVPN is one of the fastest VPNs on the market, offering buffer-free streaming, fast downloads, and seamless browsing. Offering unlimited bandwidth, zero speed caps, and no restrictions on P2P networks or torrents, you're sure to be happy with the speed they provide. If you like to stream video, they're especially good beating even tough VPN-blockers like Netflix and Hulu's.
Lightweight software stays out of your way, but 256-bit AES encryption keeps your data absolutely secure. Plus, a DNS leak test and automatic kill switch make sure nothing leaks out, even if your connection drops. More than 3,000 servers across 94 countries give you plenty of options to choose from, too, and ExpressVPN's location in the British Virgin Islands means they're exempt form the Five, Nine, and Fourteen Eyes agreements.
Finally, ExpressVPN has a solid zero-logging policy to make sure your data remains private long after you've gone offline.
Read our full ExpressVPN review.
Pros
Unblocks US Netflix, BBC iPlayer, Hulu and Amazon Prime
Fastest servers we have tested
Torrenting/P2P allowed
No logs for personal data
24/7 Customer Service.
Cons
Expensive month-to-month plan.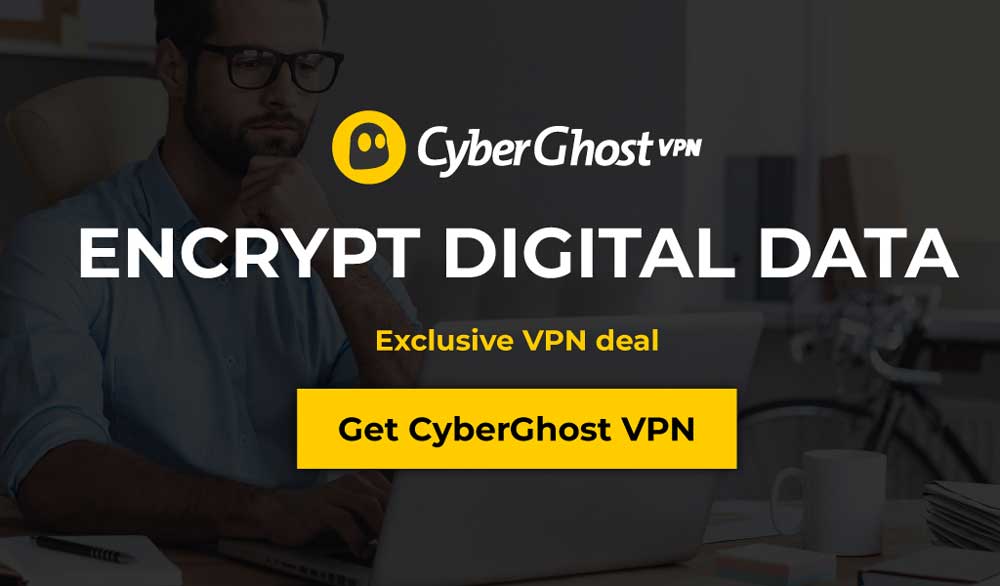 CyberGhost is everything simplicity. Easy to install, with a colorful, minimalist display, this provider presents you with several simple pre-configured profiles to choose from, eliminating the need to wrangle the settings yourself. These profiles offer the best options and servers for things like surfing anonymously, unblocking 20 different streaming sites, protecting your Wi-Fi connection (great for cafés), torrenting, unblocking 10 basic websites, and choosing your server. But alongside the best settings for these use-cases, you get optional toggles that can block malicious websites, ads, and online tracking, compress data, automatically redirect all sites to HTTPS, or boost your speed.
Despite how easy CyberGhost is to use, they maintain powerful encryption. The default 256-bit OpenVPN UDP gives a great blend of speed and security, but if you're finding you have trouble you can change to TCP, L2TP/IPSec, or PPTP. Each has features that help with either speed or encryption.
Last, although you might suspect iffy dealings with a network that offers 5,500+ servers in 80 countries, CyberGhost has an immaculate zero-logging policy. They simply refuse to log anything – they don't even require your email address.
Read our full CyberGhost review.
Pros
LOW PRICE: 6 EXTRA free months (79% off - link below)
Affordable plans
Versatile and user-friendly
Strict no-logging policy
45-days 'No-hassle' money back guarante.
Cons
WebRTC leak detected
Sometimes experiencing average speeds.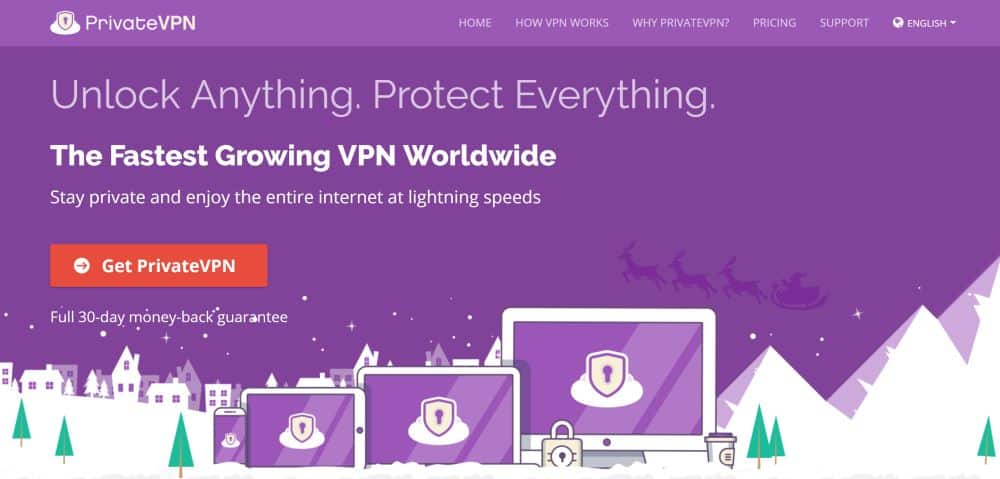 PrivateVPN focuses on exactly 2 things: speed and security. But despite a smaller server network than the others reviewed here – just over 150 servers across 60+ countries – they manage to deliver with a roundhouse punch. Unlimited bandwidth on all devices and platforms starts PrivateVPN out strong. They beat out several other VPNs in speed tests we conducted elsewhere (which you can view by following the link below), so streaming video, downloading files or torrents, and browsing the web are done with ease – buffer-free.
While you have access to 256-bit AES encryption, you can also opt to use their faster 128-bit encryption without losing much in security, but gaining a noticeable jump in speed. This can be helpful if you have a slower ISP. PrivateVPN has a decent logging policy, not keeping any details that could allow them or a 3rd-party to match IP address or timestamp to a user. Leak and kill switch protection are included automatically, preventing any leaks of your true IP address.
Read our full PrivateVPN review.
PureVPN is another great VPN provider. With 2,000+ servers in more than 140 countries, they've got a rock-solid network to get you online and secure. They offer strong 256-bit AES encryption, automatic kill switch, and DNS leak protection – so you get great protection and privacy. PureVPN's logging policy is also strong, with no logs kept on your IP addresses, timestamps, traffic, or DNS requests.
But PureVPN really shines in the security suite it offers. With this suite, you get features beyond a normal VPN – things like app filtering, DDoS protection, Dedicated IPs, NAT firewall, Anti-spam filtering, and even anti-virus software. Nearly all of these things would involve apps completely separate from your VPN normally – and PureVPN includes them in one place. It's convenience and complete protection, plain and simple.
Finally, PureVPN includes port forwarding, split tunneling, unlimited bandwidth, and no restrictions on P2P. With a wide array of device compatibility, too, you're sure to be able to protect your device.
Read our full PureVPN review.
How to stay private in France with a VPN
To secure your data online when in France, just follow the steps below. It'll only take you a few minutes, then you can get online without worrying about prying eyes.
First, open your web browser and bring up your chosen VPN's website – or just follow one of the links above. Select your plan and fill out the requested information to create an account. Remember your sign-in info – you'll need it shortly. Once you've successfully signed up, use the link on the website to download the software for you device and install it.
As a side note, if you're placing the VPN on a mobile device, you'll need to go to your OS's app store. Use the link directly on the VPN's website to avoid any fakes.
Now that you've installed the app, launch your VPN. You'll be prompted to enter those login credentials you made earlier. Once you've done that, the VPN will automatically connect to the nearest fastest server. If you're not trying to bypass geo-blocks, that should be fine.
To double-check your connection to the server, open your browser and bring up ipleak.net. The website will automatically run an IP address lookup. If you see your chosen location in the "Your IP Addresses" list, then you're golden. If you see your normal French IP address (which you can easily find by visiting ipleak.net while disconnected from your VPN), then the connection to the VPN server failed. Return to the app and select a new server. If the problem persists, contact your VPN's support line.
Avoid free VPNs
After checking out price tags on some paid VPNs and tallying up the yearly cost to you, it can be tempting to run a search for "free vpn" – but take your hand out that bag. Don't collect $200, don't pass Go. Free VPNs are dangerous.
The first issue with free VPNs is how they make money. If they aren't making it off you, then they're getting it another way. Most free VPNs inject their apps full of ads and the pages you browse, but they also sell your data to 3rd-parties – exactly what a VPN is supposed to not do. If it's doing that, then what's the point of having it to begin with?
RELATED READING: How Facebook's Onavo Protect is selling you out
The second major problem with "free" VPNs are botnets. Botnets are vast networks of connected devices that "botmasters" use for processing power to achieve ends. Some are actually used with users' permission for philanthropic purposes; most are not. Your device is infected with malware, which gives control of your device's processing power to the botmaster, allowing them to perform things like DDoS attacks and spread viruses.
A prominent example of the latter series of events comes from the company Hola. We've talked about it elsewhere (which you can find here), but the short of it is that the company was selling its users' data and had its network set up to use their devices for devious purposes like the DDoS attacks just mentioned.
If you use a paid VPN, though, you eliminate the first of those issues. Choosing a trusty, reliable, paid VPN with a strong, established reputation eliminates the second. The ones we recommended above have strong policies against exactly these sort of things and absolutely refuse to ever join your device to a botnet.
Other things a VPN can help with
Aside from helping to mask your identity from the prying eyes of the government, VPNs can help you do a few other things that you aren't able to otherwise:
Access blocked content
Do you like Netflix? Hulu? Amazon Prime Video? If you do, but are located in France, you'll have a different set of content than someone in Britain, Mexico, or the U.S. If you want to open your horizons and access a greater spread of content, a VPN can help you do that. Just connect to a server in the country who's content you wish to access, and presto – you're in. You can now view, stream, and download geo-restricted content.
Dodge Article 13
Article 13 is coming to all European Union stations, and with it more restrictions – especially for content creators. Luckily, by using a VPN to "project" your location to a non-EU country, you can bypass these restrictions and continue to create memes, videos with (legal) copyright content, and more – with no consequences.
Access home accounts
Another feature VPNs give you is the ability to access home accounts. If you're an expat or traveler simply visiting France, you might find yourself locked out of, say, your bank account when you try to access it. Since banks often monitor incoming IP addresses to prevent fraud (a good thing, I think we can agree), by selecting a server with an IP in your home country can help you bypass that.
Alongside accessing bank accounts, you can also view local news stations, TV, and anything else restricted to your physical location.
A disturbing intrusion into private life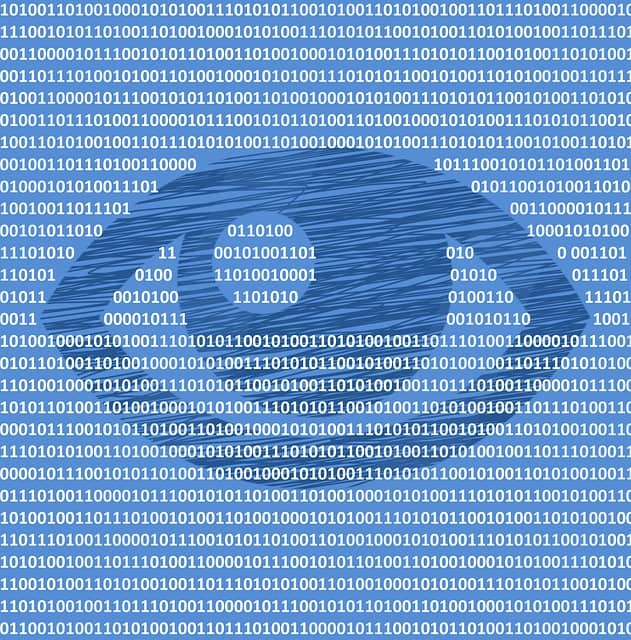 Following a terrorist attack in 2015, the President of France enacted new powers for authorities to conduct house arrests, raids, and searches of residents' electronic devices without warrants. In the same year, the Big Brother act was passed, forcing ISPs to monitor suspicious online activity and report back to surveillance agencies. Alongside this, the law gave intelligence agencies the power to place secret cameras and other recording devices in individuals' homes.
Despite the United Nations protestations against the law, calling it "excessively intrusive," the act remains in place. And when you couple this with France's inclusion as one of the Nine Eyes countries, the abuse of your private information is alarming. Although little can be done about secret cameras in your home, a VPN can add a layer of protection, returning some semblance of privacy to you.
VPNs aren't invincible
Yet despite the usefulness and power of VPNs, they aren't invincible or invulnerable. If you plan on engaging in more serious stuff – particularly activities in the grey areas or beyond of the law – you'll need more than a VPN. While we by no means endorse illegal activities, if you're going to engage in them, try using Tor alongside a VPN.
Tor routes your traffic through a network of servers, "hopping" from one to the next before exiting to the internet. Using it in conjunction with a VPN gives you serious privacy and anonymity.
Conclusion
If you want to stay private in an increasingly-monitored world, and keep your data and activity online the way it should be in France (private), then you need a VPN. They aren't silver bullets, as a determined entity could find a way to track you down with some effort, but they go a long way for the general users to stop the intrusive surveillance being employed by the French government. All that's left now is to pick one and get secure.
Do you live in or travel to France often? Have you used a VPN while there? Was it to stop surveillance or to bypass geo-blocks? Tell us your experiences in the comments section below.