Lion Icon Pack Transforms Windows 8 Icons to Mac OS X Lion Icons
After looking the at the same interface day after day, one gets bored of it. You can change your desktop background but sometimes changing just the wallpaper is not enough. The icons, taskbar and everything else remains the same even after changing the desktop wallpaper. You can also change the icons of different programs using the native options of Windows, however, transformation packs are a great way to completely change the feel of your operating system.Transformation packs change almost all the UI elements and give your system a completely new look. Lion Icon Pack is a Windows 8 transformation pack to make your icons look like Lion icons. The Icon Pack is developed by Hamed, who previously released iOS, Mac OS X, Windows 8, Android and Windows Phone 7 Mango skin packs. Like all his other Skin and Icon packs, it provides a simple wizard that guides users through the installation process. You wont need to configure UI elements after the Icon Pack installation, as it adjusts all the elements automatically.
Note: Please bear in mind that such transformation packs are difficult to uninstall, and a system restore point will not revert the changes. Before installing the Lion Icon Pack, make sure that you backup your computer to revert the changes (if required). Moreover, make sure that UAC (User Account Control) is disabled.
To get started, accept the terms of the License Agreement and click Next. Then, choose Custom Installation and deselect all the toolbar installation options under it if you want to avoid installing unwanted software in your computer, and click Next.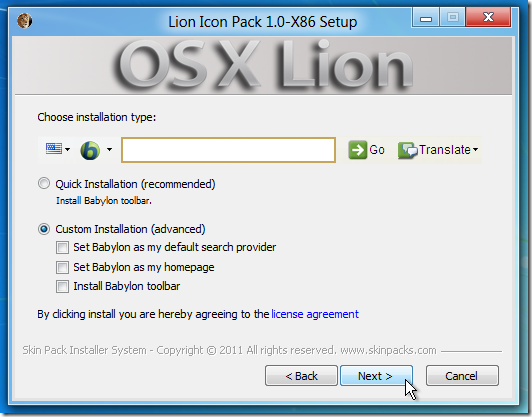 The setup will install all the required files in your computer. When the installation process is complete, the setup will ask you to reboot the system in order to apply all the UI changes. You can choose to restart the computer right now or postpone it to a later time. If you want to see the applied changes right away, choose Reboot Now and click Finish to restart your computer.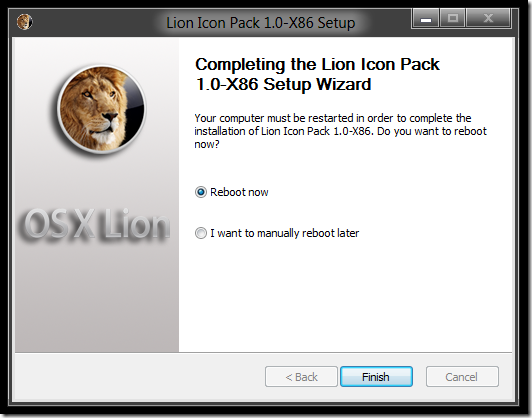 The following screenshot displays some of the UI element changes that the Lion Icon Pack will bring to your system. As you can see, the transformation pack changed almost all the elements of your computer, from the Desktop Wallpaper to the icons. Other items, such as the back and forward button in the Windows Explorer, as well as the folder and file icons are also changed.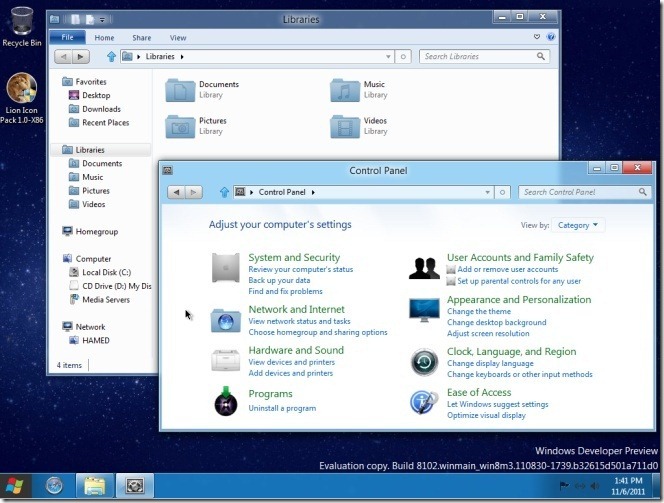 Download Lion Icon Pack (64-bit)
Download Lion Icon Pack (32-bit)