View Details Of All Installed Network Adapters With This Nirsoft Tool
Nirsoft utilities are great for their simplicity, portability, minimalism and focus on getting one thing done well with each utility rather than bundling a ton of different features in one large app, and its these characteristics that make us keep coming back to review the developer's latest releases. We have covered a handful of Nirsoft utilities in the past including NirLauncher, DomainHostingView, NetBScanner, and ShortcutsMan that have proven to be incredibly useful for us and our readers. The company's latest release is NetworkInterfacesView, that allows you to display the list of all network interfaces and adapters that are currently installed on your system. Along with displaying the active interfaces, the program also lets you view previously installed interface found in the registry of your machine. It can recognize connected devices like USB or PCI-based wireless network adapters commonly used in desktops as well.
The main application window of NetworkInterfacesView displays information regarding the adapters including but not limited to physical devices like Bluetooth, WiFi, LAN cards and other network related devices, as well as virtual networking interfaces that third-party applications like virtual machines, VPNs and proxy tools create. The information regarding the interfaces shown by the tool consists of Device Name, Connection Name, IP Address, Subnet Mask, Default Gateway, DHCP Server, Status, MAC Address, Name Server, Instance ID, Interface GUID, Registry Time, Status, T1 Time, and a lot more. All this information can be really useful for network administrators and power users, as well as average users who want to troubleshoot some networking issue and don't wanna use command line tools or look into the registry to get this information.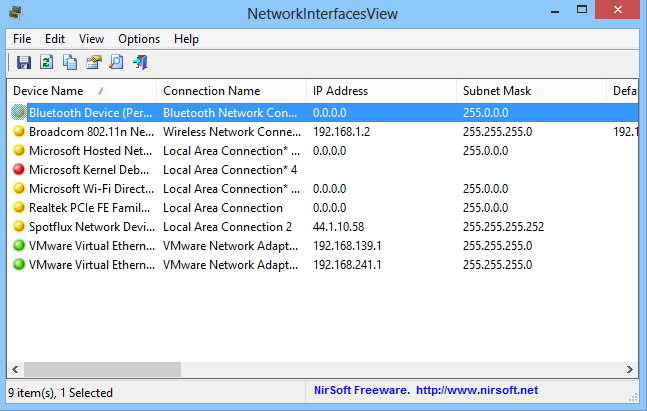 Nirsoft tend to make tools that allow exporting the displayed information to XML/HTML or CSV files, and NetworkInterfacesView is no exception in this regard either. You can export all or selected network interface(s) information to HTML or other supported formats for later use or analysis. It also allows to copy the text to clipboard and then paste it into a TXT or DOC file.
You can right-click an item and select further options from the context menu that allow you to save or copy selected or all items, generate an HTML report of selected or all items, view the item's properties, refresh the list, and automatically resize all columns.  You can also change the time and MAC address display format from the Options menu.
To sum it up, NetworkInterfacesView is a lightweight tool that stays true to Nirsoft's philosophy and can be useful in many scenarios. This portable tool works on Windows XP, Windows Vista, Windows 7 and Windows 8. Both 32-bit and 64-bit operating systems are supported. Testing of the app was carried out on Windows 8 Pro, 64-bit.
Download NetworkInterfacesView