OSFClone Is Self-Booting Disk Cloning Tool That Clones Raw Disk Image
OSFClone is a disk cloning tool which allows you to create your very own self-booting raw disk image. This disk image can then be run from a CD/DVD or USB drive, allowing you to boot disk image in a totally isolated environment (independent of installed operating system). It supports AFF (an open format used to store disk images and associated metadata) format for opening image drives. Like other OSF products, OSFClone can be supplemented by other sister products. For example, after creating a clone or a separate disk image, you can can also mount it with OSFMount. OSFClone is available in ISO and ZIP format to burn image to CD/DVD and to boot from USB drive respectively.
To get started, choose a mode to run OSFClone. The ISO file can be burned on a CD/DVD drive and boot at system startup. Press Enter to continue, or select F2, F3 or F4 to view boot options.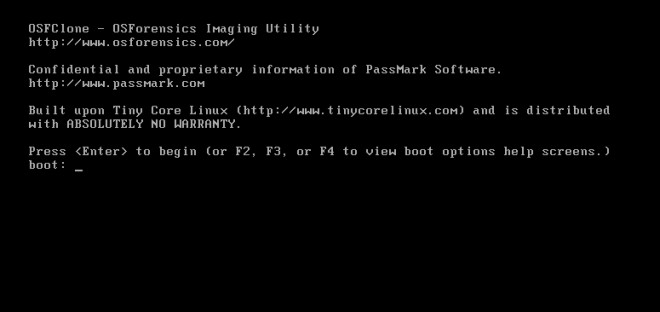 After hitting Enter, you will be given the options to clone a complete hard drive, create a complete hard drive or partition image, and to compute disk image checksum. Select a desired option (e.g. 1 for cloning complete hard drive) and hit Enter to continue. Once the image is created, it can be mounted to a pre-configured virtual drive, such as, OSF Mount and run separately from the native operating system.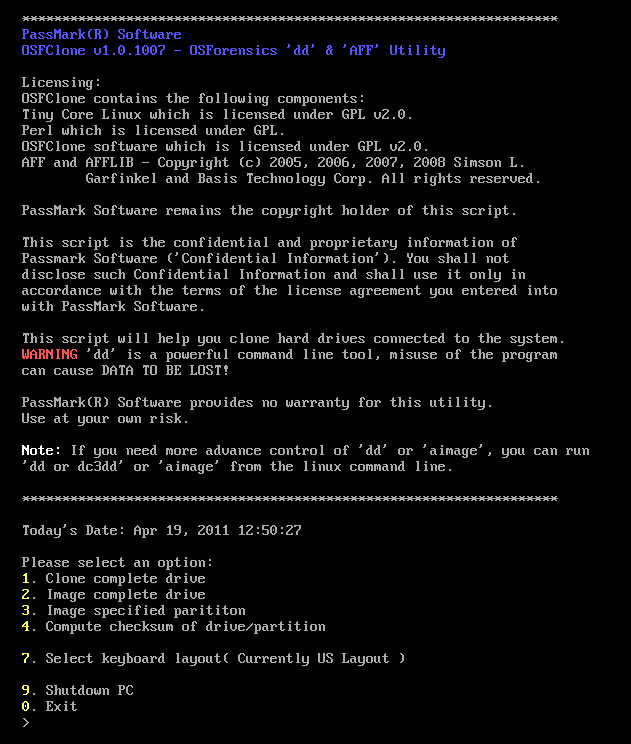 It works on Windows XP, Windows Vista and Windows 7.