Outlook 2010: Enable Blind Carbon Copy (BCC) Option
If you wish to send an email to someone secretly and don't want the other recipients of the email to know this then you keep that person's email address in the BCC field. The BCC field is disabled by default in Outlook 2010, lets see how to enable it.
Click the New Email option on the Ribbon and once the new email dialogue box is displayed, go to the Options tab.

Now in the Show fields category, click the the BCC option to enable it.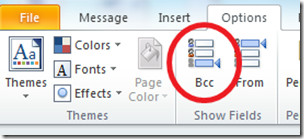 The BCC field will be added to your message.