PdfJumbler – Merge, Delete, And Rearrange Pages From PDF Document
PdfJumbler is a small nifty java-based application which is developed to offer easy and quick way to delete, re-arrange and merge PDF document content. In comparison with previously covered variants, such as, PDF Rider, Nitro PDF Reader, and 7-PDF, PdfJumbler is utterly easy to use, since it comes with absolutely no fancy features to go around with. Supporting drag & drop behavior to insert a PDF documents, it also offers PDF-based clipboard to let users move the pages back & forth in/from the PDF document.
To start out, launch the application and begin dragging PDF file into the main window. It will start showing you the document pages thumbnails which can be zoomed in/out from the toolbar. The clipboard pane is by default hidden, you can enable it clicking the expandable small button in left sidebar. To put any document page into its clipboard manager, just drag the page from the main window into its sidebar in order to paste it to different location.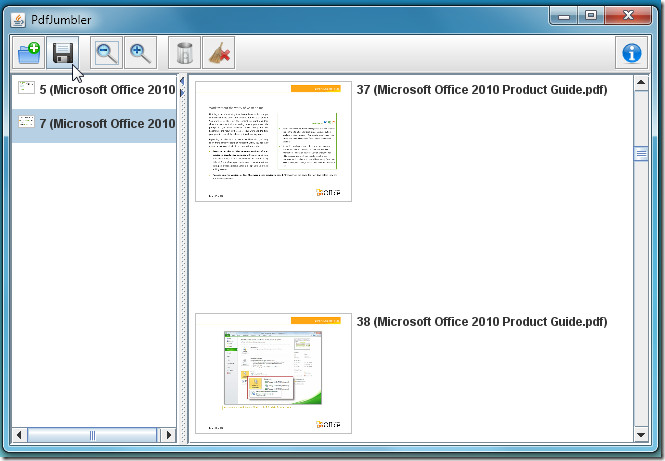 Along with Zoom buttons, the toolbar hold options to delete the page from document, clear list, and save edited document. Pages can be deleted in various ways, you can either simply move them to clipboard or select the page and hit Delete on keyboard. When you've done re-arranging the document pages, click Save button to specify the output location.
If you're looking for an advanced PDF manipulation tool, try out PDF Rider which offers encryption along with an option to merge, delete, and burst PDF document. You might also be interested in JPdBookmarks – a tool to create and edit PDF bookmarks.
PdfJumbler runs on Windows XP/Vista/7, requires JRE (Java Runtime Environment) to be installed already. Testing was done on Windows 7 x64 system.