New Pokki Adds A Rich Start Menu To Windows 8 With Controls For Start Screen & Hot Corners
Ever since Microsoft announced Windows 8, the latest OS has been at the helm of discussion. One element that has faced incessant backlash, is the removal of Start Menu and Start Orb. Why Microsoft took such a bold decision is a different story, but it's been in the spotlight for a while now. We have covered quite a few Windows 8 Start Screen modifiers in the past, Power8, ViStart and Start8, just to name a few. Pokki For Windows 8 is a new addition to the genre. If you're unfamiliar with Pokki, it is a Windows application that lets you use a multitude of web services such as Facebook, Gmail, Twitter, eBay, Instagram etc., right from your superbar.  It also offers an Apps Store that contains a plethora of absolutely free apps. Pokki For Windows 8, in addition to this, adds its own sleek Start Menu to where the original one should have been in the first place. Although it doesn't allow you to customize the menu, it surely is one of the best looking Windows 8 Start Menu replacement apps available to date.
The interface of Pokki Start Menu looks extremely slick. It automatically places the Start Orb to the left bottom of the screen. The app looks quite different from what we have seen in other such solutions in the past. From the left side, you can access the Documents, Music, Pictures and Computer. In addition, you may execute Favorites, All Programs and Control Panel items. The search field at the top is capable of displaying items for both local and web results. Since Pokki is a web apps suite, it keeps a track of popular apps at the bottom to instantly download them to your computer. There is also an integrated notification section to the right. So, if you are already using Facebook Lite for Pokki, it will show you the recent notifications in the right panel. Lastly, you may also head to Start Screen via clicking the miniscule button present next to the Power Options menu.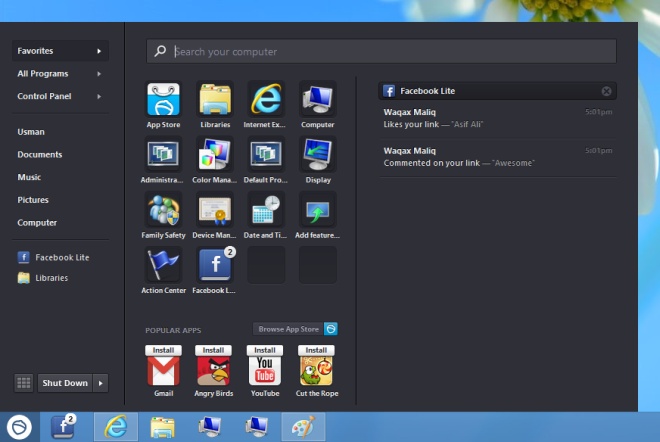 The All Programs Menu houses the installed applications' shortcuts. It allows you to instantly add a shortcut to the Favorites by marking the Star next to each item. The application however, neither holds Window Store apps nor displays them in search results.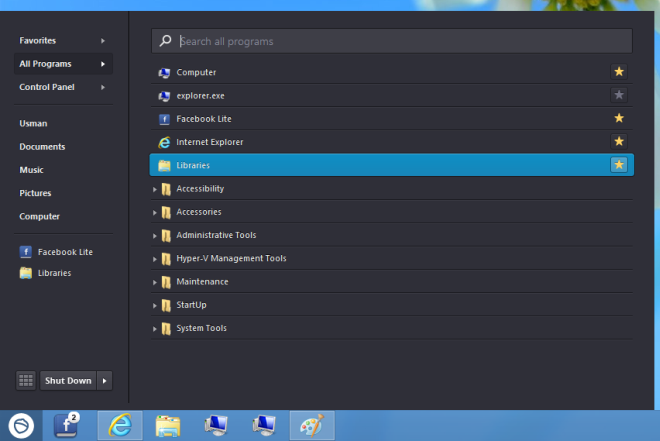 To access the Settings panel of the app, right click the Start Orb and select Settings from the context menu. In the settings menu, you may toggle a few behavioral parameters according to your preferences. For instance, enable Notification Banners and select their position on your screen, toggle Boot to the desktop, Start Menu Sidebar, Hot corners and a few other options.
In a nutshell, Pokki for Windows 8 is a fascinating Start Menu replacement app that provides quick access to all installed applications, Control Panel applets, Library folders, lets you search your entire PC and offers one-click access to most frequently used programs. Pokki works on both 32-bit and 64-bit editions of Windows 8. We tested it on Windows 8 64-bit.