Start8 Adds Metro Start Menu In Windows 8, The Way It Should Have Been
A while back, Aatif explained why Microsoft took a bold decision of removing the traditional Start Orb and Start Menu from Windows 8, and then Fawad featured a Windows 8 application named ViStart for all those avid Start Menu users who want to bring the classic Start Orb as well as Start Menu back to Windows 8. Even though ViStart requires you to tweak the settings and create a new toolbar to properly adjust the Start Orb, the Start Menu doesn't support Windows 8 Aero Glass effect, and sometimes fails to add (pin) the folders and programs to the Start Menu. If you aren't a die hard fan of Windows 7 Start Orb and Start Menu, and also don't want the fuss of having to access Windows built-in utilities and installed apps from a newly designed Start Screen, then you may want to give Start8 a spin. It's a freshly developed application for Windows 8 that adds Start Orb, and Metro style Start Menu to Windows 8. Read past the jump to find out what else Start8 has to offer.
The Metro style Start Menu isn't something that you access by clicking Start button in Windows 7; when you click the Start Orb, it shows the Apps section of Windows 8 Metro Start Screen in a menu, allowing you to quickly search and launch both desktop and metro apps. The Start8 Menu includes search to help you find system utilities, shortcuts to applications, metro apps, widgets and more. Compared to previously covered ViStart, this application doesn't have any icon overlapping issue, and it automatically adjusts the Start Orb in bottom left corner without having to create a new toolbar.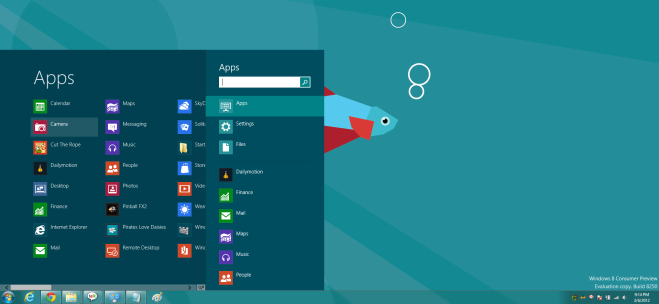 Clicking Start Orb sets input focus on the Apps search bar, so you can start finding application by clicking the Start Orb and then typing the app name.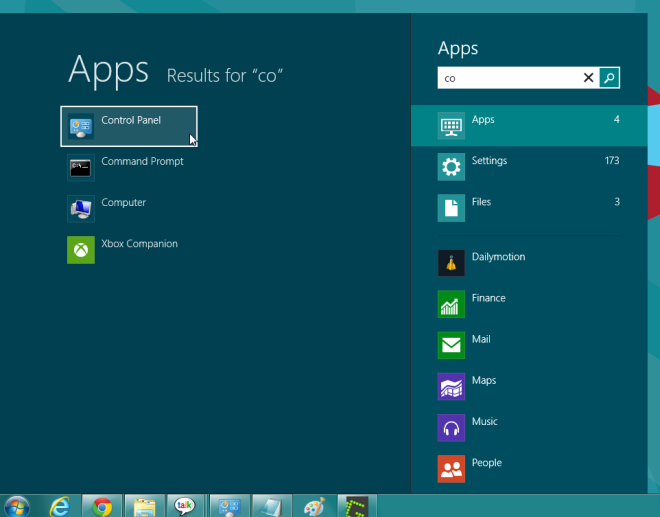 The Apps section is scrollable, and you can easily view all the installed apps using the navigation slider at the bottom. For some reason, the mouse wheel doesn't scroll the Apps page.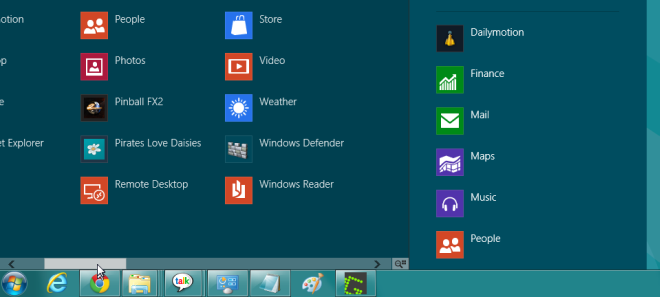 By default, Start8 shows only the Apps section of Windows 8 Start Screen, but you can set it to always display the main section of Start Screen. Right-clicking the Start Orb lets you switch between the sections, enable the default Windows 8 Start Screen (full-screen), choose a different Start Button image, open Run window, and quickly Shutdown the PC.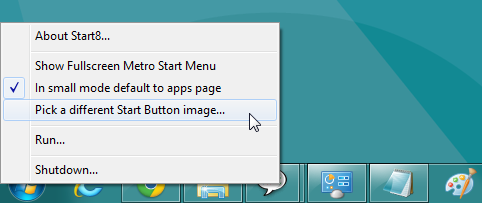 It's worth mentioning here that it doesn't disable any Windows 8 Start Screen-related functionality and behavior. If you select Show Fullscreen Metro Start Screen, it enables the full-screen Windows 8 Metro Start Screen. However, keep in mind that using Start8 Start Menu doesn't completely disable the Start Screen; you can still access it from the Switch List.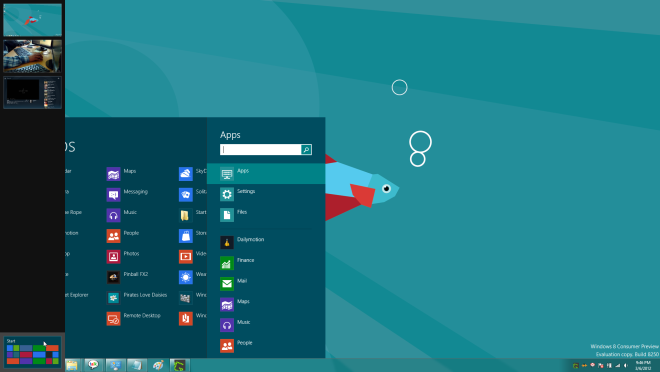 From Start Orb right-click context menu, you can quickly access Windows 8 Run Console and Windows 8 Power Options (Shutdown, Hibernate, Sleep etc). Clicking Pick a different Start Button image lets you replace the default (Windows 7 style Start Orb) with custom Start Buttons.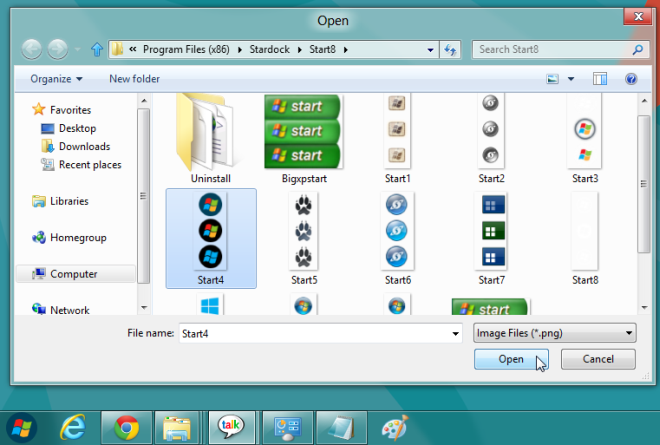 Start8 works flawlessly, without showing any errors whatsoever. It works on both both 32-bit and 64-bit versions of Windows 8.