ReddHub Is A Windows 8 Reddit App With Convenient, Two-Pane Browsing
Reddit is one of the best ways to share and discover useful content from around the internet. Although the social media site is notorious for allowing controversial content to be shared openly, it's becoming incredibly popular with each passing day. We've already covered two Modern UI Reddit clients for Windows 8, namely the tile-based Snoo and the aesthetically-pleasing Narwhal, but we found ReddHub for Windows 8 to have a visible edge over the two in terms of speed and convenience. The app lets you browse through and view posts at the same via an elegant two-pane interface. In addition to the usual – signing in to your Reddit account to upvote, downvote and comment on posts – it lets you pin your favorite subreddits to the Windows 8 Start Screen.
Similar to other Modern UI apps, ReddHub can be grabbed from Windows Store. To do so, simply open Windows Store and use Win + Q hotkey combination to bring up the Search Charms. Now, type ReddHub to filter the results. Once you're on the app's page, click Install to begin download.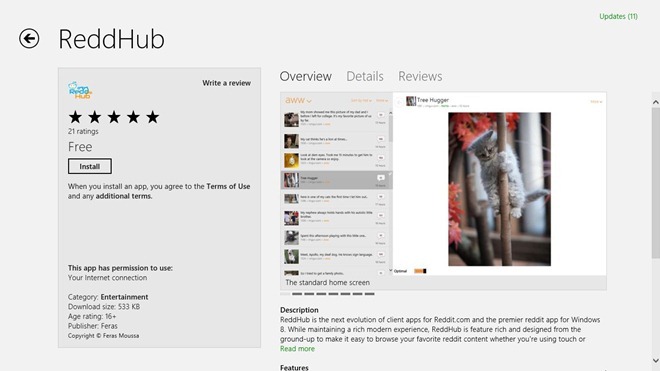 The app lets you use Reddit both with or without signing into your account. It's worth noting here that a user account is required for voting or posting comments on subreddits that are shared. If you don't have an account, click Register at Reddit.com to instantly create one.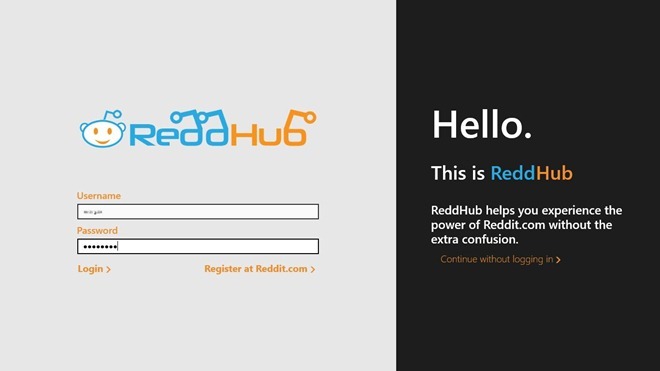 ReddHub sports an easy-to-use interface. No navigating back and forth between screens to view individual posts and browse through subreddits. All reddits from within a selected subreddit are displayed in the left pane, complete with date and comment count, while a selected post can be previewd on the right side. As with the Reddit web interface, you may sort the posts according to Hot, Top, Controversial, etc.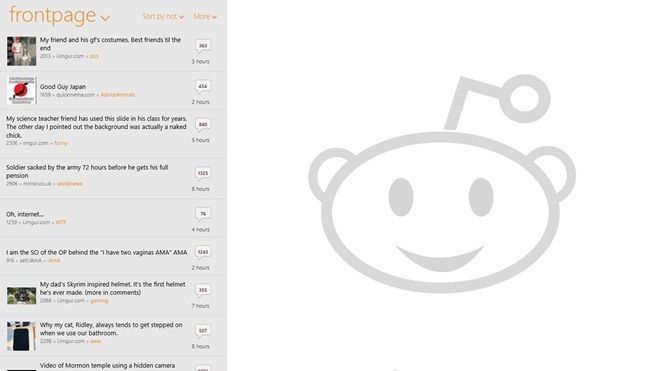 Even though it make use of tiles, like Snoo or Narwhal, ReddHub fits in well with the Windows 8 Modern UI experience. The scrolling within webpage previews seems buttery smooth, and there seem to be no issues whatsoever with GIFs and videos either.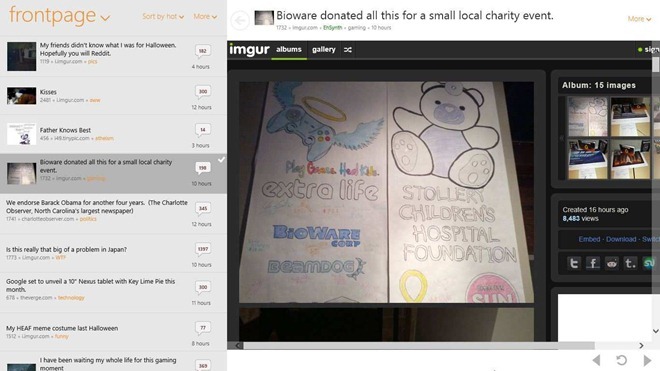 Clicking the drop-down (that says Frontpage by default) in the upper left corner of the screen opens the Subreddits pane, which lists popular subreddits and allows you to Add new ones to the list.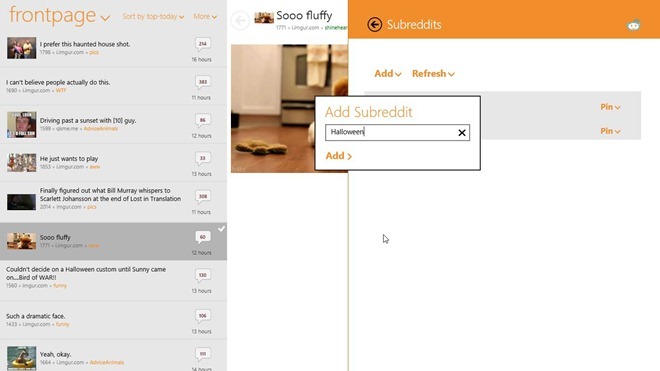 To access your Reddit inbox, right-click anywhere on the screen to bring up the menu bar at the top. Here, you can click Messages to hop into your inbox. You can navigate to your Reddit profile from the same place as well.
The More drop-down menu in the upper right corner of the left sidebar allows you to perform various actions regarding individual posts. For instance, you may Up Vote or Down Vote an entry, post a Reply, see existing Comments, Share, View (user) Profile and so on.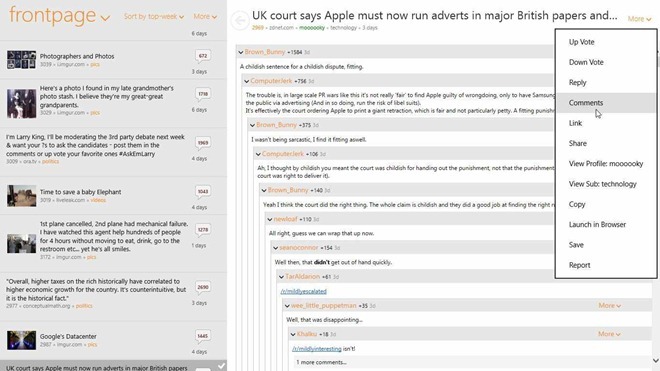 Overall, ReddHub is the best Windows 8 Reddit client we've come across so far. It doesn't just look good, but is crafted to provide you a extremely convenient Reddit experience. The application works only on Windows 8.
Get ReddHub from Windows Store