Repair Task Manager, Registry, And More After Malware Attack [Windows]
By now, you would be well aware of the plethora of problems that virus and malware attacks leave in their wake. Disabled Task Manager, Registry Editor vanishing, Command Prompt barred, Folder Options nowhere to be found, just to name a few. While many anti-malware applications are good enough when it comes to removing the infection, they cannot exactly repair the collateral damage that your system had suffered. Hence a utility like Quick Disaster Recovery comes into play.
This very light, free and portable tool has been created to repair those minor issues that are usually left behind by a malware infection. It can fix quite a few common issues, and can also serve as a very basic task manager replacement, should Windows task manager may not be accessible.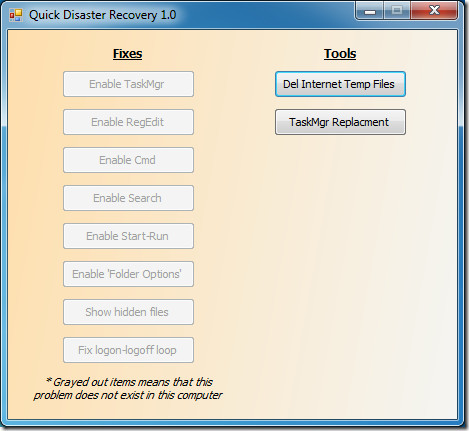 As you can see from the screenshot above, all options are grayed out because nothing is wrong with my computer. For me, the only two options available are either to delete my temporary internet files, or to launch the task manager replacement, exhibited in the next screenshot. Having non-applicable options disabled is a good thing since it prevents any accidental changes to your machine.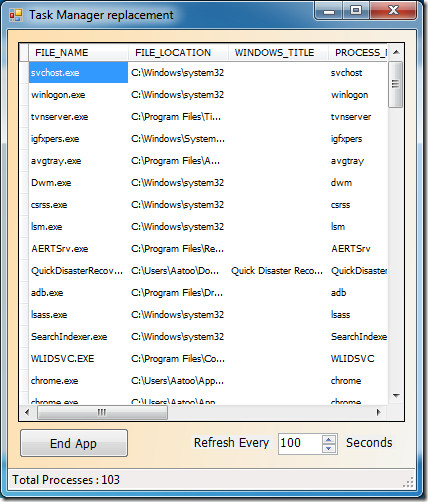 Quick Disaster Recovery is an open source project developed for the MS Windows operating environment. We tested it on Windows 7 x86 system setup, but the developer says it should work fine with 64-bit architecture as well.
Download Quick Disaster Recovery
For more, also check out Remove Restriction Tool.