Search, Manage, And Download Torrents With MediaGet Torrent Client
MediaGet provides one platform for searching, downloading and managing torrents. It is a torrent client which is capable of performing multitude of actions simultaneously. You can search for your favorite artists, music genre, movies, etc., download them instantly and manage them accordingly under one hood.
For bringing convenience in searching for desired piece of music or a movie, it provides 4 categories which are Music, Movies, Games, and Soft (software). Under Catalogue section, all that is required is to enter search keywords and click Search button. The results are shown in the Search window.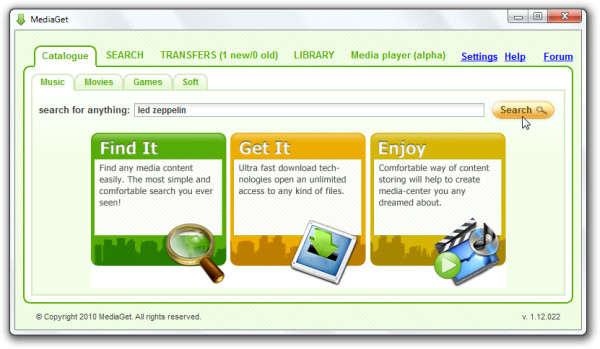 The search window offers extensive searching options and some essential filters, you can change the category, include and exclude keywords from search results, and specify file size. The search results are further categorized under Size, Speed, and other columns to provide detailed information about the torrent file. Window at right flank displays specified torrent details and shows all the included files.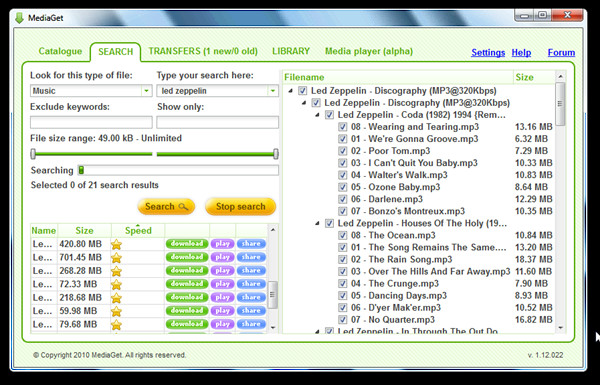 Transfers tab refers to all the torrents being downloaded. It provides all the basic settings and options. You can also insert a URL to download a new torrent instantly right from this window.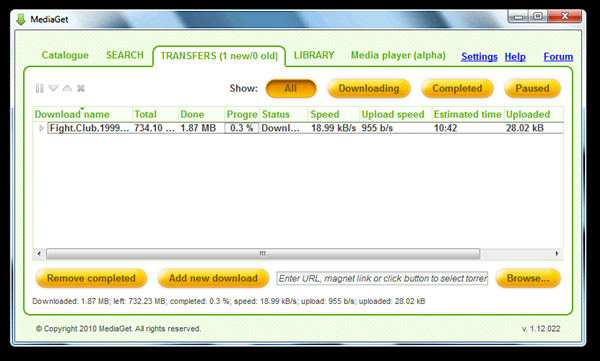 Under Library window, you can manage all the downloaded media, software, books etc. The application also comes with a media player which lets you watch downloaded media files on-the-fly. For configuring bandwidth allocation settings, click Settings to allocate downloading and uploading speed. The application is worth trying as it is one complete torrent client manager.
It runs on all Windows based OS, testing was done on Windows 7 x86 system.