Show All Power Plans In Windows 7
Windows 7, by default, includes three power plans in the Power Options inside Control Panel; High Performance, Balanced, and Power Saver. But it only displays two power plans in the system tray with no option to increase the number. This can be a nuisance for those who move a lot and need to switch between power plans frequently.
There are few third party tools that allow users to manage power plans from the system tray area.
Power Plan Assistant is the most complete utility for this purpose. Apart from displaying all three power plans, the eye candy notification appearance makes it easier for users to check the status. The best part is that it can automatically switch between power plans based on user configuration.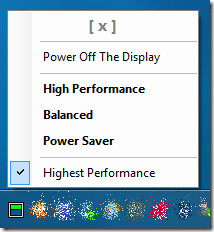 Power Plan Chooser is a basic app for switching between different plans. It does not include the eye candy look and feel of Power Plan Assistant, nor can it automatically switch between different power plans. The downside of this app is that it always activates High-Performance plan on launch. Users who love simplicity and do not want complicated features might want to give it a shot. It is still in alpha, at the moment of writing.