Sticky7Notes Lets You Search & Manage Windows Sticky Notes Database
For people who often forget their ToDo's of the day or want to keep reminded for something pivotal, the Sticky Notes feature of Windows is definitely something to commend about. It is pretty handy and has a lot of usage both in offices and for personal work. It allows you to quickly jot down important information, which you would want to keep in front of your face at all times. It is a very good replacement for the PostIt notes that have been in use for more than 2 decades. Since conservation of environment and specially the trees is becoming a big issue around the world, virtualizing common tasks previously done on paper allows us to waste less paper resulting in less trees getting cut down for paper making. However, there is one problem in using Sticky Notes on your computer, i.e., how to keep track of and find the notes stored on your computer when you have a huge amount of items noted down? Apparently, a third-party application that you can use is Sticky7List. It is an application for Windows that allows you to manage and search the Sticky Notes stored on your system. It has an easy to use interface and contains handful of different options and settings.
The application saves a list of all the notes found on your system and allows you to access them from within the application. One drawback of Sticky7List is that it requires you to close the Sticky Notes application in order to access the database stored on your computer. To view the notes, click Refresh List of Sticky Notes and all the new notes will be neatly displayed in a list. Choose any Topic to view its content. Under the Refresh List of Sticky Notes button, you can view the data and time on which the selected note was created.
If there is a huge number of Sticky Notes stored on your computer, you can also search for the required note from within the application. Under the Search tab, enter your query and choose if you want the search to be case sensitive and match whole words only or not.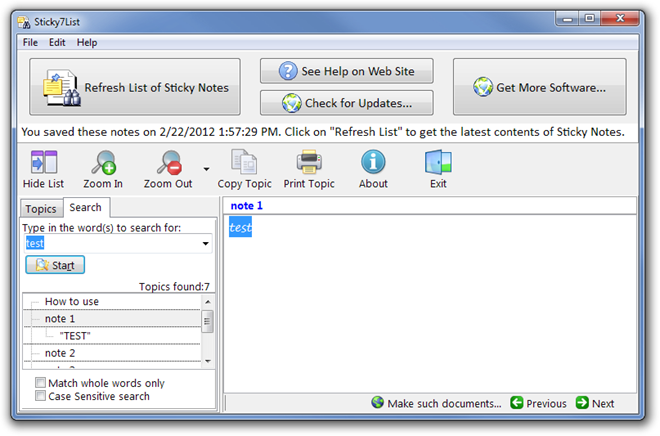 Sticky7Notes only allows you to view the Sticky Notes and you can not edit them from within the application. It ha a memory foot print of 17.5 MB and works on Windows XP, Windows Vista and Windows 7, on both 32-bit and 64-bit operating systems.