SubtitleDownloader Auto-Fetches Subtitles On Basis Of Video File Names
SubtitleDownloader, as the name suggests, is an easy to use subtitle downloading application for quickly fetching subtitles for your movie and TV series collections. It works by identifying videos from specified local folder(s), and downloads subtitles in the same directory as the videos. The subtitles are downloaded with the name of the respective video file, with SRT extension. This ensures that any video playback device can recognize the subtitles for video playback.
To get started, click Create job file option, and select a location to save your current job. Once done, select a folder containing the video files for which you require the subtitles. The default subtitle language is English; however, you can select a different language from the Subtitle Language drop down menu. Additionally, you can enable Process Subfolders option to ensure that subtitles can also be downloaded for any videos within the sub-folders. If you have an OpenSusbtitles account, you can also enter your login credentials in the username and password section. After selecting all require settings, click Prepare Job and lock editing.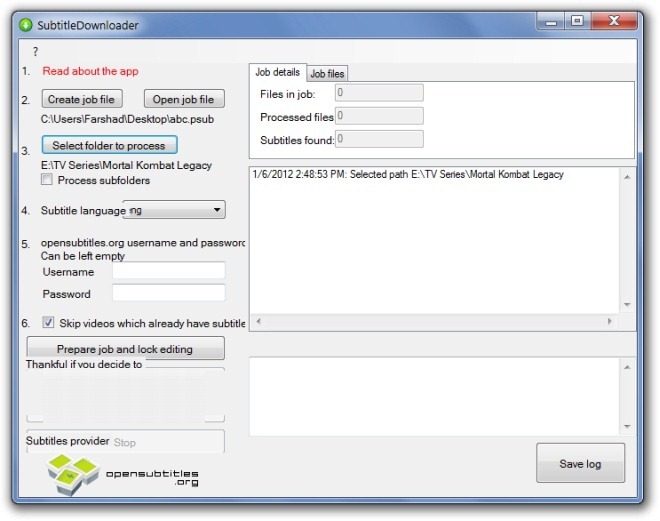 This will download subtitles in the same directory as the video(s). It must be noted that any existing subtitles in the respective directories will be overwritten. To avoid this, make sure that you check the Skip videos which already have subtitles option. You can also open previously saved jobs to re-download subtitles.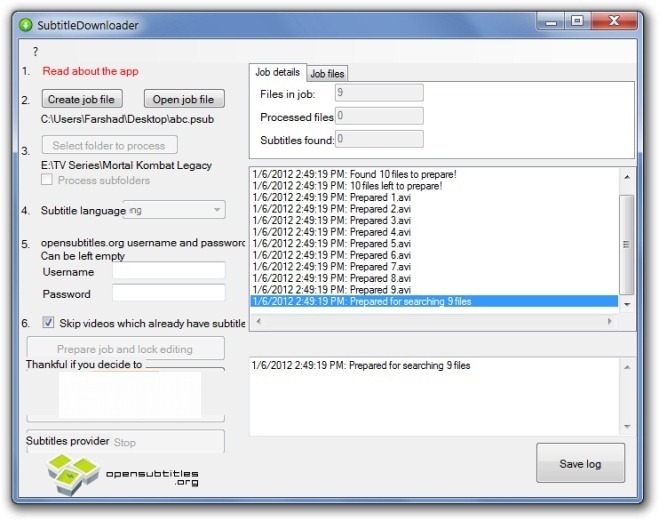 SubtitleDownloader works on Windows XP, Windows Vista and Windows 7.