TCPView Lists TCP and UDP Endpoints [Windows]
TCPView is a powerful utility that displays an extensive list of TCP and UDP endpoints on your system. It shows all the relevant information in multiple informatory columns ranging from Process, PID, Protocol, Local and Remote Address, to, Sent Packets, Received Packets, etc. Importantly, it lets you view the all the information in real-time to keep you updated with all the running process.
As a portable application, it wont require any installations. Just launch the application and it will start enumerating all TCP & UDP endpoints and resolving IP addresses of respective domain name versions. The list will be populated with all the processes being run in the background. From toolbar, you can save the list in TXT format, refresh the list, and let it display only the unconnected endpoints. In Status bar, it shows generic endpoints-specific information such as; established, listening, total number of endpoints, etc. By default, it updates the list every second, however, to minimize its CPU usage, you can change the update refresh rate from View menu.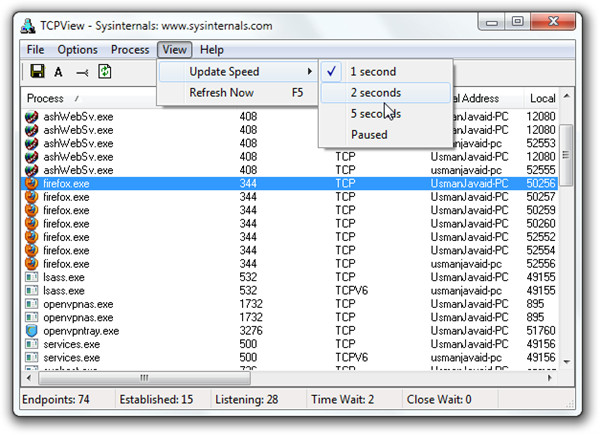 Right-click any process to list more options, such as, close the TCP/IP established connection and find out the owner of the registered domain by clicking Whois option.
The application supports all versions of Windows, testing was done on Windows 7 x86 system.
For more, also check out TCPEye, SmartSniff, and CurrPorts.