Turn Off Monitor In Windows 7 / Vista With Monitor Off Utility
Have you ever wanted to put your monitor into standby mode when needed? Monitor Off Utility is a free tool that will shift your Monitor to the energy saving mode. It can also come useful in situations where you want to turn off laptop monitor quickly while the lid is open. This tool lets you control your monitors built-in energy saving features. It also enables you to configure your own keyboard shortcut for putting your monitor into power saving mode. The application resides in system tray, allowing you to easily access it. It supports multiple monitors, and enables you to activate your screensaver.
The  main interface contains all the options to set monitor energy mode as per requirements. Under Settings section, you can setup hotkey combination for both turning off monitor and starting screensaver. Underneath this, you can enter monitor shut off time delay (in seconds).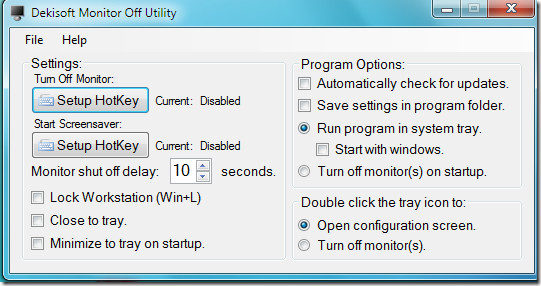 You may turn off the monitor by clicking File > Turn Off Monitor option. As mentioned earlier, you may also set the hotkey to power off the monitor. In order to do so, click the Setup Hotkey button and a new dialogue box will be displayed, now check the box Enable Hotkey to turn off monitor and specify the hotkey to turn off the monitor and click the Set button.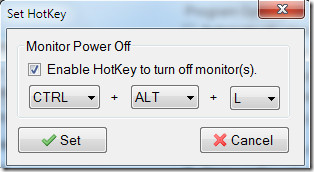 You may set a hotkey to start the screensaver, by clicking the Set Hotkey button located under the Set Screensaver button. The Monitor shut off delay drop down button lets you specify the time for the count down before the monitor turns off, after the hotkey is pressed. You may specify the settings for this program from the Programs Options, By default , whenever you click its tray icon, the configuration window is displayed(it is shown in the very first screenshot), if you want to turn off your monitor by double clicking the tray icon then check the Turn off monitor(s) radio button which is located under the Double Click the tray icon to option. Here is the message which is displayed when you send your monitor to the energy saving mode. The count down time displayed depends upon your configuration.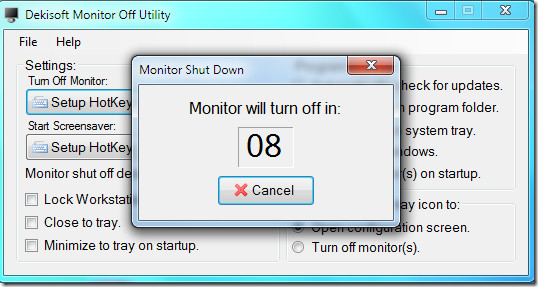 It is compatible with Windows 98, Windows 2000, Windows ME, Windows XP and Windows Vista, we have also successfully tested it on both 32-bit and 64-bit versions of Windows 7. Enjoy!