Ultimate Windows Customizer: All-In-One Customizer For Windows 7
There are many third-party tweaks that allow customizing numerous aspects of the Windows operating system. These includes applications for changing the Windows start menu orb, logon screen branding, library icons etc. Ultimate Windows Customizer is an all-in-one application suite that combines the functionality of many Windows tweaks. It provides the utility to transform the look of the Windows 7 logon screen, start menu orb, Windows Media Player background, taskbar and other Windows elements.
Note: Before installing this application, it is advised that you uninstall any previously installed teaks and revert the changes. This is because, upon First Run, UWC generates backups of the current files and registry settings to allow the user to revert back to default settings.
The Explorer section provides many useful options to tweak the Windows Navigation Pane (by adding additional items like Favorites, Libraries, Homegroup, Computer, Networks, Documents and Control Panel), image thumbnail borders and the command bar.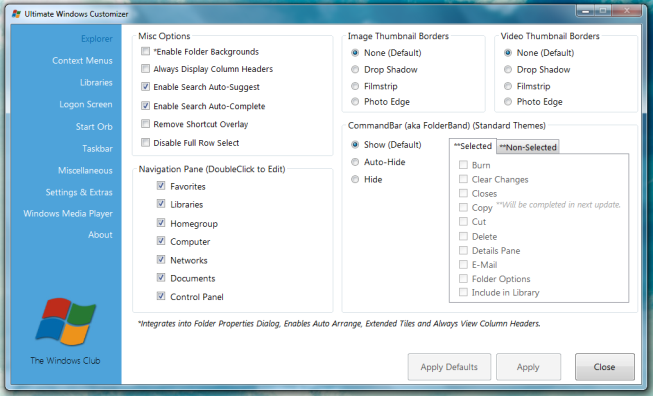 The Context Menu tab allows customization of the Windows right-click menu by adding and removing items. Similarly, you can change library icons, start Orb, change size of taskbar items, enable error message prompts, and change the Windows Media Player background image from the rest of the sections.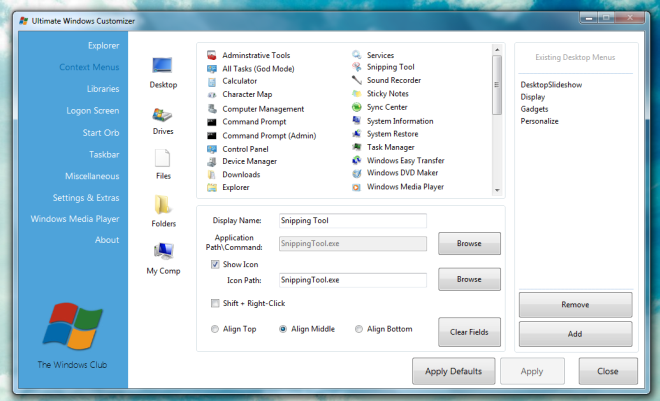 The below image displays how you can apply numerous tweaks to customize your Windows operating system. For example, the logon branding image and Windows Media Player background has been changed, and new items have been added to the right-click context menu.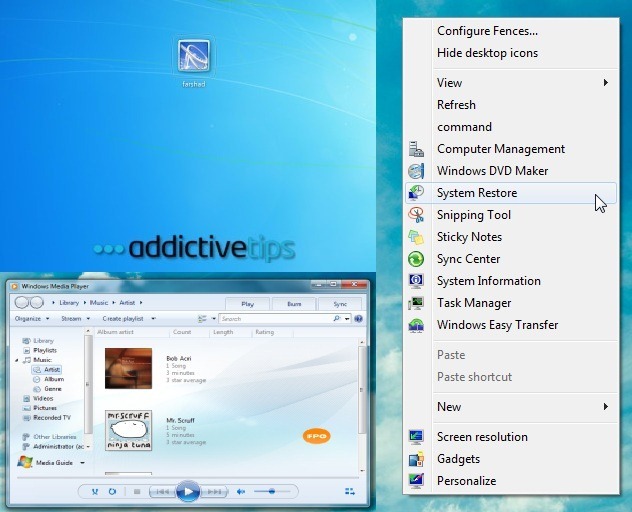 Ultimate Windows Customizer works on Windows 7 and Windows 8.
Download Ultimate Windows Customizer