How to Fix Unexpected Kernel Mode Trap Error on Windows 10
Microsoft's operating system often throws errors on your screen, ranging from a simple dialog when attempting to launch an application to a Blue Screen of Death that takes up the entire display.
Application errors can be easily solved but BSOD errors are another story. Usually, they reveal a stop code that's supposed to help you identify the root of the problem and troubleshoot it.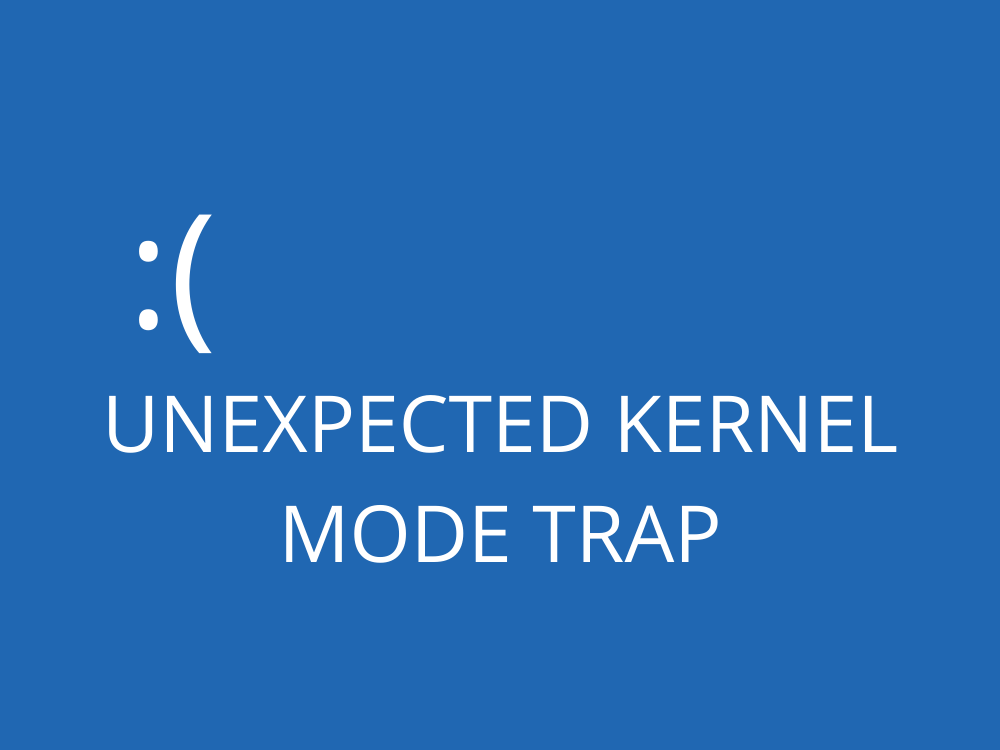 Unfortunately, it's not that easy since Microsoft doesn't provide a straightforward database of quick fixes for each stop code (and there are numerous).
However, you can still repair BSOD errors like UNEXPECTED KERNEL MODE TRAP by experimenting with some tried-and-true solutions that generally apply to Windows computers.
Unexpected Kernel Mode Trap (Windows 10) Error
UNEXPECTED KERNEL MODE TRAP is a BSOD error that affects Windows 10 and older editions. It's accompanied by the 0x0000007F code, indicating a kernel issue that's usually caused by hardware failure.
There are several ways in which you can try to solve this blue screen error. Before getting started, though, it's a good idea to set up a system restore point if Windows allows you to do so.
Later, if you accidentally do more damage on your computer, you can simply roll back your OS to a previous state so that you can try a different mode of troubleshooting.
How to Fix UNEXPECTED_KERNEL_MODE_TRAP (Full Guide)
1. Check your disk space
If you don't have enough disk space on your computer, Windows will not be able to carry out tasks properly, leading to system stability issues and blue screen errors like UNEXPECTED_KERNEL_MODE_TRAP.
The insufficient disk space message usually appears in the notification center of Windows 10, informing you that you need to make more room. There are two ways in which you can do that: extend the OS drive by allocating more disk space from other partitions, or remove files from the PC.
When it comes to file removal, make sure to get rid of applications and games you don't use anymore. As for big files you still want, you can transfer them to an external hard disk, burn them to discs, or upload them to the cloud.
If you still have insufficient disk space afterward, you should look under the hood of your operating system to get rid of junk files. There are a lot of awesome system cleaners out there, but if you don't want to install anything, you could turn to the Windows Disk Cleanup tool.
How to use Disk Cleanup:
Open Windows Explorer (press Win + E), right-click C: or where you have Windows installed, and select Properties
Reboot your computer
2. Check your drivers
A faulty or missing driver is often the cause of stop codes like UNEXPECTED KERNEL MODE TRAP. If the driver name is included in the blue screen message, that's great, since you know exactly what needs to be checked.
Otherwise, it can challenging to spot the malfunctioning driver, especially if you're not experienced in this. Using BlueScreenView might help. It's a tiny, free, and incredibly useful program that examines minidump files left behind by BSOD errors and shows valuable information, including drivers involved in the crash.
How to use BlueScreenView:
Download BlueScreenView from the official website
Launch the application
Open the minidump files created by UNEXPECTED KERNEL MODE TRAP (the tool scans the folder with minidump files automatically)
Discover the names of the drivers involved
Once you know which driver you're dealing with (it could be one or more), you should uninstall the driver device to force Windows into reinstalling the correct driver.
How to reinstall drivers:
Follow the Windows instructions to get rid of the device
You can do this for each driver involved in the BSOD error
Reboot your computer. Windows will auto-reinstall the missing drivers
If this doesn't do the trick, though, it could be because you have an obsolete driver that's causing mayhem on your computer. To fix it, you just have to update it to the latest version.
How to update drivers:
There's a small possibility that Windows won't be able to track down a newer version for you driver using Windows Update. In that case, you have to take matters into your own hands, visit the website of your driver's manufacturer, and download the driver.
Just make sure to get a compatible driver. Else, you risk causing serious damage to your computer. To prevent that from happening, we suggest using a driver update software solution.
It auto-detects obsolete drivers on your PC and finds newer versions online for download. Besides, you can use such a tool to update multiple drivers simultaneously.
3. Update the BIOS
It's pretty rare, but an outdated BIOS might have compatibility issues with your operating system. In time, this can also lead to PC performance problems and blue screen messages.
Updating your BIOS might not make your machine faster, but it definitely helps with troubleshooting hardware issues behind the UNEXPECTED_KERNEL_MODE_TRAP stop code. To get started, you have to figure out your BIOS version.
How to find your BIOS version and update your BIOS:
By taking into account the BaseBoard Manufacturer, visit the official website to download a newer BIOS version
Unzip the downloaded file and copy it to a USB flash drive
Restart your PC
Enter BIOS mode by pressing the key or key combination shown on the screen
Back up the current BIOS version to the USB stick
Deploy the BIOS update and follow the on-screen information
During the update, don't shut down or reboot your PC (it could make it inoperable)
Launch Windows and check if you still receive BSOD errors
4. Restore BIOS to factory settings
Many PC users enter BIOS mode to customize preferences to various parts of the computer, including overclocking, caching, or shadowing. Perhaps you haven't done this but someone else with access to your computer did.
Not to worry, though, since you can undo any custom BIOS modification by resetting everything to default, just to be sure.
How to reset BIOS to default:
Restart your PC and quickly press the key to enter BIOS mode
Access the area of advanced settings
Locate the option to reset configuration data and enable it
Press the key that saves settings and exits (it's usually F10)
After Windows gets launched, check if you still get the UNEXPECTED KERNEL MODE TRAP stop code
5. Start Windows 10 in Safe Mode
If you can't do anything on your computer because Windows 10 shows the UNEXPECTED KERNEL MODE TRAP error soon after it boots, then you should start Windows 10 in Safe Mode.
It creates a secure environment that loads only required processes, services, and drivers. Any non-critical components are excluded to reduce the risk of BSOD errors caused by them.
How to boot Windows 10 in Safe Mode:
Press the Windows key and click the Power button
Click Restart
Press a number associated with a Safe Mode option
You can choose from 4 – Enable Safe Mode, 5 – Enable Safe Mode with Networking, and 6 – Enable Safe Mode with Networking
Press 5
Windows will start. If you still still get the BSOD error, repeat the steps until you reach the Startup Settings screen and press 4 to enable Safe Mode without networking
If you don't get the BSOD error anymore, it means that you have a network connectivity problem
6. Check the system memory
If your computer's RAM is faulty or mismatched, this can turn into hardware failure. It might be the whole reason why you keep getting the UNEXPECTED KERNEL MODE TRAP BSOD error.
This issue can be diagnosed and repaired at the software level by using Windows Memory Diagnostic. It does the entire job on its own and requires minimal intervention from your side.
How to use Windows Memory Diagnostic:
Terminate all ongoing programs
During reboot, Windows Memory Diagnostic will check and fix any RAM issues
Start Windows 10 and check for any additional BSOD errors
7. Unplug recent devices from your computer
All components connected to your desktop have corresponding drivers. If any of them are corrupt or not fully compatible with your operating system, this can trigger blue screen errors.
There's a simple workaround: just unplug any new devices you recently attached to your PC. Then, restart your computer to see if the problem is now fixed.
An improperly connected device may also reveal the name of its faulty driver, meaning that you can further investigate the problem by reinstalling and updating that driver.
While we're on the subject, it might be a good idea to connect your devices to different USB ports, in case some of them are damaged.
And, if you're feeling up for it, you can remove and reseat all hardware components. This means taking your computer apart to reconnect all cables and cards, including the CPU, GPU, and RAM.
8. Check your computer for malware
Certain types of malware attacks are vicious enough to disable or corrupt critical system processes and services. You can usually tell when you suddenly can't access important Windows tools anymore, like Task Manager or Device Manager.
It's no surprise that a heavy malware infection can result in hardware failure and blue screen errors like UNEXPECTED_KERNEL_MODE_TRAP. That's why it's essential to keep your security software in check and regularly perform malware scans.
If you don't have any third-party antivirus solutions installed, it means that Windows Defender is in charge of your computer's defenses.
How to use Windows Defender:
9. Repair your hard drive and operating system
If the UNEXPECTED KERNEL MODE TRAP is caused by hard drive failure, you can try repairing it using CHKDSK (Check Disk), a tool built into the operating system.
How to use CHKDSK:
Press Win key + R, type cmd, and press Ctrl + Shift + Enter to run Command Prompt with elevated rights
If Windows is installed on the C: partition, then runchkdsk c: /f. Otherwise, use the correct drive letter
When CHKDSK asks you to schedule the checkup at the next system reboot, type y and press Enter
Exit CMD and restart your PC
On the other hand, if CHKDSK doesn't report any HDD corruption problems, it's time to shift your attention to the operating system. Some critical system files might be corrupt, which you can easily repair using SFC (System File Checker).
How to use SFC:
Launch CMD with admin privileges
Wait until SFC scans the OS and fixes all errors
Restart your machine
More serious issues can be resolved using DISM (Deployment Image Servicing and Management). It's another tool brought by Windows, which is more powerful than System File Checker and can be used to repair corrupt data in the component store of the OS image.
How to use DISM:
Run Command Prompt with elevation rights
If DISM reports any problems, repair them using DISM /online /cleanup-image /restorehealth
Restart your computer and relaunch Command Prompt as admin
Run sfc /scannow
Reboot your PC
A rundown of UNEXPECTED KERNEL MODE TRAP fixes
To review, UNEXPECTED KERNEL MODE TRAP is a BSOD error usually caused by hardware failure. It's nothing to worry about since you can take a hands-on troubleshooting approach.
For example, you should check if you have sufficient disk space, reinstall and update your drivers, update your BIOS to the latest version, and reset BIOS to factory settings.
It's also a good idea to boot Windows 10 in Safe Mode, check the status of your RAM card, unplug recent devices from your PC, run a malware scan to eliminate any pests, as well as repair any HDD or OS errors.
Did any of these solutions do the trick for you? Have we missed any important steps? Let us know in the comment section below.