UNEXPECTED STORE EXCEPTION Error in Windows 10 (FIXED)
Operating systems don't always work the way you want them to, including Windows. They are prone to all sorts of software and hardware issues, often resulting in Blue Screen of Death errors that take up the entire screen and prevent you from doing anything on your PC.
However, there's no need to panic. Blue screen messages are accompanied by stop codes that you can look up online to find easy solutions. It's probably how you ended up on this page when researching UNEXPECTED STORE EXCEPTION.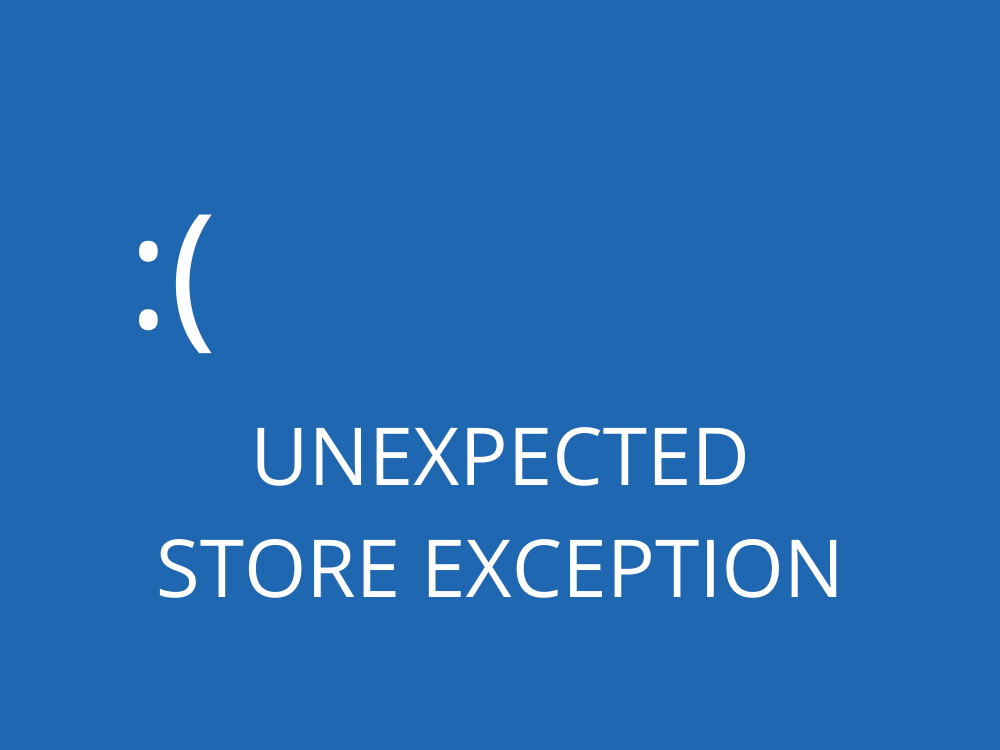 What is UNEXPECTED STORE EXCEPTION?
UNEXPECTED STORE EXCEPTION is a Blue Screen of Death error that occurs on Windows 10 and older versions. It cripples your computer and prevents you from using it for work or play.
The stop code is typically triggered by hardware failure. It means that, to get rid of the error message, it's necessary to identify and troubleshoot the underlying hardware issue.
It could be one or several problems. Some users have reported that no minidumps are created after their PC crashes.
How to fix UNEXPECTED STORE EXCEPTION on Windows 10
You don't need to turn to a computer specialist for help or to start learning PC troubleshooting. As long as you follow the instructions below, you should be able to resolve the UNEXPECTED STORE EXCEPTION error in no time.
However, we recommend creating a system restore point on your Windows 10 PC before trying a new solution. It gives you the possibility to undo any software changes you make, in case you accidentally do more damage than good.
1. Free up your disk space
Insufficient disk space could be the reason behind the UNEXPECTED STORE EXCEPTION stop code. If you often get notified by Windows 10 about running low on disk space, then you can fix it by making more room on your hard drive.
Make sure to move your large files to an external hard disk, including videos, movies, and even installed games. Furthermore, you should uninstall the big applications that you don't use anymore.
When it comes to junk files, you can turn to a system cleaner or just use Microsoft's integrated Disk Cleanup utility. Before using it, you should check the Downloads folder and Recycle Bin to see if there are any files you want to back up or restore.
How to use Disk Cleanup:
Make sure you're logged in as the computer administrator
Press Win + E to open the file explorer, right-click the drive where Windows is installed, and open Properties
Reboot your computer
2. Update Windows 10
A wide range of hardware problems are caused by missing or pending Windows updates. You could even end up with the UNEXPECTED STORE EXCEPTION stop code this way.
How to update Windows 10:
Close any unsaved projects and exit applications
Reboot your computer to finish installing the updates. You might have to do this several times
3. Update your drivers
If you have an obsolete or missing driver installed on Windows 10, this could lead to hardware functionality issues as well as BSOD errors like UNEXPECTED STORE EXCEPTION.
To fix this problem, you can reinstall drivers and update them to the latest version.
How to reinstall drivers:
Follow the on-screen instructions to remove the device
Restart your computer. Windows will reinstall the correct driver automatically
If you're having a difficult time trying to spot the faulty driver, we suggest giving Microsoft's DriverVerifier a shot. It displays in-depth information about each installed device driver.
Once you reboot your PC, you should check if you still receive the blue screen message. In case you do, proceed with the following steps.
How to update drivers:
Unfortunately, Microsoft usually fails at retrieving newer driver versions from the Internet. An alternative solution is to manually download the driver from the manufacturer's website.
But if you don't want to risk getting the wrong driver for your operating system and architecture type, it's better to use a driver updating tool.
It also helps with updating multiple drivers at the same time. You just have to launch the tool. It will scan your computer for all old drivers and download more recent versions from the web.
4. Check your RAM
Your computer might be experiencing issues with the RAM card, which could result in various hardware problems, including the UNEXPECTED STORE EXCEPTION error code.
However, you can quickly verify this without having to turn to third-party software solutions, thanks to Windows Memory Diagnostic.
How to use Windows Memory Diagnostic:
Terminate all running processes
Before your computer starts Windows, it will diagnose the system memory and repair any issues it identifies. If you prefer something a bit more advanced, look into MemTest86.
5. Repair hard drive and system corruption
If your hard drive has corrupt sectors, then you can fix them using CHKDSK (Check Disk), an integrated Windows utility. When it comes to the Windows files, you should turn to SFC (System File Checker).
However, for more serious problems, you should check out DISM (Deployment Image Servicing and Management). All three tools can be launched from the Command Prompt.
Don't worry since you don't need any previous experience with the console environment. Just follow the instructions below and you should be able to fix the UNEXPECTED STORE EXCEPTION error in no time.
How to use CHKDSK:
Press Win key + R, type cmd, and press Ctrl + Shift + Enter to run Command Prompt with elevated rights
Run chkdsk c: /f if you have Windows installed in the default C: partition. Else, replace c: with the right partition letter
When asked to schedule the task at the next system reboot, type y and press Enter
Exit CMD and restart your PC
If you still get Blue Screen of Death error messages, proceed with the next tool.
How to use SFC:
Launch Command Prompt as administrator
Wait until the tool checks the system and repairs are errors
Restart your machine
If the UNEXPECTED STORE EXCEPTION stop code was caused by a damaged system file, it should disappear by now. But if it doesn't, run the next utility.
How to use DISM:
Open Command Prompt with admin rights
If it finds any errors, run DISM /online /cleanup-image /restorehealth to fix them
Reboot your PC and run CMD as administrator again
Restart your computer
6. Roll back Windows 10
Recent computer activity might have taken a toll on your operating system, resulting in registry corruption and disk errors. However, you can easily undo those changes by rolling back Windows 10 to a previous checkpoint.
System Recovery doesn't always work as expected, but it's still worth a shot. Just keep in mind that you will no longer have the games and applications you installed after creating a specific restore point.
How to use System Recovery:
Make sure you're signed in as the administrator
Restart your PC
On the other hand, if you don't have any system restore points created or if Windows fails to undo the modifications after reboot, the next best thing is removing the guilty programs.
7. Uninstall recent applications
Some of the software programs that you have recently installed might not be supported by your operating system, resulting in the UNEXPECTED STORE EXCEPTION blue screen error.
If the stop code started appearing on your screen soon after installing a new application, then you just have to remove it from your PC.
How to uninstall recent apps:
Restart your computer
If you have recently installed more apps, remove all of them
The Windows built-in uninstaller can't eliminate leftover files and registry entries, though. To avoid this scenario, you can use a software uninstaller instead. Besides, you can count on one to remove multiple programs at the same time.
8. Disable overclocking
If you enabled overclocking in BIOS to increase your CPU, GPU or RAM, you might have damaged your hard drive and caused the UNEXPECTED STORE EXCEPTION stop code. Especially if your cooler is working overtime.
The good news is that you should be able to easily fix this by turning off and uninstalling your overclocking software from your computer. Otherwise, you can change it from BIOS.
How to disable overclocking in BIOS:
Reboot your PC and press the key or key combination shown on the screen to enter BIOS mode
Access the Advanced settings
Disable Overclocking
Save the current configuration, exit BIOS, and restart your computer
Check if you still receive BSOD errors
9. Update BIOS
If your BIOS is outdated, you shouldn't be surprised that you receive blue screen errors. But you can fix this by identifying your current BIOS version and updating it.
Visit your BIOS manufacturer's website, check for newer versions, and download the latest one
Unzip the BIOS update file and copy it to a USB flash drive
Restart your PC and enter BIOS mode by pressing the key or key combination displayed on the screen
Create a backup of the current BIOS version
Run the BIOS update from the USB flash drive. Make sure to not turn off your computer during this time
Restart your computer and check for BSOD errors
10. Reset BIOS to default
Any custom changes to your BIOS can be fatal for the operating system overall if you don't know what you're doing. If you or anyone else with access to your PC has configured BIOS settings, it's time to restore them to default.
Restart your PC
During reboot, press the key or key combination displayed on your screen to enter BIOS mode
Locate the option to reset BIOS to default and enable it
Save BIOS settings, exit, and restart your PC again
11. Remove and reseat your hardware components
If you have faulty USB ports, the incorrect device connection could damage your hardware and cause blue screen errors such as UNEXPECTED STORE EXCEPTION. Try switching your devices to different USB ports.
Furthermore, if you have recently attached new gear to your computer unit, such as a webcam or Wi-Fi adapter, unplug it and see if this resolved the stop code.
And, if you're willing to get your hands dirty, then shut down the machine to remove and reseat all hardware components, including the RAM card and motherboard.
Carefully plug the devices back in, put them in the right slots, and turn on your PC to check results. It's a simple trick that often solves blue screen error messages.
12. Clean boot Windows 10
A clean Windows 10 boot creates a safe environment for troubleshooting a lot of computer problems, including Blue Screen of Death errors like UNEXPECTED STORE EXCEPTION.
Do this for all startup applications with the Enabled status
Restart your computer
A summary of UNEXPECTED STORE EXCEPTION fixes
To recap, UNEXPECTED STORE EXCEPTION is a BSOD error caused by hardware failure. You can fix it by freeing up your disk space, updating Windows 10 and device drivers to the latest version, and checking your RAM.
It's also worth trying to repair hard drive and system corruption using internal tools, to roll back Windows to a previous checkpoint, or to uninstall recent applications if the System Recovery mode fails.
Overclocking should be disabled to prevent overheating that leads to hardware problems. Furthermore, you could update BIOS, reset BIOS to default, remove and reseat your hardware components, and perform a clean Windows boot.
If all fails, then it's time to consider performing a factory reset on Windows 10.
How did you manage to get rid of the UNEXPECTED STORE EXCEPTION stop code? Did we miss an important step? Let us know in the comment section below.