Use Double Driver To Migrate Your Drivers To Windows 7
If you are looking to migrate to Windows 7 from previous version of Windows, including Windows Vista or XP, then using Double Driver can help the migration of all your drivers quickly. It can easily make the backup of all the drivers and pack them in a compressed zip file.
By default it will detect and select all the recommended drivers, all other listed drivers will be 3rd party drivers installed by various apps or system drivers which you probably won't need in Windows 7.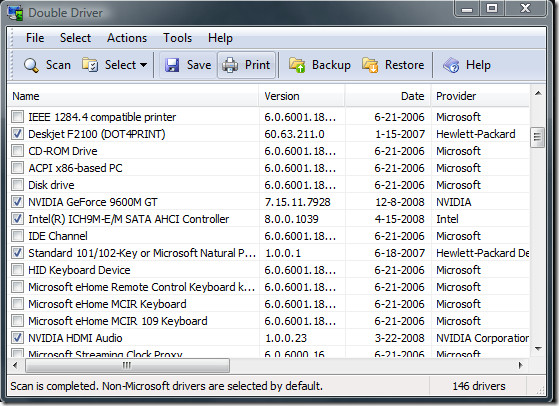 Once compressed backup of all drivers is ready, you just need to extract this zip file in Windows 7 and run Driver Backup to restore them instantly. It will restore the drivers one by one and would take some minutes to complete. Personally, I used this tool to move all drivers from my brother's Windows Vista 32-bit to Windows 7 32-bit OS. It works on both 32-bit and 64-bit editions of Windows 7.
To learn more, read the complete guide and review of Double Driver.