Flipping Book Reader – View And Flip PDF Pages Like A Book
Flipping PDF Reader as the name suggests is a PDF Reader which can be used as an alternative to your default PDF Reader. It has an interactive interface where you can flip pages like in a real book. It provides a number of stylish and unique features such as the option to switch to a two page view, book shelf for all accessed documents, a thumbnail view of the table of contents, a customizable interface and the utility to scroll page up/down using the mouse pointer.
PDF files can be opened either by setting Flipping PDF Reader as your default application for opening PDF files or via the File menu. By default, it displays a two page view, but you can switch to a single page view by double clicking on any part of the page area.  The table of contents can either be viewed in the list form or as Thumbnails to easily identify and open pages. PDF Pages can be flipped by clicking on the arrow buttons located at the bottom right corner of each page.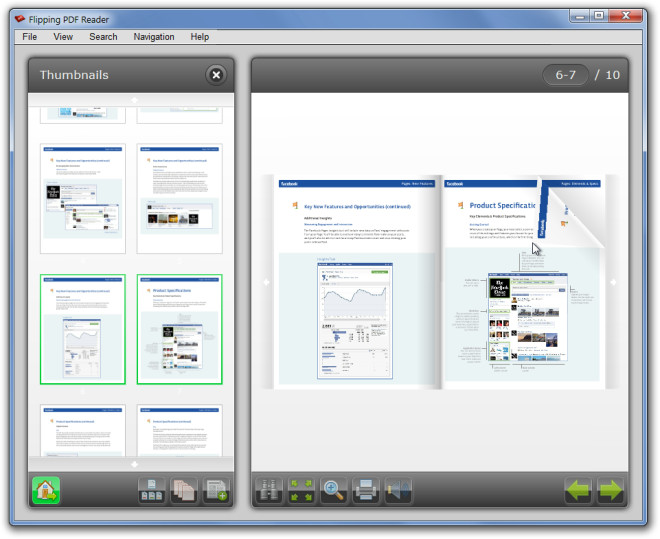 If you would like to view one page at a time, then the page can be scrolled up/down by moving the mouse pointer upwards/downwards. Like any PDF reader, it also provides an instant print selected pages, search zoom, and hotkey options.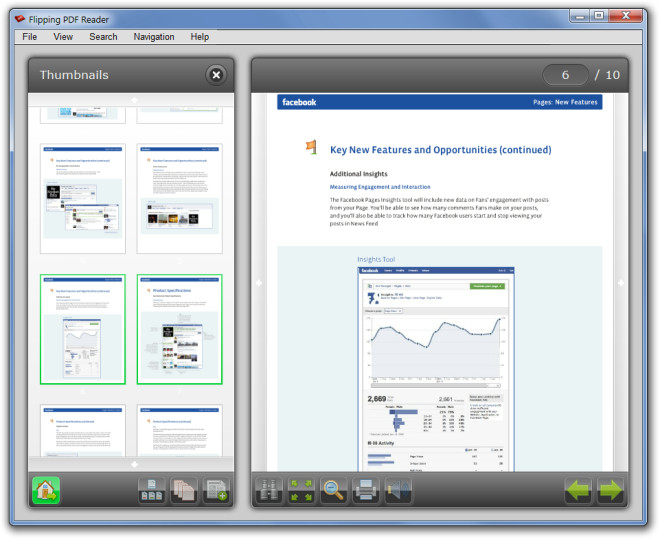 Other than the buttons located at the bottom of the interface, you can flip pages, zoom, print, bookmark, search items either from the drop down menus located on top or by using the assigned hotkeys. Some of the most handy hotkeys include Enter for Zoom, Space or Right Arrow for Next Page, Space or Left Arrow for Previous Page, ESC to go to Bookshelf.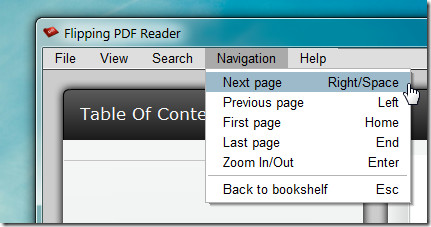 Another good feature of Flipping PDF Reader is the Book Shelf View. All opened PDF documents automatically get aligned on this book shelf and can be viewed by clicking the Home button on the main interface.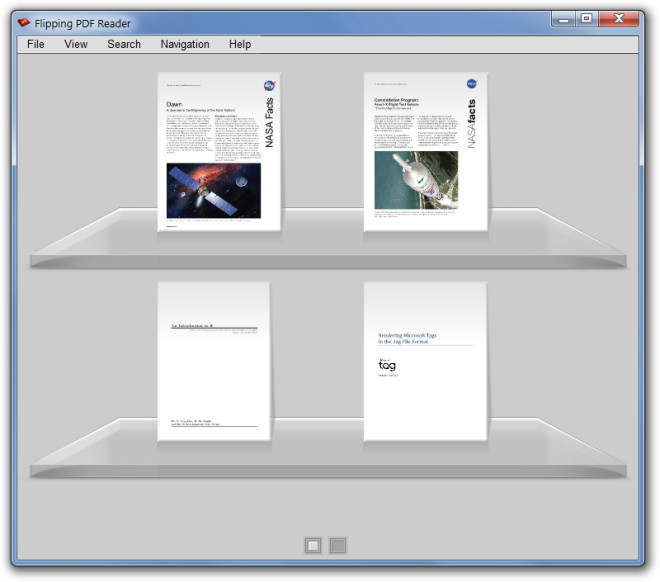 You can change interface colors by going to View –> Color Settings. From here, you can change button, background, panel, text and header colors to customize the look of Flipping PDF Reader interface.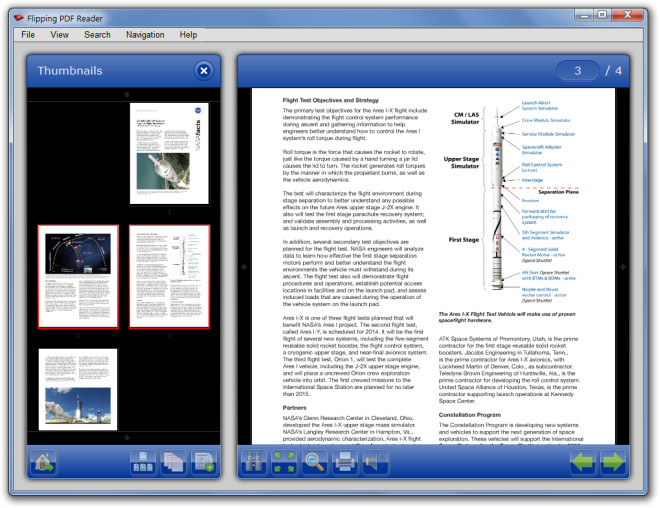 For now, Flipping PDF Reader seems to be a good PDF reader with room for further improvement. The developer has asked users to provide with suggestions and feedback which can help improve this application further. It works on Windows XP, Windows Vista and Windows 7.