WeFi: Find & Auto-Connect To Best Public WiFi Hotspots Near You
Back in 2009, we covered WeFi, a free windows application that let you find best WiFi hotspots anywhere around the globe. The application has come a long way since, adding new features like auto-connection for specified networks, support for mobile platforms, combined with a completely redesigned interface. It extends the functionality of your default Wi-Fi management utility, and provides hotspot maps for easy identification of public (Wi-Fi) hotspots in the vicinity. The application comes with numerous connection modes, including automatic connection (for any Wi-Fi) and approved WeSpots, and your favorite Wi-Fi networks. One of the best features of this application is that users can also identify hotspots and add them to the WeFi database to help other users easily identify public Wi-Fi hotspots. Details after the break.
The main interface of We-Fi displays all available wireless networks that can be connected to. When you connect to a Public Wi-Fi network, you can click Claim as WebSpot and enter the address of the hotspot, to help other users identify the hotspot when they are in the vicinity or searching the WeFi maps. You can switch between the three connection modes (Approved Webspots, My favorites and Any Wi-Fi), as well as connect or disconnect between available networks from the options on the Network tab. Additionally, users can export their location, by logging in with their Facebook account.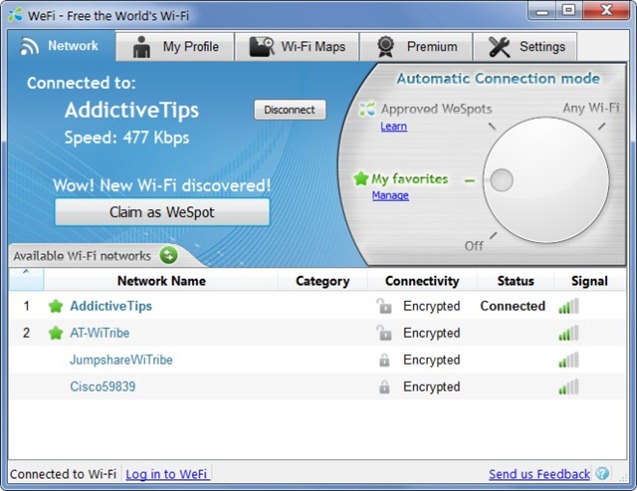 For help regarding available Wi-Fi hotspots in the area or according to a specified address, head over to the Wi-Fi Maps tab. From here, you can search for hotspots by entering the address of your area. During testing, the application auto-detected our location using an Android device.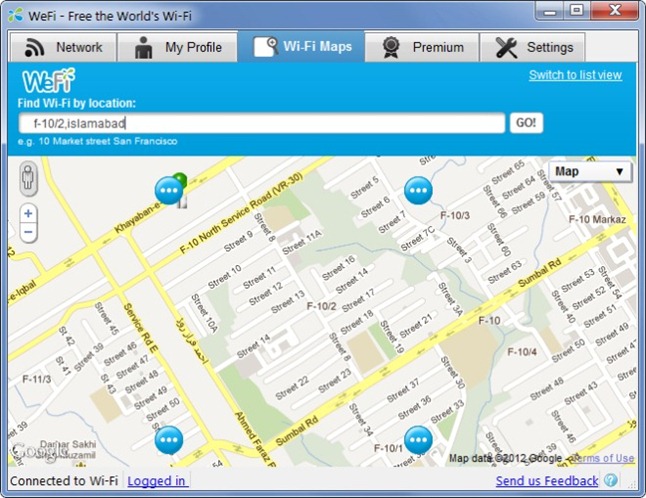 The Settings tab provides options to auto-start the application with Windows, specifying an update time frame, enable storing of web sign-in spots, enable/disable auto connect, automatically open place page (when available) and auto detect spots that require to accept terms on a web page.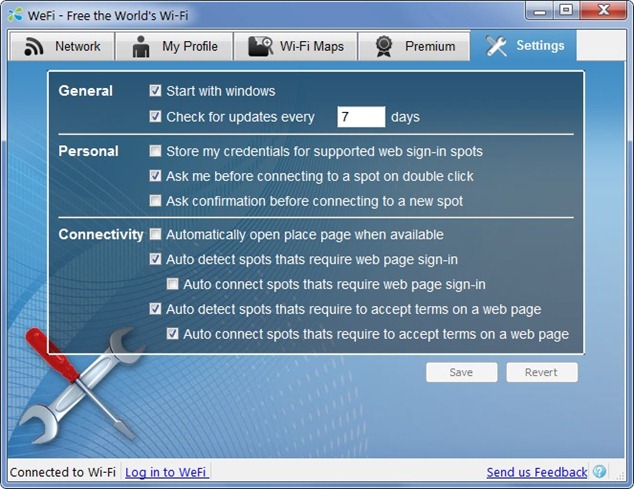 Similarly, you can use WeFi for supported mobile platforms for easily locating and connecting to Wi-Fi hotspots.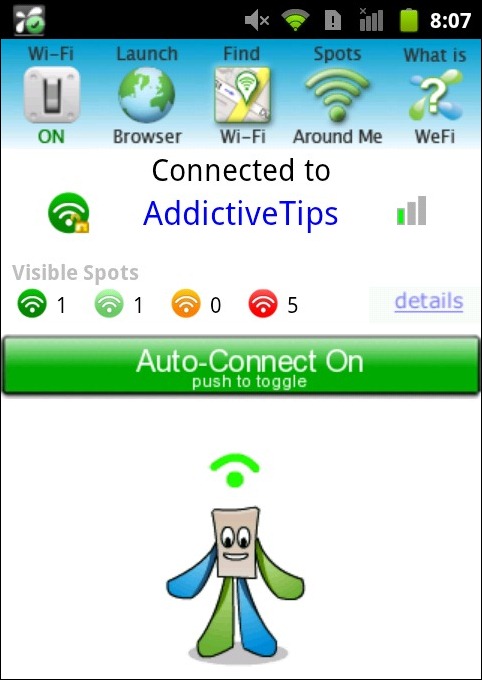 WeFi works on Windows XP, Windows Vista, Windows 7, Mac OS X, and mobile platforms comprising Android, Symbian and Windows Mobile.