Win7 X Folder – Manage, Search And Rename Files & Folders In Windows 7
File management utilities are developed to prevent users from taking monotonous steps for organizing file listing, renaming files in bulk, adding or removing prefixes/suffixes and so on. If you need an easy-to-use folder management solution which doesn't require configuring lengthy procedures, try out Win7 X Folder. The application has been designed to save you time that you'd have spent doing various file and folder related tasks the default way.
It contains small file search, manage, and rename features to quickly organize the files in specified folder. As far as file renaming options are concerned, it offers some pre-loaded templates to quickly select and change file renaming conditions; you can add and remove pre and post fixes to file and folder titles, replace keywords in titles with specified ones, and change file extensions. All these operations can either be performed over files, folders or on both files and folders simultaneously.
Just run the application's executable file and specify the folder which you want to manage. Once added, it lists down all the underlying files and folders. The Mass renamer lets you rename files and folders in bulk according to user-defined conditions. In Batch Rename dialog, select items types over which you need to perform file renaming operations. Now select the template and enter the renaming conditions.
If you, for instance, want to add prefix in file titles, select Rename only files option, enable Add option and enter prefix followed by select Starting option from respective drop-down menu. Once done, click Start to begin renaming files. You can see the results in Win7 X Folder main UI.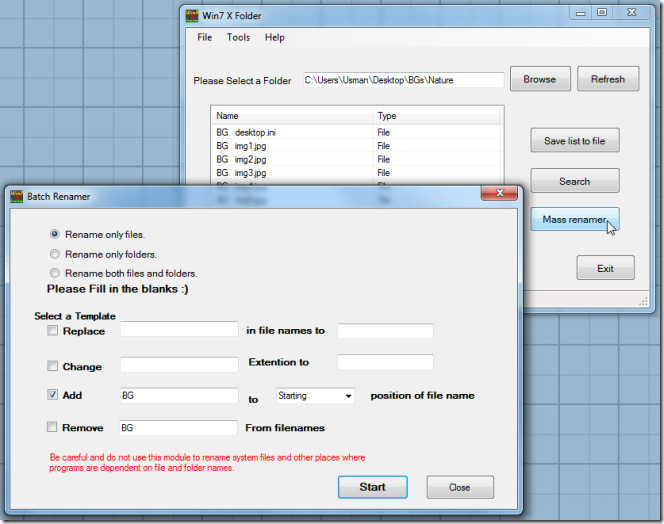 Similarly, in Search window specify the way file search is to be carried out. You can find specified keyword in file and folder names, inside the files, and choose both file names and data. When you hit Search button, a new dialog opens up showing the search results.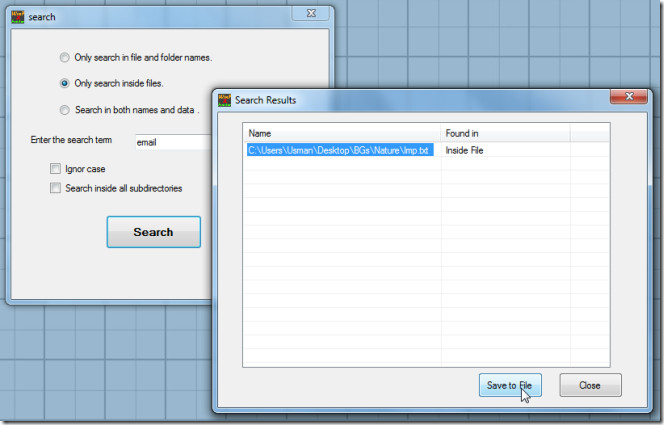 The resultant file listing can be saved into CSV and plain TXT file format. You can choose to include names of files and folder, and size of each file in list as well.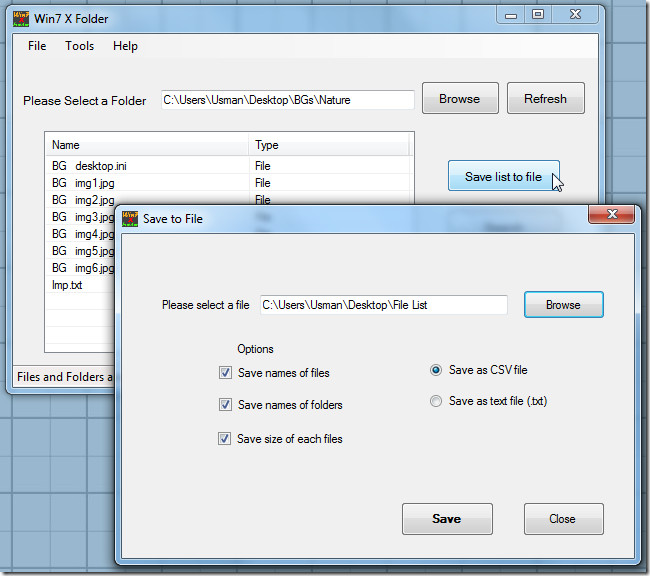 Win7 X Folder is a portable application that works on Windows XP, Windows Vista, and Windows 7. Both 32-bit and 64-bit Windows editions are supported.