Windows 7 App Launcher SE-TrayMenu
SE-TrayMenu is a free light-weight tool which sits in the system tray and lets you access the most commonly used applications from a simple interface. You can consider it to be an alternative to the Windows Quick Launch feature. It also lets you specify the global hotkeys to access everything you want with one click.
Once installed, you will find it located in the system tray.Clicking it loads the list of applications.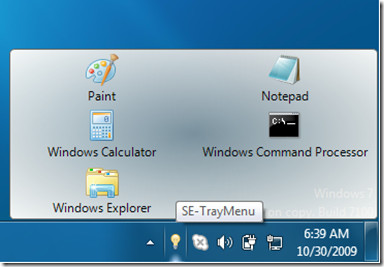 You can easily customize its look and feel as well as the applications which it is configured to launch. Right click the tray icon and choose Settings. The Settings dialogue box will be launched.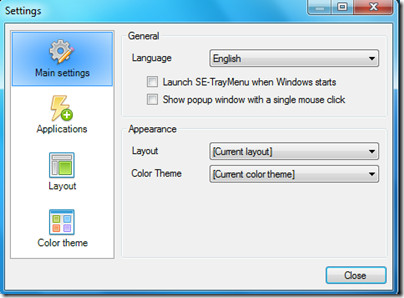 The Main Settings option lets you manage the settings regarding the languages and appearance of the Tray Menu, while the Applications option lets you add or remove  applications respectively to and from the tray menu's list.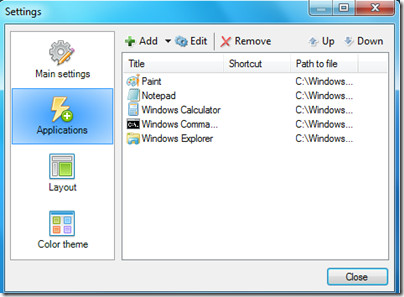 The Layout option is used to change the look and feel of the tool, and you can also play with its default color from the Color Theme option. In order to set the shortcut key for some particular app, click the Edit option in the Application category and specify the shortcut key in the Edit dialogue box.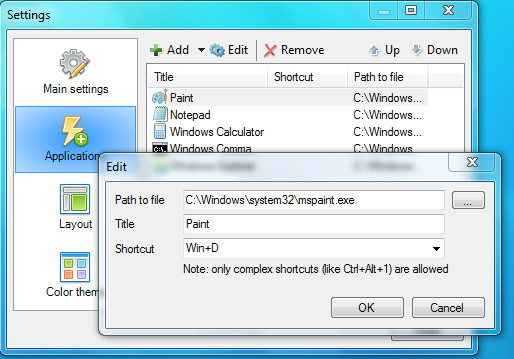 Officially, its supported windows versions are Windows 2000/2003 Server, XP and Vista, but we have tested it successfully on Windows 7 as well. Enjoy!