Ultimate Windows Tweaker is a free utility which offers a very user-friendly interface to tweak your Windows 7. It basically works on Windows 7 and Windows Vista. It automatically detects that whether you are running Windows Vista or Windows7 and offers tweak options accordingly. It lets you easily tweak various settings related to System Performance,  User Accounts & UAC, System Security, Network Security, Internet Explorer, etc.
You don't need to install it, just download it from the link mentioned in the end of the post, unzip the download folder, and runUltimate Windows Tweaker. Thats all, on the left sidebar you will see different categories, click any option here and you will see its tweaking options on the main window.
The very first option, System Information provides you useful information about your system. Personalization tab lets you customize Windows Explorer, Start Menu and Task bar.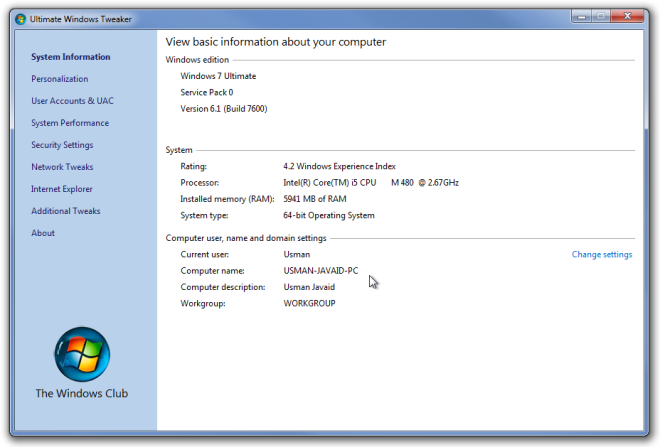 User Accounts & UAC lets you customize User Access Control settings and you can also tweak your welcome screen from here.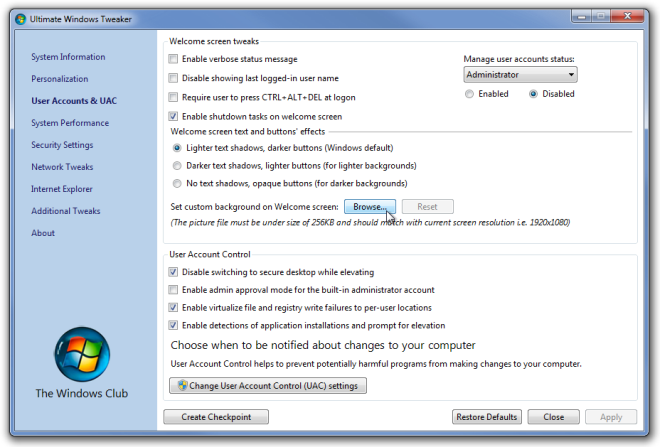 System Performance lets you decide the waiting time for the services to end at system shutdown, optimize services, and tweak your menu options.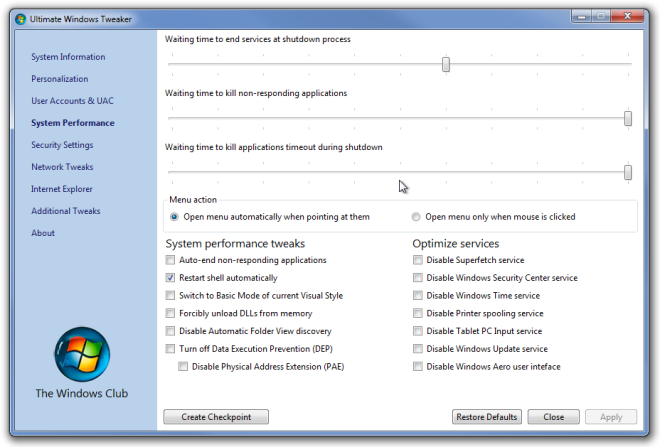 Its very easy to tweak your Security Settings and you can tweak your network settings from Network Tweaks. Sometime you need to tweak Internet Explorer browser, you can achieve it from Internet Explorer option. Additional Tweaks lets you tweak context menu for files and folder, Drives and some other additional system settings. You can also restore the default setting from the Restore Default button.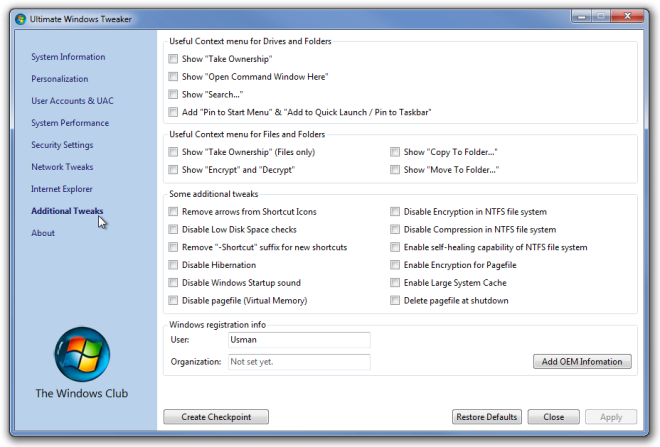 Download Ultimate Windows Tweaker
To put into the nutshell, it makes your system faster, more stable, and more secure with just a few mouse clicks. Enjoy!