Yadis! Backup: Real Time Backup With Versioning And Scheduling
Backup utilities have certainly out-numbered other applications in software categories primarily because of different type of needs from end-users. Yadis! Backup caters both amateurs and pros alike in a smart way, during installation it asks you to specify your skill level in using backup utilities, and then presents you with tools, options and features based on the choice.
The application has extensive features to backup your precious data in just the way you want. On top of feature list, it offers almost every medium on which you can backup your data in real-time. It performs instant backup when a file is modified, added, or removed from the source.
The best part is that when your backup destination isn't available, Yadis! remembers the changes you have made. Whenever the location becomes available Yadis! will start backing up the changes.
The snappy interface will easily get you started with the procedure. On left sidebar, Task list is provided to navigate through different functions. For first time usage, create a new task by clicking the respective button. It will open settings based on your skill level, which can be changed from Task mode. From General, just select the type of task, it could be General Task, Favorites, and FTP task and give it a name.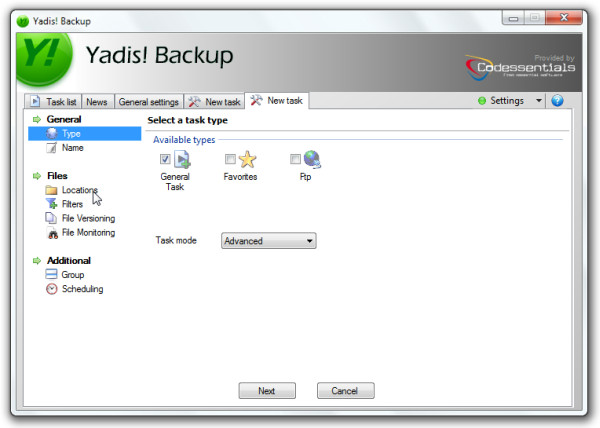 Under Files, you will find Locations, where you can select the data source and target path, based on the selection it will assign task a directive. Filters option comes useful to include/exclude specific type of files. Advance users can also play around with some File Monitoring options to keep themselves updated with the changes.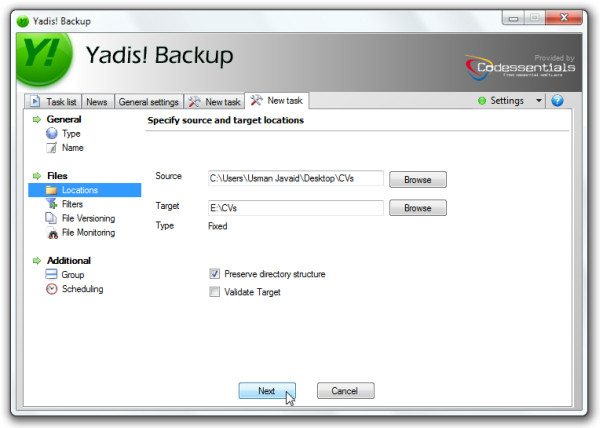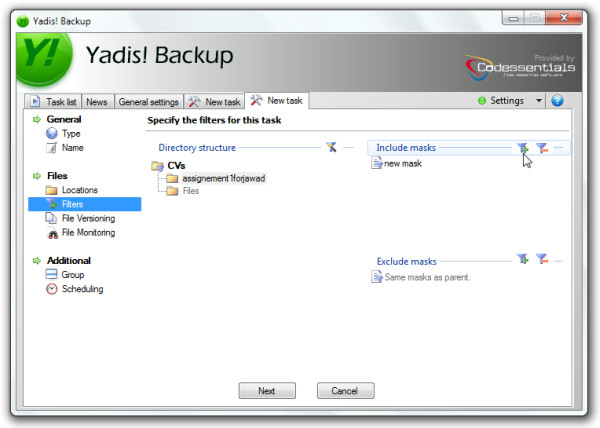 One noteworthy option is to schedule backup task, under Additional, you can schedule the backup process to limit down the prolonged real-time backing process to backup data only for specified time.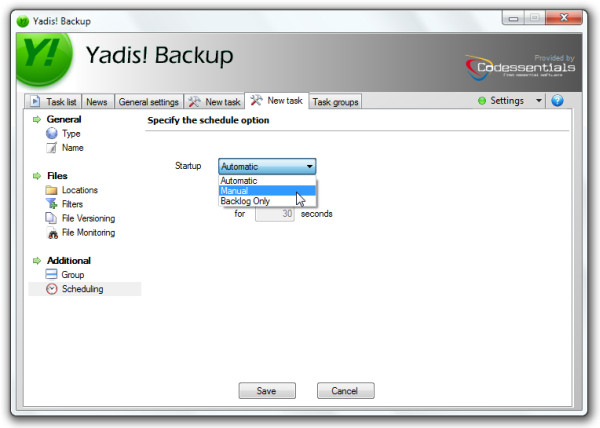 Once the backup task is saved, it will queue the files for backup. As far as the interactivity is concerned, it is quite expressive in terms of displaying current process notifications in system tray.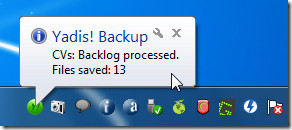 After it has backed-up the data, all the task related information can be found under Task Info from the left sidebar. You can view the Backlog and all the previous backup history. Apart from providing users with backing up data, it also let them restore the files and folders promptly from target location.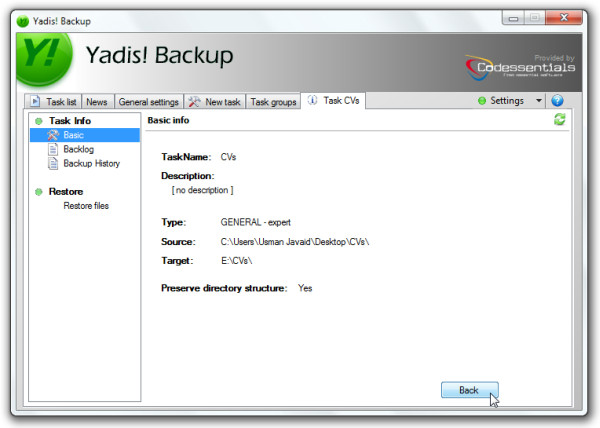 The application has huge array of features to let user backup data without fearing any loss or data corruption, it can backup data on remote locations, USB drives, and writable DVD/CD.
It takes only 25 MB of memory and runs on all Windows based OS, testing was carried out on Windows 7 x86 system.
You can also check out previously covered backup applications; AutoVer, Drive Backup, and PureSync.