We are reader supported and may earn a commission when you buy through links on our site.
Learn more
Best Streaming Services With Free Trials in 2021
With so many streaming services out there, it makes sense to try before you buy. Today, we review the best streaming sites with free trials, and show you how to get the most out of them by using a VPN. Read on to get your binge on!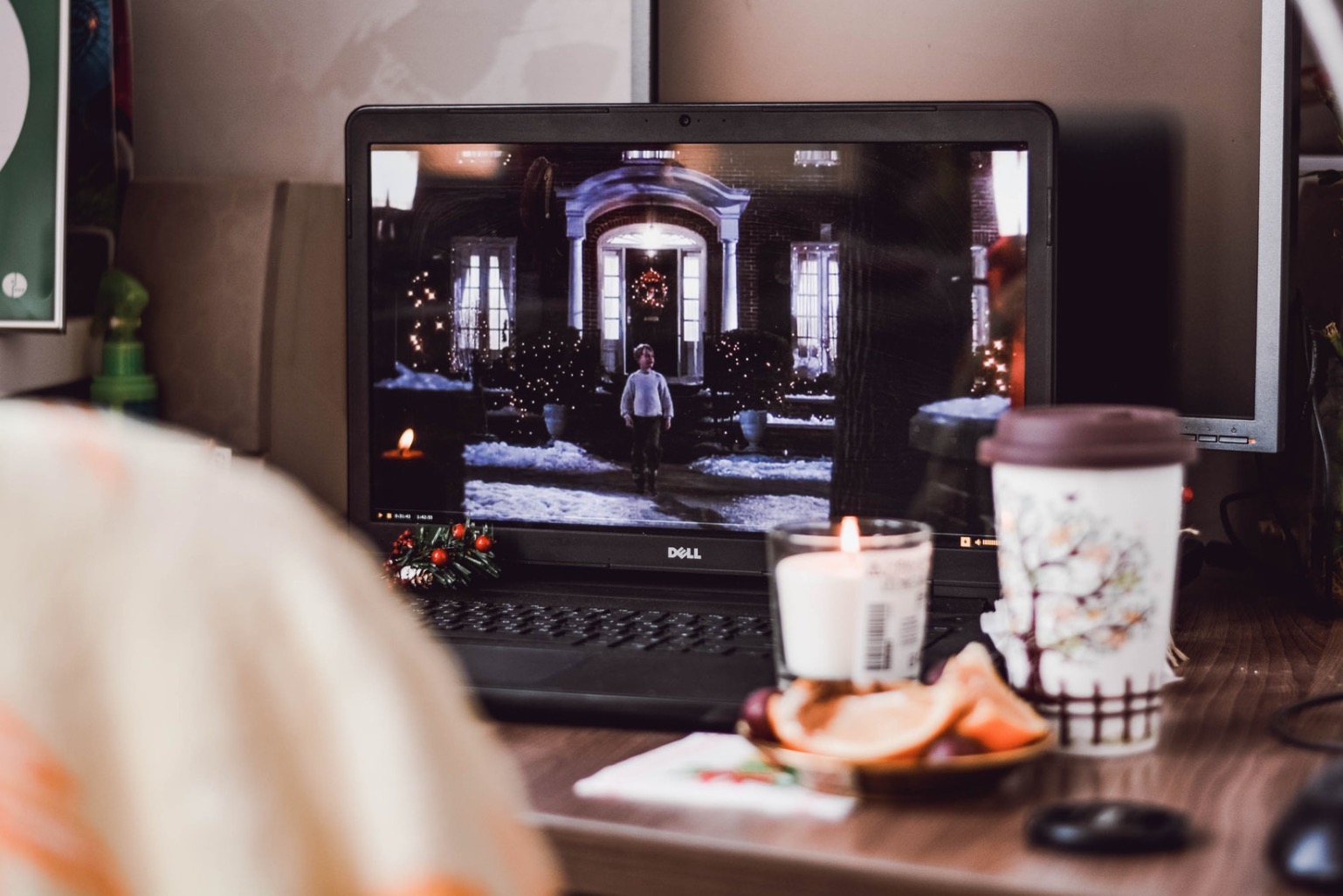 These days, you don't need a TV to watch the latest shows and movies – it's easier than ever to get a subscription to a streaming service that lets you watch video content on your computer or mobile device. These services let you watch an unlimited amount of video whenever you want, making them perfectly set up for binge watching whole seasons of shows on lazy weekends. They area also a good way to discover new shows and movies, and to rewatch older episodes of favourite shows. You can stream video content – usually in high definition – and the services generally have very good service so the videos are delivered fast and you don't need to worry about the loading times or buffering issues that you can experience with unofficial streaming sites.
Don't let geoblocks limit your choices, access international streams with these secure VPNs:
NordVPN – Best VPN for Streaming – NordVPN's massive network is the perfect tool to unblock the Internet, with tens of thousands of spoofable IP addresses available in countries around the world. Smash through geoblocks and stop ISP throttling with NordLynx encryption.
Surfshark – An affordable VPN with top-tier privacy provisions and a special knack for getting around VPN bans.
ExpressVPN – The classic choice for speed demons, thanks to a turbo-charged network of servers and Lightway encryption.
IPVanish – Offers an outstanding balance of privacy, performance, and price.
Overall, a subscription to a streaming service is a really useful thing to have for watching TV and movies. And if you buy a subscription instead of renewing your cable package, you might even save a bunch of money. But which streaming service is the best? This is a matter of opinion and it depends on your personal needs. Each service has a different catalogue of videos to watch and has different features. One way to determine whether one or more streaming services are suitable for your needs is to try out each one. Today we're going to list the best streaming services with free trials you should try so you can check out each service and decide which one is worth spending your hard earned cash on.
30-days money back guarantee
This Year's Best Streaming Services With Free Trials
Once you have a VPN in place for maximum flexibility, you can start trying out the free trials on these top streaming services:
#1 – Netflix

Netflix is the famous streaming service that everyone knows. It has a very well made and easy to use website, and it's easy to find whole seasons of shows or to find a particular episode that you're looking for. The biggest strength of Netflix is its selection of TV shows, but it has a decent number of movies available too. One nice feature is the categories, which you can browse to find a new show or movie to watch. Netflix also develops its own shows which are exclusive to the platform and which are generally terrific: shows like Orange is the New Black, Manhunter, Jessica Jones, House of Cards, Narcos, and more.
To help you watch shows like Narcos which are in both English and Spanish, there are subtitles available in English for practically everything, and there is some subtitle support for other languages too. A new and popular feature is the audio descriptions which have been added to some content, where a voiceover is added to describe the action that is happening on screen. This was originally designed as an accessibility feature for visually impaired users, but has since proved popular with sighted people too, as they can use it to listen to shows like a podcast instead of watching them.
The number of simultaneous connections you can have at any one time and your access to high definition content is determined by the level of account that you purchase. But even the basic users can use both the Netflix website and the apps for mobile device. You can try out the service free for one month to see if you want to keep a subscription.
Website: https://www.netflix.com
#2 – Hulu

If you live in the US, then you probably already know about Hulu. As a direct competitor to Netflix, Hulu has a similarly large selection of movies and TV shows for you to watch. The service also has its own original programming like the critically claimed The Handmaid's Tale or superhero show Marvel's Runaways. The platform has a special interest in documentaries, so if you like learning about new facts then this service is great. The service works by showing you content from two sources: firstly, there is Hulu's always available catalogue of shows and movies, and secondly, you can watch the four most recent episodes from shows which have aired on ABC, Fox, and NBC. This means that there is a combination of both permanent content and of the latest episodes airing on TV.
Hulu offers two tiers of subscriptions. The lower tier is one of the cheapest options for a streaming service that you can find, but it does come with ads. If you want an ad-free experience you'll need to pay for the higher tier. Also, note that Hulu is only available in the US officially, but you can access it from other countries by using a VPN as described above. Hulu offer a 30 day free trial of the lower tier or a 7 day free trial of the higher tier, so you can try it out and see if you like the service even more than Netflix.
Website: https://www.hulu.com
#3 – Amazon Instant Video

If you use Amazon's Prime service then you probably already know about Amazon Instant Video. You get access to the service included in your Prime subscription, which entitles you to one day delivery for Amazon products. Alternatively, it is also possible to purchase a subscription for Prime Video without including the Prime shipping deals and other perks, so this is an option if you just want a streaming service and aren't interested in Amazon's other features.
Like Netflix and Hulu, Amazon has also been developing original content, albeit not quite as successfully as the other two. Still, there have been some really great and highly regarded shows made for Amazon, even if they weren't that famous: shows like The Man in the High Castle, The Grand Tour, and Ripper Street. You can watch programs in high definition, and you can also buy episodes to access later if you want to download your videos to your hard drive.
Amazon Instant Video is available worldwide, but the biggest selection of content is for the UK and can be accessed at the amazon.co.uk URL (using a VPN if necessary). You can try out a 30 days free trial of Amazon Prime which includes both access to Instant Video and the fast Amazon shipping.
Website: https://www.amazon.co.uk/Amazon-Video/
#4 – DirecTV Now

DirecTV Now is the streaming service from US-based mega network AT&T. The service is available for smartphones and tablets plus smart TVs as well as through web browsers, and it has been positioned as a service for watching content through your smart TV or HTPC. The website is not as reliable or as pleasing to use as some of the other services, but the streams themselves work just fine. There is some options to watch live TV channels as well as on demand content, however, this is dependent upon where you live and other considerations. The service is officially only available in the US, but you can try watching it from elsewhere in the world using a VPN.
The amount of content that you'll get access to with a DirecTV Now subscription depends upon which package you purchase. There are four levels of package, offering 60+ channels, 80+ channels, 100+ channels, and 120+ channels. The channels included in the service at a basic level include ABC, BBC America, CNN, Comedy Central, ESPN, Fox, HGTV, Lifetime, MSNBC, SyFy, and USA. In the higher levels you can also access channels like HBO, Cinemax, Showtime, and Starz. If you're unsure whether this service is right for you, or if you want to test out exactly what content you'll get access to in your area, then there is a seven day free trial you can try.
Website: https://www.directvnow.com/
#5 – HBO Now

If you're a big fan of HBO's shows and you want a way to watch just these, then you should look into HBO Now. Not to be confused with HBO Go, which is a streaming service for people who have HBO as part of their cable package, HBO Now is a service that anyone can sign up for, even if they don't have cable. Game of Thrones fans will be happy to hear that they can watch every episode of every show on HBO, including Game of Thrones, as soon as they air. The service is currently only available in the US, but you should be able to access it with a VPN from elsewhere too.
HBO is known for its quality shows, like Westworld, True Detective, Deadwood, The Wire, and of course Game of Thrones. So although you can only stream content from HBO and not from other channels, you'll still find plenty to watch. You can watch the service on your Amazon Fire devices or Android devices as well as Apple TV and iOS devices, plus Xboxes, PlayStations, Samsung Smart TVs, Rokus, and in the web browser. You can stream on multiple different devices simultaneously, so it's no problem to buy one subscription and then have multiple members of your family using the service at once on different devices. HBO Now is one of the most expensive subscription options, which is offputting as it gives you access to content from just one source.
However, cable subscriptions for HBO are expensive too as it is regarded as showing content of an exceptionally high quality – more so than other channels or services. To decide for yourself if it is worth paying for, you can try the free one month trial.
Website: https://order.hbonow.com/
#6 – Sling TV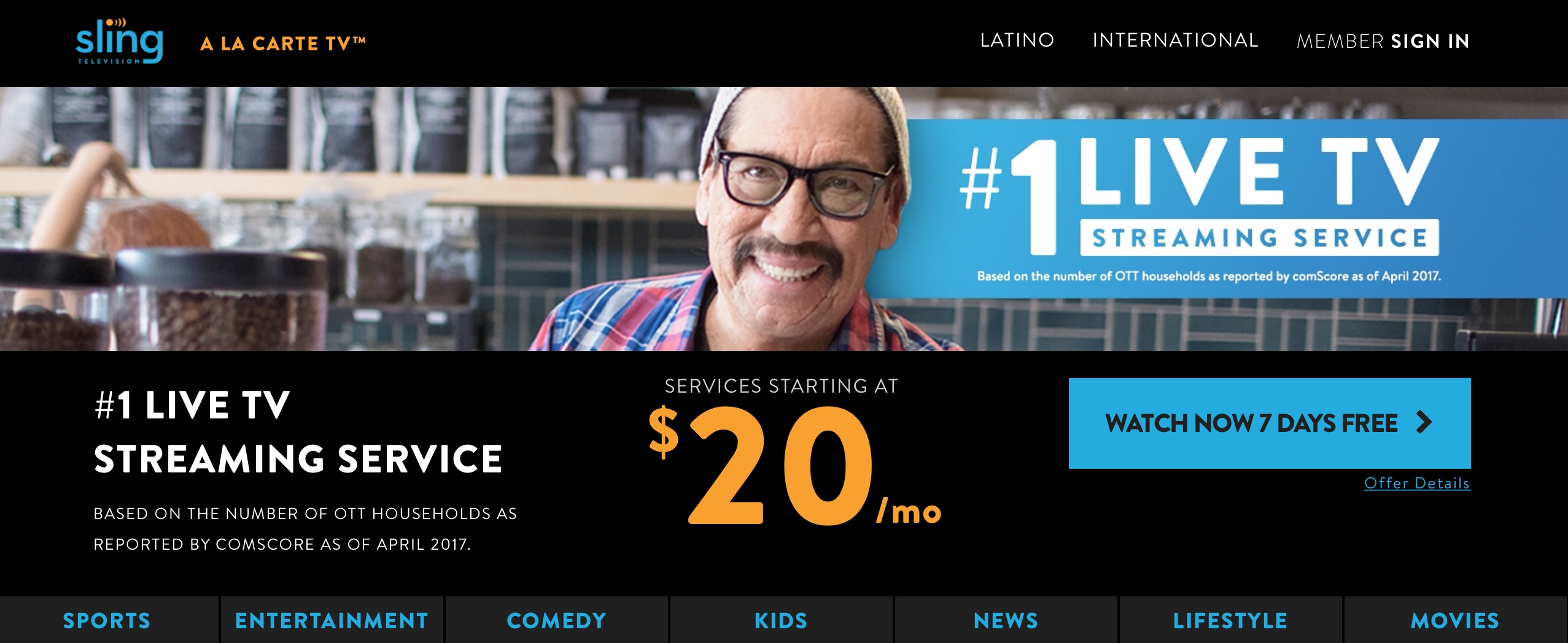 Another popular streaming service from the US is Sling TV. This gives you access to networks like AMC, CNN, and Comedy Central. However, Sling TV is different from other streaming services like the ones we described above. They are designed primarily around on-demand content – that is, watching episodes of any show at whatever time you want. By contrast, Sling TV is focused on providing live TV in order to complement these on-demand subscription services, though it does have some on-demand content available too.
There are three tiers of account for Sling TV: the basic package gives you the service previously described, while the higher packages give you access to more channels like the Disney Channels, the ESPN channels, National Geographic, and USA Network. You can also pick and choose additional add-ons to your package so that you only have to pay for the channels that you actually want to watch. The channels available in these add-ons include ABC, HBO, Showtime, Starz, and bundles of channels in Spanish, Hindi, Italian, and other languages. There are also add-ons for regional content from South America, India, China, and more. To try out Sling TV to see if you like having the option to watch live TV as well as on demand content, you can use the seven day free trial.
Website: https://www.sling.com/
Get More Out of Streaming Services with a VPN
Almost all streaming services have a different catalogue of material available for streaming depending on what area of the world you are located in. Regional copyright restrictions mean that services only have the right to stream the content which they have negotiated access for in a particular country. Some streaming services, like Hulu, are not even available in countries outside of the US.
Fortunately, there is a way around this problem to let you watch content from these streaming services even if you live outside of the US. You can use a VPN to access content from other countries. You just need to chose a VPN provider, download their software, and run the software on the device you are going to use to access your streaming service. Then, you connect to a server located in the country where you want to watch content, fooling the streaming service into serving content to your device as though you were there.
Recommended VPNs
We have specific suggestions for VPN providers that you can use with your streaming service, based on how well they work with streaming sites. Here are our top recommendations for VPNs for use with a streaming service: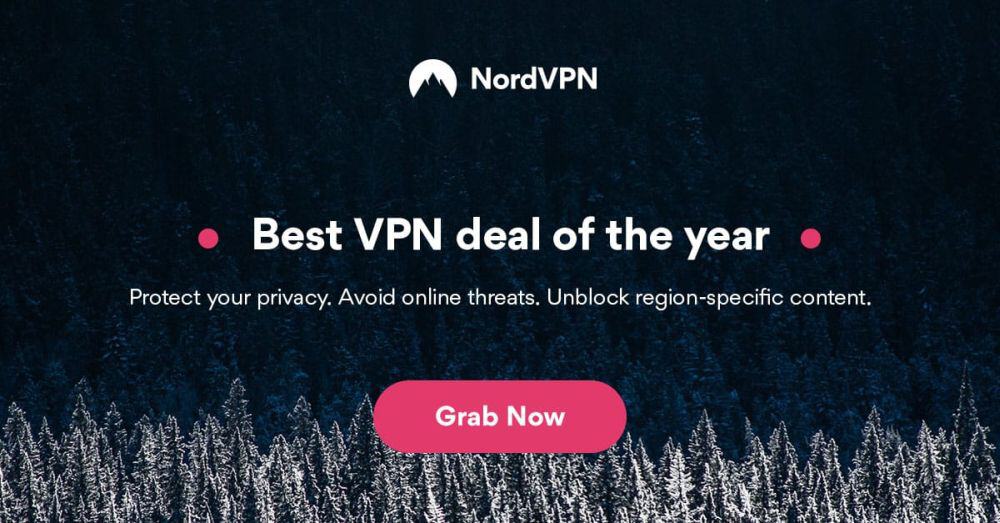 NordVPN is without question the most sophisticated option for streamers in search of next-level entertainment and security. They have special Netflix-optimised servers so that you can always find one that will work. The big server network covers more than 5,800 servers in 59 countries, so you'll have no problem finding a server wherever you need one. And NordVPN works to make sure that its servers work even with restrictions in place, so you can use the service is any situation or in any country.
Read our full NordVPN review.
Pros
SPECIAL OFFER: 2-yr plan (68% off - link below)
Fast and stable connections
Strong encryption is used on all connections
Retains no metadata of your browsing
Live Chat Support.
Cons
Very little
Sometimes slow in procesing refunds (but always do).

Surfshark is a budget VPN that punches well above its weight class. With unbreakable 256-AES-GCM encryption shielding your connections to over 3,200 servers in 65 countries, you'll never want for options when spoofing past the unfair geoblocks that stop you from accessing foreign content. It even breaks through Netflix's proxy ban, thanks to built-in smart DNS. Zero logging, fast servers, and unlimited simultaneous connections round-out Surfshark's outstanding privacy package.
Pros
Reliably unblocks Netflix US, UK, Japan, and more
Multi-hop connections readily available
Clean, dead-simple app interface makes constant security a no-brainer
Favorable BVI jurisdiction guarantees no logs kept
Helpful 24/7 live chat with an actual human being.
Cons
Overall, not much to complain about
Relatively young VPN still has to prove itself trustworthy over the long haul.
Read our full Surfshark review.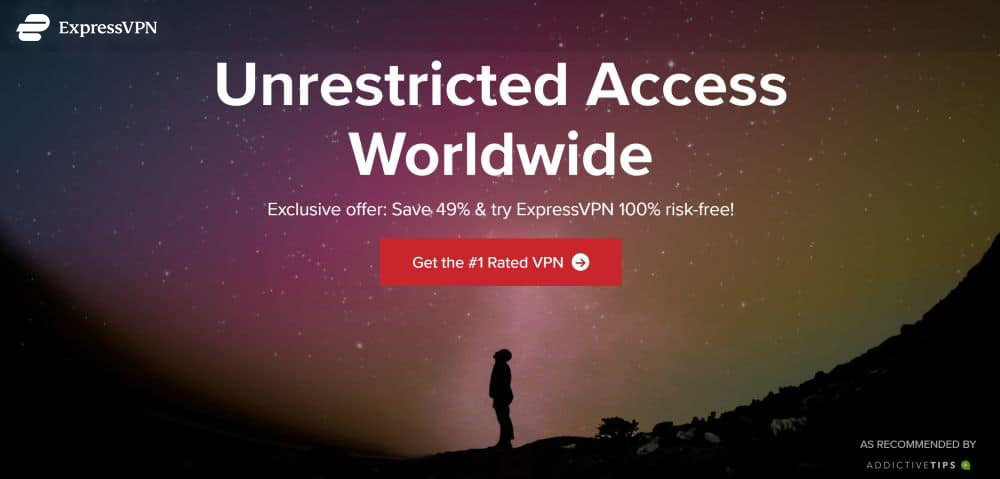 ExpressVPN is one of the most popular and best regarded VPNs in the world, and for good reason. As well as a high level of security and software with a good ease of use, this service is one of the few VPNs that will work with Netflix. Most streaming sites are easy to access with a VPN, but Netflix is more difficult as the site uses sophisticated VPN detection to refuse connections from VPNs. However, ExpressVPN works to maintain servers which can get around this detection software and so still work on Netflix.
Read our full ExpressVPN review.
Pros
SPECIAL OFFER: 3 months free (49% off - link below)
Reliable and fast connections
Supports ALL devices
No logging policy well enforced
24/7 Customer Service.
Cons
Power-users configuration options.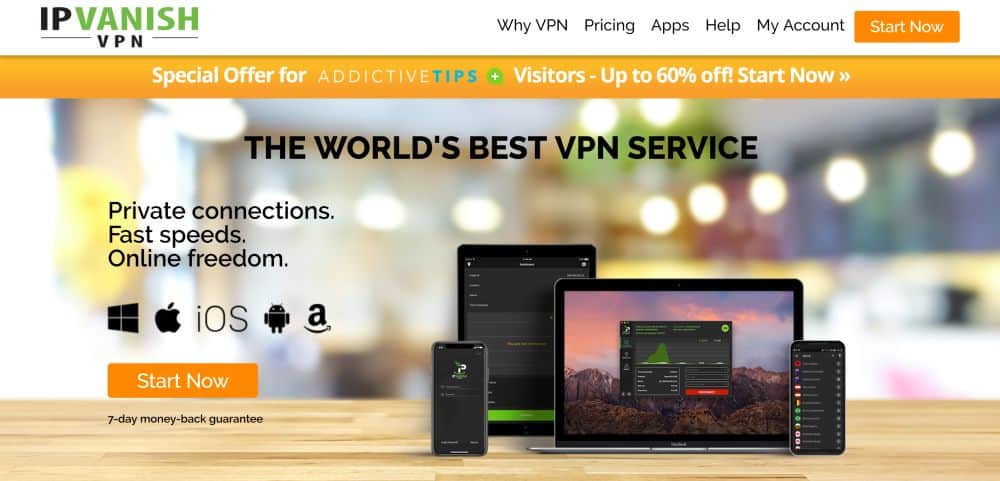 If you're not planning to use Netflix, then you can try IPVanish. This is one of our favourite services thanks to its incredible high speeds and good reliability. The service doesn't work with Netflix, but it should work with the other services we mention below, and the lightning fast connections are perfect for streaming videos in high definition.
Read our full IPVanish review.
Conclusion
Everyone know about Netflix, but there are lots of other streaming services out there too. If you're interested in purchasing a streaming subscription but haven't decided on which one you want to use just yet, then you can try out any of the services mentioned above using their free trials. Free trials last for between one week and one month, and you usually have to sign up for the service first before you can use the free trial, so don't forget to cancel the service before the end of the trial if you've decided against keeping it permanently.
Which service will be best for you depends on factors like what kind of content you want to watch, whether you prefer TV shows or movies, whether you want live TV channels as well as on demand, and what features are most important for your watching. We recommend trying out several different services using their trials and then making a decision on which you will keep.
What's your favourite streaming service? Is it one of the ones that we have mentioned here, or is there another service which you prefer? Tell us your thoughts in the comments below.