We are reader supported and may earn a commission when you buy through links on our site.
Learn more
Best VPNs for DirecTV Now in 2021
The best VPN for DirecTV carefully balances price, performance, and privacy to reliably unblock the service to users outside of the U.S. Today, we'll show you 5 of the top VPNs proven to bypass the DirecTV region lock and enable streaming anywhere in the world. It only takes a few minutes, so read on.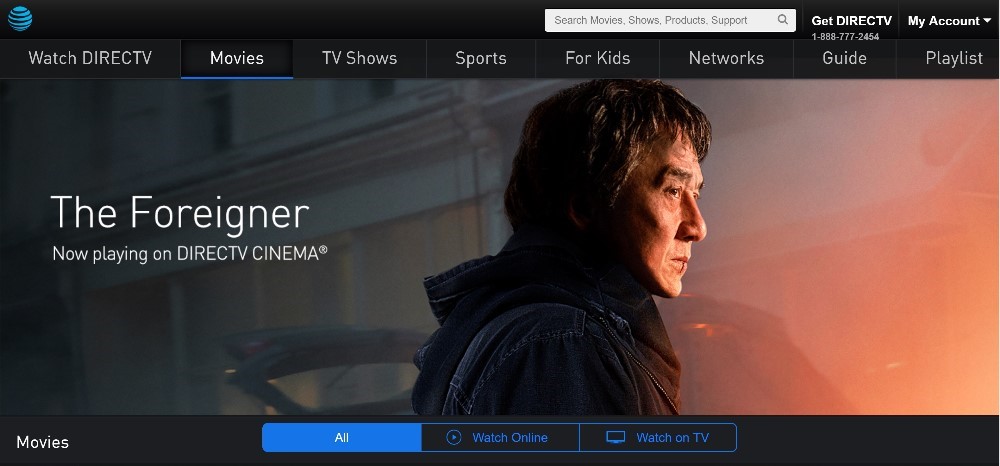 Last year, in November 2016, AT&T launched their own television streaming service called DirecTV Now. The idea was that customers within the US could stream programs without having to sign up for a long-term TV subscription package, making the service more flexible. Subscribers can visit the website www.directvnow.com to stream any of the available shows through their web browser, allowing them to watch on their computer, tablet, or phone rather than having to use the TV.
This service is helpful for a number of reasons: you can watch content on demand instead of having to wait for your show to come on the TV, and you can binge watch multiple episodes at once. There is a big range of content available from major media outlets like A&E, AMC, CBS, Discovery, Disney, Fox, MLB, NBCUniversal, Viacom, Turner, and Univision, and there are optional extra packages which let you access HBO, Showtime, Starz, and Cinemax.
Enjoy your DirecTV Now subscription benefits outside the US with these highly secure VPNs:
NordVPN – Best for DirecTV Now – NordVPN's massive collection of US servers offers you an incredible wealth of choice in how you unblock DirecTV Now. From Canada to China, you can enjoy your favorite streams in complete privacy, and free from buffering to boot.
Surfshark – Works to unblock US streaming services out of the box, with no input required beyond picking a US server.
ExpressVPN – The top choice for speed demons who prefer to stream in 4K. Banish the buffer wheel for good.
IPVanish – An exceptional choice for processor-light devices like Firestick.
VyprVPN – Extremely reliable site unblocking, even in censored countries like Egypt and Russia.
All of this makes DirecTV Now an appealing option for users who are cutting the cord when it comes to their TV watching. However, the service is currently only available within the US, and there are no stated plans to make it available internationally. Even if you have a subscription, if you travel or move outside the US, you won't be able to access your favorite shows–unless you use a virtual private network that is. Today, we'll discuss what a VPN is, how you can use it to access US-only content abroad, and our top picks for the best VPNs for watching DirecTV Now.
30-days money back guarantee
How You Can Use a VPN to Watch DirecTV Now Outside of the US
Here's how region locks like those used by the DirecTV Now website work: When your device is connected to the internet via a network, it is assigned an IP address. This is a string of numbers which is unique to each device, indicating its particular location. Think of your IP address as being like a postal address–it indicates the physical location of your device so that the correct data can be sent there.
Within the IP address is a numeric code which indicates the country in which the IP is located. When you visit a website, the site is able to read your IP address and work out where you are visiting from. This is useful as it allows sites to serve you content which is appropriate for your region–for example, to serve you a version of the site which is in your local language. However, it can also be used to restrict access to some sites.
With DirecTV Now, when you visit the website it checks your IP address to see whether you are located within the US. If you are not, you can still view the website but you won't be able to watch any of the video. This is where a VPN can help.
A VPN works by installing a piece of software onto your device which encrypts all of the data which your device sends over the internet. This encryption means that it is impossible for your ISP or other outside observers to directly track what sites or content you are accessing. You connect to a VPN server in another country, and the data is sent there to be decrypted. When the decryption is complete, the data is sent on its way to its original location.
This means that when you use a VPN, it appears to websites as if you are accessing them from wherever the server you connected to is located. When the site goes to read your IP address, it sees the IP address of the server and displays content accordingly. If you use a VPN to connect to a server in the US, you'll be able to watch DirecTV Now from anywhere in the world.
How We Selected Our Recommended VPNs
Now that you know how a VPN works and how you can use it to watch DirecTV Now, you have the task of selecting which VPN provider you should use. But there are so many VPN providers out there; how do you know which is best for your needs? To help you decide, we've put together a list of our recommendations for the best VPN providers for watching DirecTV Now and accessing other region-locked content.
Here are the issues that we consider when choosing a VPN to recommend:
Fast connection speeds, so that you can watch video streams in high definition without having to wait for content to load or to buffer. Some VPNs are faster than others, and we look out for the fastest.
Plenty of servers in the US. If you want to use your VPN to watch DirecTV Now, then you'll need to connect to a server in the US. We look for VPNs with lots of servers in the US so you can find one which works fast and reliably. It's also nice to have access to servers in lots of other countries so you can watch content from these regions too on other websites.
Good security. A secondary advantage of using a VPN is that as well as getting around region locks, you can also improve your cyber security and protect yourself against hackers or government snooping. We look for VPNs with strong encryption and a no-logging policy to protect your data from getting into the wrong hands.
Easy-to-use software. You'll need to install software from your chosen VPN provider, so we look for software which is easy to use and has all the features you need. We also look at how many operating systems the software is available for, so that you can protect all of your devices with just one VPN subscription.
The Best VPNs for DirecTV Now Subscribers
With all these issues in mind, here are our top picks for the best VPNs for watching DirecTV Now: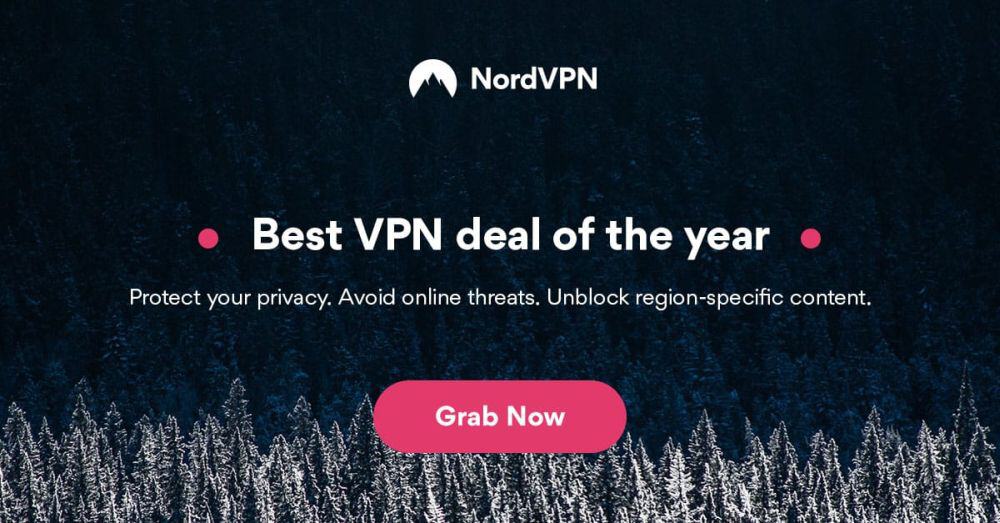 NordVPN is the best choice if you travel around the world or if you want to watch content from all sorts of regions. The service has a strong commitment to security, with a comprehensive no-logging policy and extra security features like double encryption. This ensures that you will stay safe even if you're using the internet in a restricted area.
The connections are fast enough for video, and the network covers more than 5,700 servers in over 60 different countries. The software is available for Windows, Mac OS, Linux, iOS, Chrome OS, Android, and Windows Phone, as well as a Chrome browser extension which you can use to control the VPN right from your browser. This service is perfect for getting around region locks like that used by DirecTV Now plus many other websites in the US and elsewhere in the world.
Read our full NordVPN review.
Pros
Highly affordable plans
Over 5,400 servers in 61 countries
Allows up to 6 devices to be connected at once
"Double" data protection
Money back guarantee policy (30-days).
Cons
Some servers can have average d/l speeds
Sometimes slow in procesing refunds (but always do).

Surfshark is the youngest provider on our list by a wide margin, but it offers some of the most modern VPN provisions you'll find on the market. What's more, it is shockingly consistent at unblocking US-based services like DirecTV Now abroad. Here's how:
First, every one of their 3200+ servers in 65 countries comes encrypted by the 256-AES-GCM cipher by default–the most advanced encryption commercially available–with tunneling via OpenVPN, IKEv2/IPSec, or WireGuard. There are servers all across the US, with static IP and multi-hop connections available for greater flexibility in getting past geoblocks.
But the real key to accessing DirecTV abroad is Surfshark's Camouflage obfuscation and built-in smart DNS features, which automatically activate as needed to counteract VPN-blocking measures commonly used by streaming services. It all happens seamlessly, with buffer-free streams even in HD. No matter where you connect from or what you watch, rest easier with Surfshark's no-logging guarantee on your side.
Pros
Break through harsh censorship to securely access social media and foreign news sites
Over 800 servers in 50 countries worldwide, and constantly growing
CleanWeb mode blocks ads and popups before they load, saving your mobile data and speeds
Zero logging policy ensures your activity can't be used against you
Refund requests are simple and fast–no waiting or hassle.
Cons
Speeds occasionally suffer a noticeable drop
Apps may be too simplistic for power users.
Read our full Surfshark review.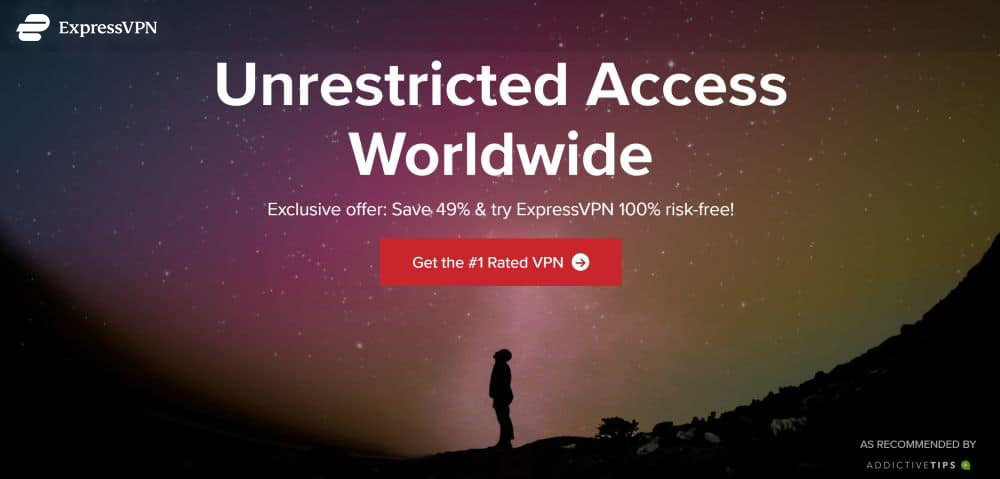 ExpressVPN is one of the world's favourite VPNs thanks to its incredibly fast connections and huge network of over 3,000 servers in 94 countries, including many within the US. This means that it's perfect for streaming video through the DirecTV Now service. It is a more expensive option, but if you're looking for the best of the best in terms of VPN service then this is the provider which we recommend thanks to its speed, large network, and the reliability of its service.
The security is offers is excellent too, with 256-bit encryption and a policy against logging user activity and meta data. The software supports a variety of platforms like Windows, Mac OS, Linux, iOS, and Android, as well as browser extensions for Google Chrome and Mozilla Firefox. These browser extensions can be downloaded either from the browser stores or from the ExpressVPN website, and they are the easiest way to use a VPN. You just need to click the symbol in your browser's tool bar to connect to a server in the US and make sure that you're protected and able to access US sites like DirecTV Now.
Read our full ExpressVPN review.
Pros
SPECIAL OFFER: 3 months free (49% off - link below)
94 countries, 3,000+ servers
Very simple and easy to use
Strict no-logging policy
Great customer service via chat.
Cons
Month-to-month plan has high cost.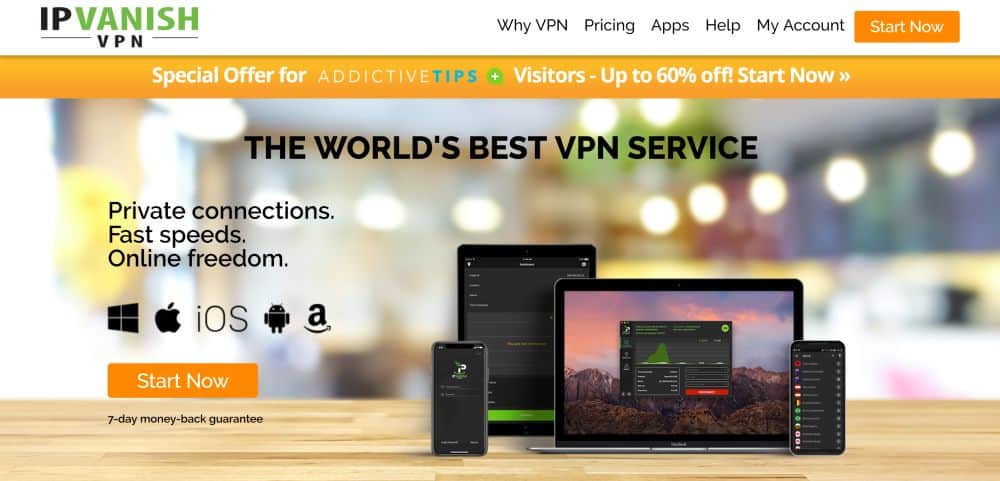 IPVanish is another VPN provider which specialises in speed, priding itself on having super-fast connections to servers all over the world. The speed of the connections is so fast that you'll hardly notice that the VPN is running, and it will let you stream high-definition video content with no annoying buffering.
The network is large enough for it to be easy to connect to a server in the US to let you watch DirecTV Now. The server network covers over 1,300 servers in more than 75+ different countries including lots of servers in the US. The IPVanish software supports load of operating systems, including Windows 7, 8, and 10, as well as Mac OS, Linux, and Android. The security is as strong as you would wish for, with 256-bit encryption to make it hard for anyone to crack and a strict no-logging policy to make sure your browsing data stays private.
Read our full IPVanish review.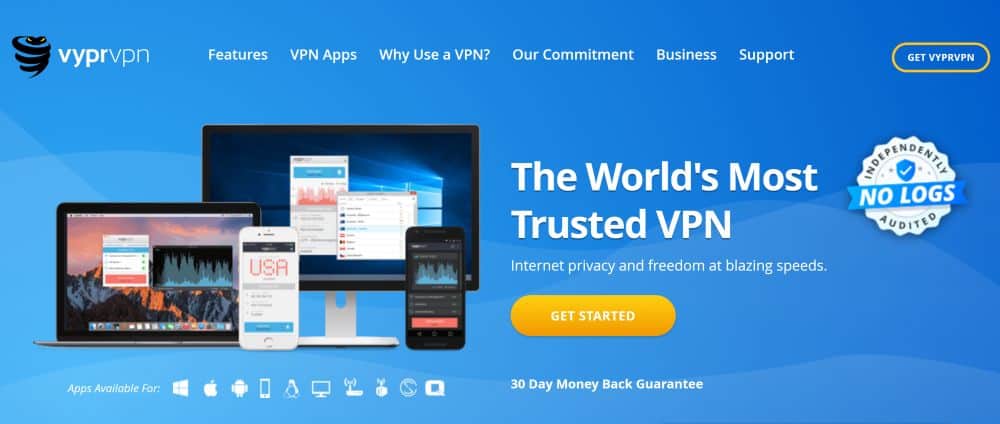 VyprVPN is ideal if you want to watch DirecTV but you are located within China or you only have access to highly restricted internet networks. You'll find that some networks use VPN blocking to detect whether you are using a VPN and to block your access to the internet if you are. But VyprVPN can get around these blocks using its special Chameleon encryption feature.
The Chameleon protocol works by not only encrypting the data which you send over the internet, but also that data's metadata such as the origin and location of those data packets. This double layer of encryption works to both keep you extra safe and to get around VPN blocks like those used in China.
The VyprVPN network has more than 700 servers in 70 different countries and absolutely no logging, and the software is available for Windows, Mac, Android, and iOS.
Read our full VyprVPN review.
Other Advantages of Using a VPN
We've shown you how a VPN can allow you to watch content on the DirecTV Now site even if you're located outside of the US. But before we go, we wanted to mention some of the other advantages of using a VPN so you can be fully informed.
Here's some other reasons that you might want a VPN:
Access other region-locked content as well as DirecTV Now. If you want to watch video from sites like Comedy Central or BBC iPlayer, you can use your VPN to connect to servers in the US or UK respectively and then you'll be able to stream from them.
Protect yourself from hackers and snoopers. Whenever you connect to the internet it's possible that malicious users will be able to access your data or to hack your device. When you use a VPN, your data is encrypted which makes it almost impossible for anyone to observe or interfere with your data.
Stop monitoring from your ISP. Usually, your ISP can track your activity online, including every site you visit and any files you download. To keep your internet use private, the VPN encryption will mean that your ISP can only see how much data you are transferring, not what the contents of that data is.
Conclusion
The DirecTV Now service is super handy for entertainment lovers who want to cut the cord and watch through their computers or mobile devices instead of through their old fashioned TV. However, the service is currently only available within the US, and if you travel outside the country then you won't be able to use it.
But if you live or are travelling outside the US, you can still access DirecTV Now by using a VPN. We've recommended several high-quality VPNs which you can use, and talked about the advantages of using these services so you'll be able to pick one which meets your needs.
Did we mention your favourite VPN for watching DirecTV Now, or is there another method which you prefer? Let us know in the comments below!