We are reader supported and may earn a commission when you buy through links on our site.
Learn more
Wolfpack Kodi Add-on – How to Install the Wolfpack Add-on and Repository
Kodi's third-party add-ons breathe life into the open-source media center. They give you the ability to stream live sports, watch TV shows as they air, check out on-demand movies, or tap into a world of specialty content and foreign media. With Kodi and the right selection of add-ons, your entertainment options are endless.
Several Kodi add-on developers have gone offline in recent months, including some of the more popular ones like TVAddons Fusion. This has given alternative add-ons a chance to shine. One of the best is Wolfpack, a well-maintained, reliable repository and add-on that includes every type of content you can imagine, including HD movies and TV shows. Best of all, the only thing you need to do to access this content is install the Wolfpack add-on and start streaming!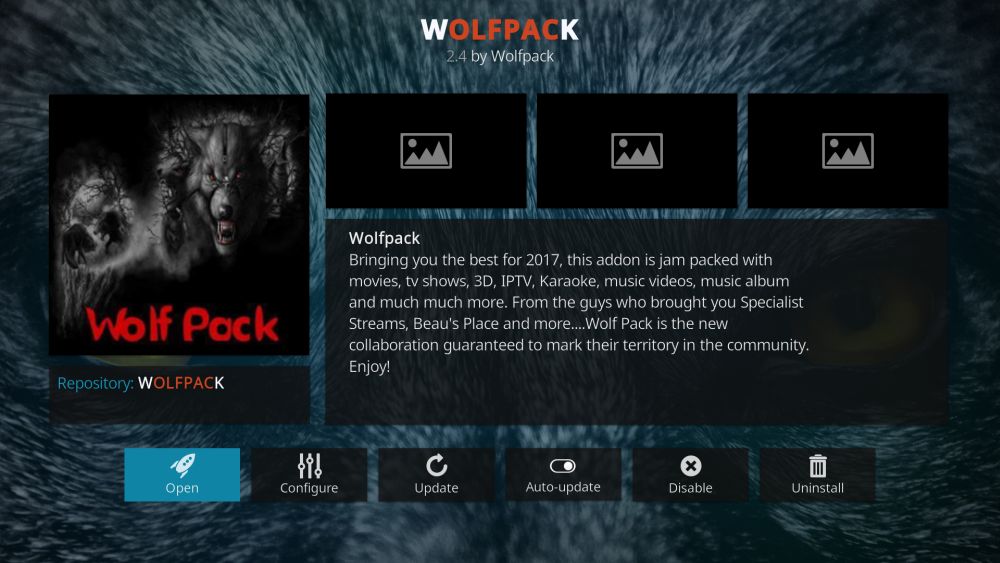 30-days money back guarantee
Before Using Kodi, Get a Good VPN
Kodi is free, open source, and legal to use. The third-party add-ons you can install may exit in a bit of a legal gray area, however. This has gotten the attention of content creators in recent years, creating additional scrutiny for Kodi and its users. Local internet service providers (ISPs) have even started sending out copyright infringement notices to streamers or secretly throttling their speeds. It's a frustrating situation, to be sure, but fortunately there are ways to protect yourself while using Kodi, the most powerful of which are virtual private networks.
VPNs create a private tunnel between your device and the internet, using both encryption and a network of non-local servers to hide your data. This makes it impossible for third parties to monitor your activity, including hackers, government agencies, and your ISP. When you stream through Kodi with a VPN, no one knows what you're watching or where it's coming from.
With a VPN you'll gain access to the following benefits:
Access all of Kodi's add-ons and streaming content through a private, encrypted tunnel
Stop websites, local service providers, and government agencies from tracking you
Protect your personal data while traveling or using public Wi-Fi
Unblock censored websites and geo-restricted content
How to Choose the Best VPN for Kodi
Picking a VPN can be a difficult task. There's a lot of information to research and weigh, including encryption protocols, speed test results, software availability, and server network size. To make sure you don't get tangled up in the avalanche of information, we've simplified the process by providing a recommended VPN service. All of our selections are made using the criteria listed below, ensuring you get the best VPN to use with Kodi for fast, uninterrupted, and anonymous streams every time.
Fast download speeds – Speed is everything when it comes to online video streams. Kodi eats up a ton of bandwidth, especially if you prefer HD content. To make sure you don't spend half your afternoon watching buffering screens, always go with a VPN that delivers good speed test results with low latency scores.
Zero-logging policy – Your activity isn't private if a VPN keeps detailed records of everything you do. Logs make it possible for third parties to gain access to user information, including sites visited, login times, and more. If you really want privacy, make sure your VPN has a strict zero-logging policy on all traffic.
Allowed traffic and file types – Lower-quality VPNs often block some of the more popular types of traffic, especially P2P networks and torrent downloads. Kodi's add-ons frequently use both of these protocols to deliver movie streams to your device. If your VPN blocks traffic or limits bandwidth, you could find yourself staring at a blank error screen.
Software and app compatibility – Kodi can be used on tons of devices, including smartphones and tablets. In order to take advantage of the VPN, you'll need to run it on the same device.
Good server availability – The more servers a VPN has, the better your options for finding a fast connection. It also means you'll be able to connect to the virtual location of your choosing, which is perfect for bypassing geo-restricted content on Netflix, YouTube, and BBC iPlayer.
IPVanish
IPVanish is an incredibly fast, incredibly secure VPN, which makes it perfect for keeping your online activities private, including Kodi streams. This privacy is based on strong 256-bit AES encryption, locking down each packet of data so third parties can't determine the contents or origin of your information. This is combined with a zero-logging policy on all traffic, as well as local features to help protect your identity, including DNS leak protection and an automatic kill switch.
This provider bundles these amazing features together and offers them through a massive network of over 850 servers in 60 different countries. If you need speed and you need privacy, IPVanish is the right VPN for you.
IPVanish includes the following features:
Apps designed for all modern operating systems and devices, including Android and iOS tablets and smartphones
Download torrents with full anonymity, preventing your ISP from sending out copyright infringement notices
Incredibly fast servers allow for uninterrupted HD video streams through Kodi
Unlimited bandwidth and no restrictions on torrent or P2P network data
IPVanish offers a 7-day money back guarantee which means you have a week to test it risk-free. Please note that Addictive Tips readers can save a massive 60% here on the IPVanish annual plan, taking the monthly price down to only $4.87/mo.
How to Install Kodi Add-ons
Kodi add-ons are stored in repositories, zip files that bundle dozens or even hundreds of add-ons created by a variety of developers. This makes it easier to update and distribute individual add-ons without having to track down files every time a new version is released. Kodi offers a variety of methods to install add-ons, some of which are more convenient than others. We prefer the "external sources" method, which requires a quick options change within Kodi's settings page.
Before you can download and install add-ons, follow the instructions below:
Open Kodi and click on the gear icon to enter the System menu
Go to System Settings > Add-ons
Toggle the slider next to the "Unknown sources" option
Accept the warning message that pops up
Once Kodi's settings are updated, you're ready to begin. You'll need to find a repository source URL and copy that into Kodi (that's how the software knows where to look for the repo's zip file). With that added you can install the repository, then install individual add-ons from within that repository. It sounds confusing and it requires a lot of steps, but once you do it a few times you'll realize how straightforward it really is. The instructions below will walk you through the entire process from beginning to end.
Note: The Wolfpack add-on features hundreds of links to outside sources that are constantly changing, making it extremely difficult to verify the integrity and legality of each one. Addictive Tips does not condone or encourage any violation of copyright restrictions. Please consider the law, victims, and risks of piracy before accessing copyrighted material without permission.
Wolfpack Add-on – Complete Entertainment
Wolfpack is one of the best add-ons in the entire Kodi ecosystem. The content is high quality, smartly organized, and constantly updated to remove dead and outdated links. You'll find plenty of movies and TV shows, but there's also a ton of live streams, webcams, music channels, and specialty content. There's also a special "Wolves Den" section with virtual reality and 360 videos, wrestling highlights, YouTube movies, and relaxation videos for those days when you just need to chill. It's such a full-featured add-on you might never want to install another one. Just join the Wolfpack and you're set for life!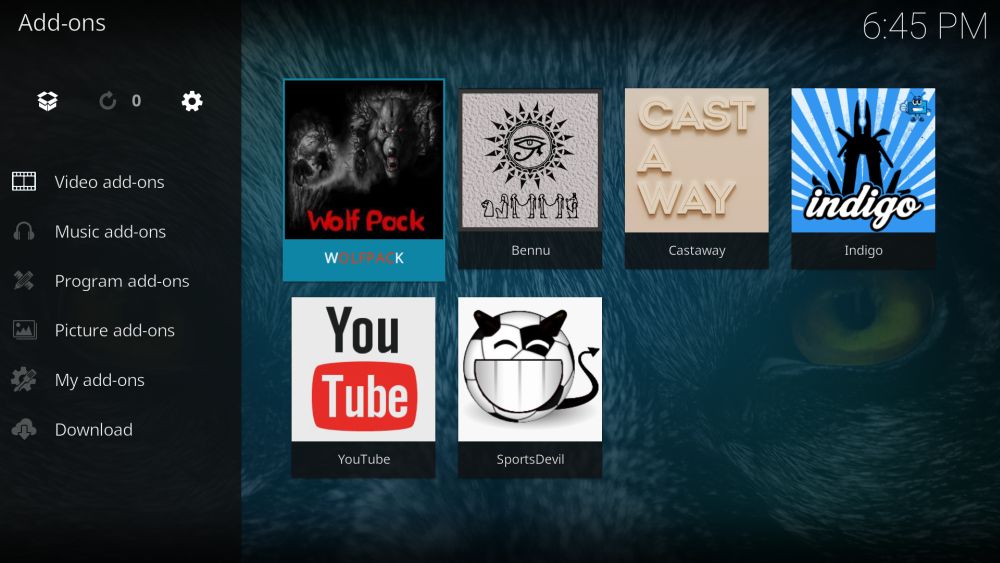 Some of Wolfpack's featured streams include the following:
Documentaries – One of the largest assortments of documentaries in the Kodi ecosystem. History, science, nature, and everything in between.
Kid's Content – An excellent selection of family films and cartoons, all perfectly tailored for children. There's even a "round-the-clock" option you can turn on and plop the kids in front of while you get some work done.
Live Cams – Over 70 live webcams broadcast around the world, recording everything from puffins in the arctic to sharks, big cats playing in the wild, and baby pandas in the zoo.
Live TV – Dozens of global channels streamed live to your device. Includes everything from Animal Planet to BBC, BeIN Sports, MTV, and the Weather Channel.
Movies – Blockbuster hits, new releases, Christmas movies, Kung Fu theater, and an impressive assortment of 1080p films, all at your fingertips.
Standup Comedy – Popular comedians and dozens of recent performances and shows, uncut and easy to access.
TV Shows – Hand-picked TV shows and channels with both live and archived content.
UFC – Multiple options for live UFC streams and on-demand bouts.
How to Install the Wolfpack Add-on and Repository
To install the Wolfpack, you'll first need to install the repository by the same name. Follow the instructions below to get everything set up and ready to go. If you already have the Wolfpack repo installed, skip to step 14.
How to install Wolfpack:
Open Kodi on your local device
Click on the gear icon to enter the System menu
Go to File Manager > Add Source (you may need to click the double-dot to move to the top of the directory)
Type in the following URL exactly as it appears: https://midian.srve.io/repo
Name the new repository "wolfpack"
Click "OK"
Go back to the Kodi main menu
Select "Add-ons"
Click the open box icon at the top of the menu bar
Choose "Install from Zip File"
Select "wolfpack"
Install the file named repository.wolfpack-####.zip (the ### will be version numbers)
Go back to the Add-ons menu and click the open box icon again
Choose "Install from repository"
Find and click "Wolfpack"
Go to "Video add-ons"
Click on "Wolfpack", then install
Go back to the main Kodi menu
Select "Add-ons" and look for Wolfpack
Open the add-on and enjoy your new HD video content!
Is it Safe to Install Wolfpack?
The base Kodi software is incredibly safe. It's also open source, which means anyone can take a look inside to verify the code doesn't contain anything harmful. When you start installing third-party add-ons, however, things get more complicated. Unofficial add-ons are made by outside coding groups and pull content from a wide variety of sources, not all of which are reliable or legal. You'll even run into add-ons made for the sole purpose of distributing viruses. It's rare, but it happens.
A rule of thumb to follow when installing Kodi add-ons: stick to reputable repositories, and never download anything that looks suspicious. Carelessness is what leads most people to using fake add-ons in the first place, so if you keep your eyes open and only download what you need, your Kodi experience will be smooth and safe. It's also a good idea to keep your firewall, anti-virus software, and VPN active any time you use Kodi, just in case.
All of the add-ons we recommend are completely safe to use, including Wolfpack. It comes from a popular repository and has been installed by thousands of satisfied Kodi users. We also test each add-on before featuring it on our site, so if it's on the list, it's safe.
Stream Wolfpack Content to Your TV
When you have access to HD movies and TV shows, you naturally want to show it off. Watching Kodi on a laptop, tablet, or smartphone is portable and convenient, but isn't it better to sit back on the couch and let your TV strut its stuff? Kodi's open-source nature makes it extremely easy to play movies on your TV, and it doesn't take a tech genius to make it happen.
One of the fastest and least expensive ways to stream movies to your TV is to install Kodi on an Amazon Fire TV Stick. They're small devices that cost around $35 and plug directly into your television for instant access to Amazon's video streaming services. By adding Kodi to the mix, you'll be able to access everything Wolfpack has to offer, including live sports streams, TV shows, and HD movies. You can even install a VPN on your Amazon Fire TV Stick to keep your connection private and secure!