We are reader supported and may earn a commission when you buy through links on our site.
Learn more
Terrarium TV – Is It Legal and Safe to Use?
Terrarium TV promises to bring a vast assortment of movies and TV shows to your Android device legally and for free. Sounds too good to be true? Well, perhaps it is–let's try to find out. While it's true that the service possibly has more content that one could ever watch, we're left wondering if it is really legal. And for several reasons, there has been some questioning about the safety of using the service. So many questions that we'll attempt to answer for you.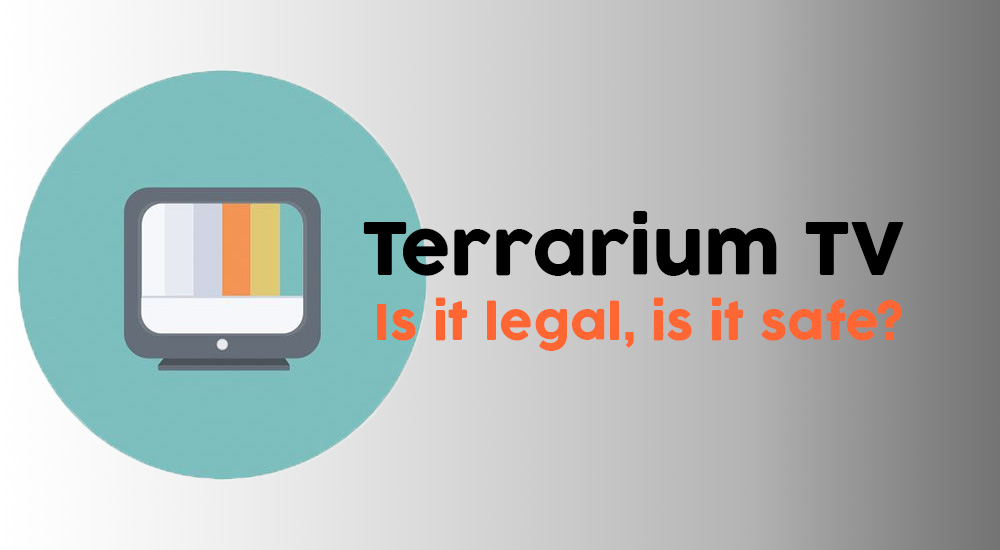 We'll start off our discussion by insisting on the importance of using a VPN when streaming content. Next, we introduce Terrarium TV, what it is, and what it isn't. We follow by attempting to answer the two most important questions about Terrarium TV: is it safe and is it legal?
Since you might want to give it a try and see for yourself, we then give you some instructions on how to get and install the app on your Android device. And before we conclude, we'll discuss a few alternatives that you might want to consider.
30-days money back guarantee
To Keep Your Streaming To Yourself, Use A VPN
Your Internet Service Provider could be monitoring your online activities. This is something they often do to ensure no one is violating their terms and conditions. And if they ever suspect someone is, they can react by throttling down their speed, sending them infringement notices or even interrupting their service. These are all consequences anyone would want to avoid.
A VPN protects your privacy by encrypting all data in and out of your device using string encryption protocols that make it virtually–no pun intended–impossible to crack. Someone–like your ISP or a hacker, for instance, would only see meaningless gibberish and have no clue on what you're doing or where you're going online.
But with so many VPN providers to choose from, picking the right one for your needs can quickly turn into a daunting task. There are simply many factors one should consider. Here are a few of the most important ones. A fast connection speed will reduce and sometimes even eliminate buffering. A strict no-logging policy will further protect your privacy. No usage restrictions will allow you to access any content at full speed. And finally, software for multiple platforms will allow you to use the service all your devices.
The Best VPN For Streaming – IPVanish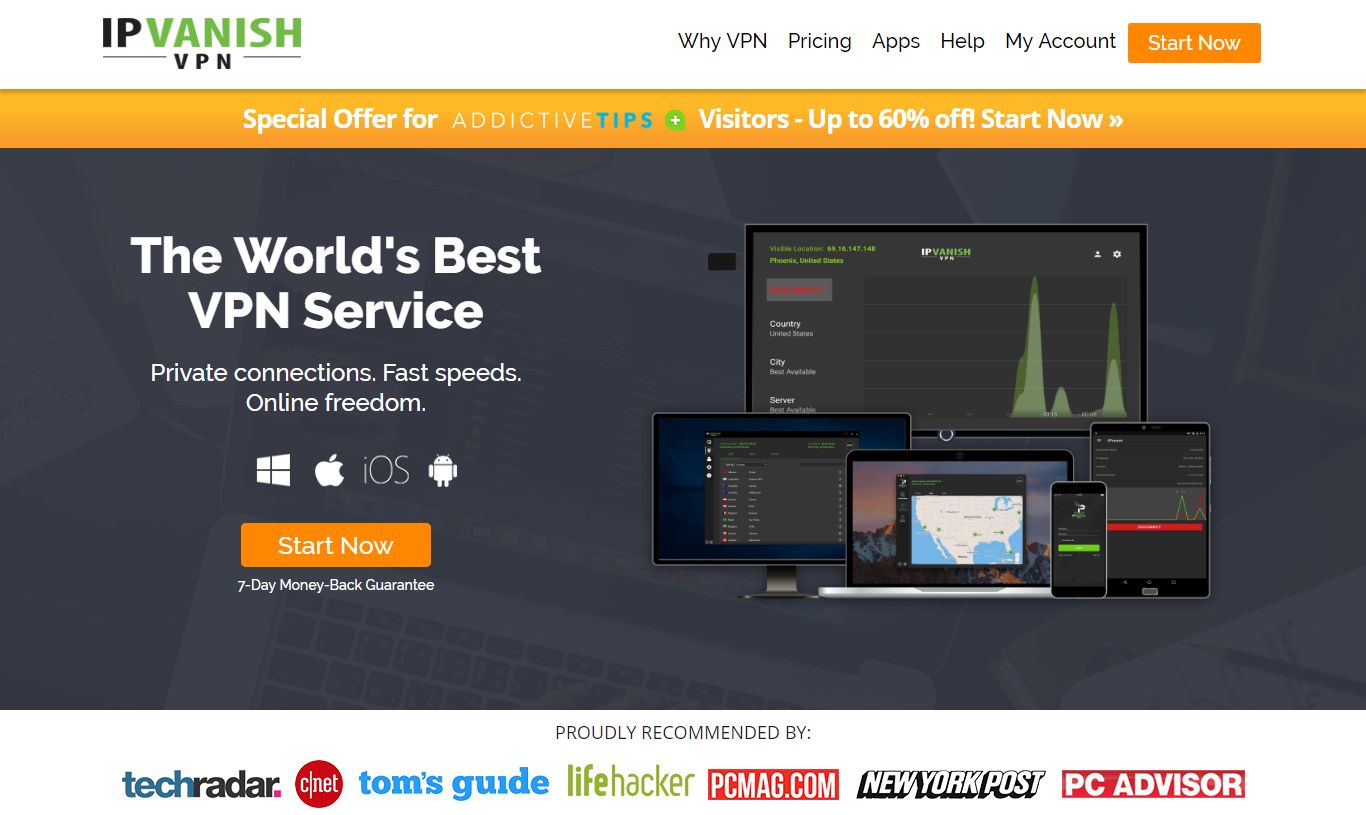 After spending much time testing the various VPN providers, the one we'd recommend for streaming is called IPVanish. The service features hundreds of servers worldwide, no speed cap or throttling, unlimited bandwidth, unrestricted traffic, a strict no-logging policy and client software available for many platforms–including Android. IPVanish truly delivers impressive performance and amazing value.
IPVanish offers a 7-day money back guarantee which means you have a week to test it risk-free. Please note that Addictive Tips readers can save a massive 60% here on the IPVanish annual plan, taking the monthly price down to only $4.87/mo.
An Introduction To Terrarium TV
As we've indicated in our introduction, Terrarium TV is a video streaming application for Android. The app's developer boldly bills it as the "Best Free 1080p HD Movies and TV Shows Android App APK Download".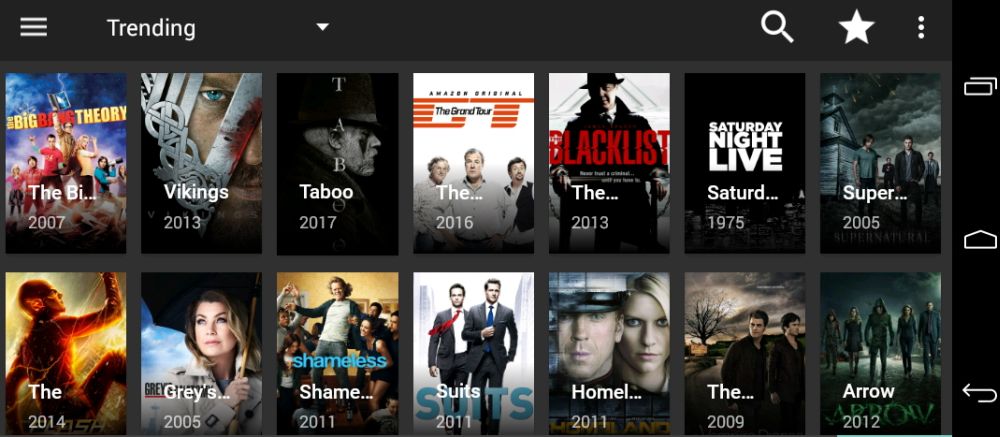 With the increasing costs of cable TV, it seems that many cheap or free services such as this one have surfaced in the past few years. We can quickly think of Mobdro or Stremio that make similar claims to offer free and unrestricted content.
Terrarium TV boasts a number of great features including:
The ability to sort TV shows by country or language
Bookmarking of TV shows and movies
Sources are displayed in descending order of video quality
Media files can be viewed with or without subtitles in multiple languages
Files can be downloaded to your device for viewing later
Built-in support for Trakt.tv and Real-Debrid
Native Chromecast support
New TV Show episode notifications
Concretely, the Terrarium TV interface is quite easy to use. You first choose to browse movies or TV shows and then a menu offers several playlists based on different criteria. For example, when viewing TV shows, you have selections such as most played, most watched (whatever the difference is), and top rated. You can also select among genres like action & adventure, sci-fi & fantasy, mystery crime, drama, or comedy.
And if you choose to browse movies instead of TV shows, you get a similar (but not exact) list of views that include, for instance, an in-theaters section and an extended list of genres. Overall, browsing the selections is a painless experience. And to make locating specific content even easier, the app boasts a search engine that works amazingly fast, especially considering the number of available titles.
Is Terrarium TV Safe To Download And Use?
First and foremost, with the app hosted outside of the Google Play Store, there are some risks. It's not that the app is bad but it lacks the assurance that Google provides that apps hosted on their platforms are free of malware. Apps on the Google Play Store have to go through a stringent review process that, to a certain extent, protects you against bad software. Also, installing the app will require that you change your Android security settings to enable unknown sources. This can leave you exposed, especially if you forget to disable them once you've completed the installation.
Another concern is that the "official" Terrarium TV site no longer exists (more about that in a moment) leaving you with no option than to download the app from a mirror site. Again, this is not necessarily bad per se but it opens the door to downloading a version of the app that has been modified to include malicious code.
And finally, because it is an unofficial app and because it was hosted on GitHub, the app can easily be spoofed. In fact, it already has been and some spoofed versions even made their way to the Google Play Store for a while.
In summary, while the app is not unsafe to install and use, you should still use caution when installing and using it. Make sure, for example, that you download it from a reputable website. You should prefer well-known apk mirrors–such as APK Mirror–and not leave the unknown sources enabled after the installation is complete. If you follow these basic precautions, you should be reasonably safe.
Is Terrarium TV Legal?
The app's developer announced:
"Terrarium TV contains only links to other sites on the Internet. It does not host or upload any videos, films or media files. It does not store any media stream links on any of its servers. Terrarium TV aggregates links in a convenient, user-friendly interface."
If you're familiar with the Kodi third-party add-ons scene, you've heard that before. This is the claim of many streaming video add-on developers, in fact. But that claim didn't stop many add-ons and repositories from being shut down by the industry or the authorities. Kodi add-ons disappear every week and there's no guarantee that Terrarium TV won't eventually meet the same fate.
Add to that the fact that the app's developer shut down its official website and GitHub repository last December and its enough to get you worried. Rumours quickly surfaced that the developer had received threats of legal proceedings that made him react the way he did but apparently, the truth is very different.
Official source announced through Reddit that, while the site and GitHub repos were down, the developer had not been the object of any legal procedures and simply decided to "take a break for a while". It was said to have been a "purely precautionary measure".
Since then, new versions of the app have appeared but they were distributed through other channels. And even if the app was no longer developed, it would keep on working and new movies and TV show seasons and episodes would continue being added as this is all automated within the app itself.
What Does It All Mean, Concretely?
We're not lawyers so we can't really give you legal advice. It is clear that some of the content that you can access through Terrarium TV is unlicensed and therefore, illegal in most circumstances in several jurisdictions. However, laws are different from location to location.
Although we highly doubt that the entertainment industry will go after individual users, addictivetips.com does not condone or recommend the use of any means to access content that you are not legally authorized to access. We urge users to use their best judgement and to take every possible step to avoid breaking any local laws. Piracy is a serious problem that not only hurts the industry but also its creators, people like you and me trying to earn a living.
Installing Terrarium TV
With the official site down, installing Terrarium TV is a bit more complicated than it was. Well, actually, it's not really more complicated but possibly somewhat riskier. But if you follow our directions, you should be safe and be all set in no time.
Before You Begin
Installing an Android app from outside of the Google Play Store requires that you enable Unknown Sources. Go to your device's settings and tap Security. Scroll down the screen until you find the Unknown sources switch and tap it to enable them. A warning message will pop up, tap OK to accept it.
Downloading Terrarium TV
The first step is getting the Terrarium TV apk file. To make the process easy, we suggest you do it from the device where you intend to install the app. If you can't–as will be the case if your device doesn't have a browser–you can still download the apk from another device but it will require an extra step to copy it to the target device later.
As of this writing, the latest version is 1.9.4 and the apk file size is 23,815,233 bytes. The best site to download the apk from is APK Mirror. You can grab the APK from here.
Scroll down the page and tap the grey DOWNLOAD APK button. Be careful not to tap one of the download links in the advertisings throughout the page.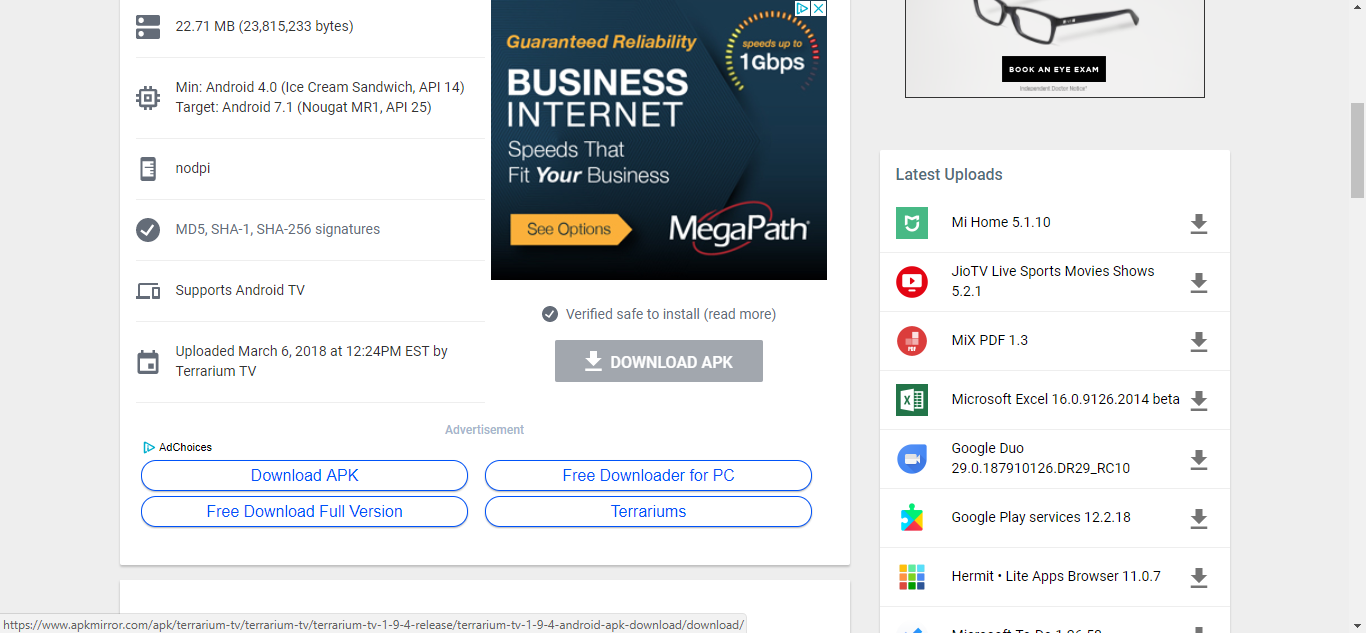 When prompted, save the file to the local device.
Installing The APK
Once the download is complete, a notification will appear in the notification area at the top left of your android screen. tap the notification to open the installation screen. The screen will show that the app requires no permissions. Tap INSTALL and the bottom right to launch the app installation.
Installation takes a couple of minutes. Once it's complete, you can either go back to your Android main screen by tapping DONE or launch the app by tapping OPEN.
When you later need to launch the Terrarium TV app, you'll find it in your device's app drawer. Since it was not installed from the Google Play Store, there won't automatically be an icon for the app on your screen but feel free to add one if you want.
By default, the app opens in the Trending TV Shows screen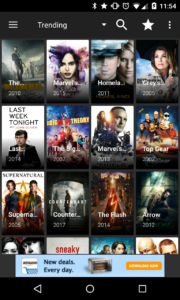 One Last Step
Unless you plan on installing many more apps from outside the Google Play Store, you can now disable Unknown sources.
Again, go to your device's settings and tap Security. Scroll down the screen until you find the Unknown sources switch and tap it to disable them.
Are There Any Alternatives?
Given the unclear legality of using the app, many users have been wondering if there are any alternatives. And again, the answer to this question is yes and no.
If you want to be able to watch the latest movies of TV show episodes, you're going to have to pay for the service. There are no legal ways to watch this type of content for free. Several services will let you watch either live TV or on-demand content on your Android device. You can think of YouTube TV, for example. Other examples include Hulu, Amazon Prime Video or Netflix. They all have great content and excellent Android apps.
But if what you want is free and legal content, there are still several options that are available. Of course, they won't let you watch all the latest and greatest content but don't let that stop you from enjoying what they have to offer. We've tested three of the best-known options, Tubi TV, Crackle, and Pluto TV.
Tubi TV
Tubi TV is an excellent streaming service that's available on many smart TVs, media players and on Android, thanks to a dedicated app. The service has one of the largest content libraries of any online platform. With over 50,000 movies and TV episodes, including 600 titles rated "Fresh" on Rotten Tomatoes, you'll have plenty of choices. And the best part is that Tubi TV is completely free to use. It is available in Canada, the US and the UK, although not all content is available in every country. Of course, using a VPN will let you bypass the country restrictions and access any content you want from anywhere in the world.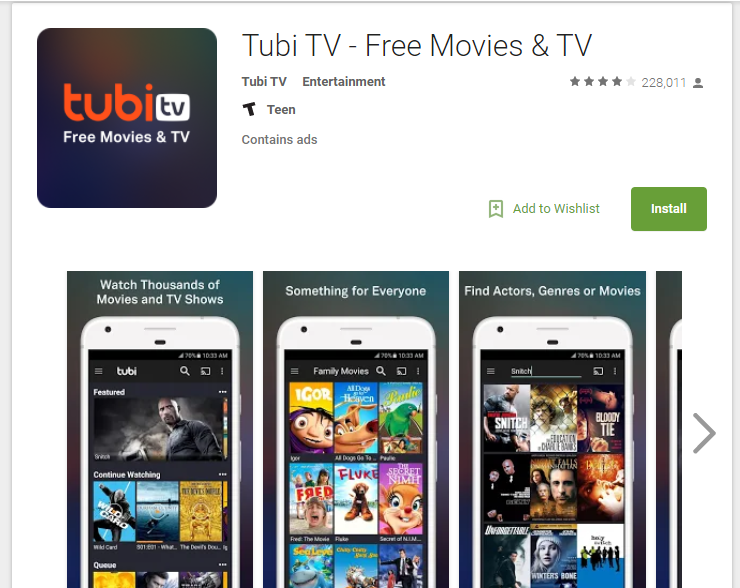 Unlike some other free streaming services, Tubi TV features a good selection of better-known titles including The Inbetweeners, Hard Candy, and Death Note. They might not be the top shows from the big networks but they still offer plenty of entertainment. And with content neatly organized into categories, finding something you like to watch is easy.
Crackle
Just like Tubi TV, Crackle is another free streaming service but with one major difference: it's owned by Sony. Sony and its subsidiaries, among which you'll find Columbia and Tristar, are producing tons of movies and TV shows. You can thus expect a good selection. And Sony has the required funds to secure other non-Sony titles. The service uses ads to generate revenue but it is otherwise totally free and unrestricted.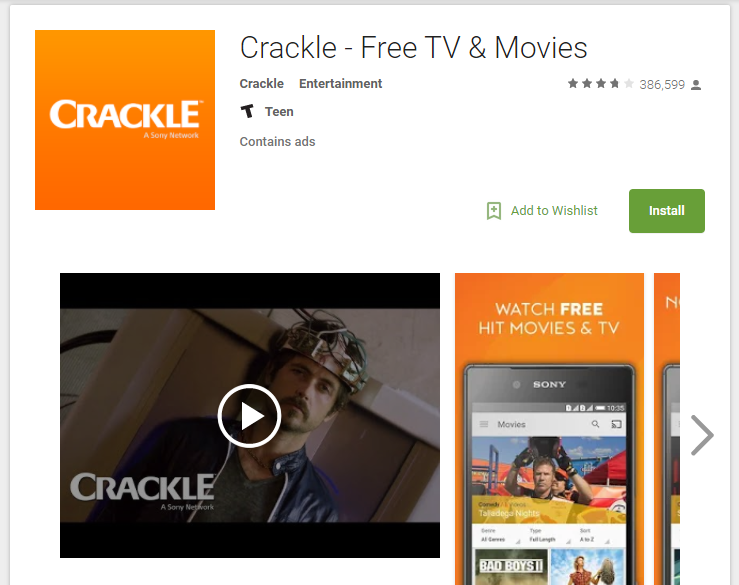 Content-wise, the Crackle selection might not be as broad as other services like Tubi TV. But the titles you'll find are often better known. For instance, there's Heroes, House of Flying Daggers, and Fear and Loathing in Las Vegas. The only drawback besides the advertising is that most of Crackle's content is a few years old. But this is to be expected from a free service from one of the majors.
Pluto TV
Pluto TV's main differentiating factor is the 100+ live TV channels that it offers. This makes it a great replacement for cable TV. It also has thousands of on-demand movies from big names like Paramount and Warner Brothers.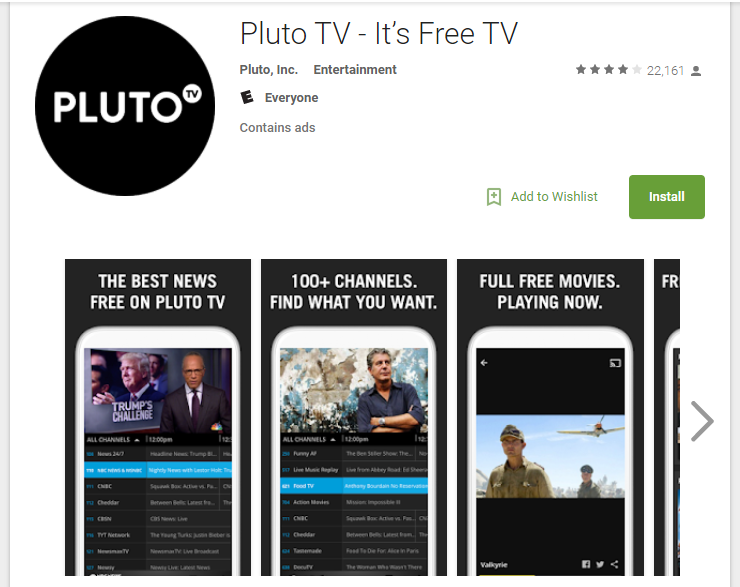 Here's a sample of some of the channels you'll find on Pluto TV.
CBS New
Food TV
Frontdoor
MST3K & RiffTrax
NBC / MSNBC
After School Cartoons
Weather Network
Horror 24/7
Bloomberg TV
Crime Network
Fight Channel
Pro Wrestling Channel
World Poker Tour
Action Movies
Tastemade
CNET
Anime All Day
THC – Channel 420
Man Up
4K TV
Adventure TV
Action Movies
And when it comes to on-demand movies, the experience is just as great. On-demand movies are organized into more than 80 categories with names such as "Not on Netflix or Hulu", "Something For the Whole Family", and "Punch, Kick, Ka'Boom!". And more titles are added every day.
If you think this is too good to be true, you may be right. It all depends on where you live. The only drawback with Pluto TV is that it is strictly exclusive to the USA. Even a VPN won't help you as the Google Play Store won't let you install it if your Google account is not a US account.
There are ways around that such as installing the app by sideloading it from one of the well-known apk mirror sites but this is outside the scope of today's discussion.
Wrapping Things Up
While Terrarium TV is almost too good to be true, it offers a great deal of excellent content. The only drawback is that it might be a dying app despite being so great. It might also be due to its questionable legality or the fact that its developer sort of abandoned it. Should you decide to give it a try no matter what, our instructions should help you get it installed on your Android device,
And if you'd rather stay away from it, there are plenty of other apps out there that offer truly free and licensed content that you can watch legally. We've introduced three of the best such apps.
Have you tried the Terrarium TV app or any of the alternatives we suggested? What did you like most about it. And is there something you didn't quite like? Please, share your experience with us using the comments below