We are reader supported and may earn a commission when you buy through links on our site.
Learn more
How to Watch Thor on Netflix from Anywhere?
When it comes to superheroes, Thor is certainly a special kind. Thankfully, the Marvel Universe has brought us a wonderful character, and we enjoy going back and watching all these cool movies featuring Thor. Let's figure out how to watch Thor on Netflix and even if that's possible.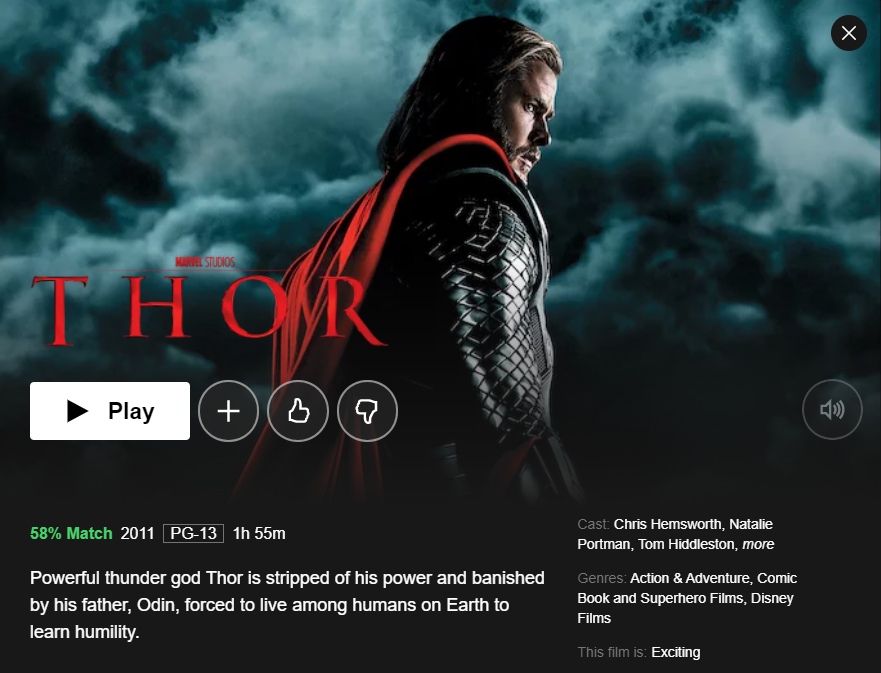 Thor was the fourth movie in the Marvel Cinematic Universe. Chris Hemsworth became Thor, while Natalie Portman, Tom Hiddleston, Stellan Skarsgard, Idris Elba, Kat Dennings, Anthony Hopkins, and Rene Russo joined in as well.
The film had a budget of about $150 million and made nearly half a billion at the box office. It sure didn't win as much as other Marvel movies did, but it made a lasting impression that brought several other Thor movies to life and put the character in The Avengers films.
30-days money back guarantee
Can I watch on Netflix?
Since Thor is a film that is part of the Marvel Universe and the Marvel Universe is now owned by Disney, the film is available to watch on Disney+ in the countries where the platform has already expanded to. Therefore, Disney is slowly pulling all the Marvel films from Netflix wherever they are available, but they are yet to reach Canada. So, no matter where you live, you can watch Thor in the Canadian library if you have a Netflix subscription.
Editor's note: NordVPN is our #1 choice for unblocking Netflix. Sign up for the 2-year plan with NordVPN at $3.49 per month, as well as 3 months for FREE. A 30-day money-back guarantee is included on all plans, so you can cancel any time and get your money back.
How can I watch Thor on Netflix from anywhere?
Netflix is available in over 190 countries, and they have individual libraries in each of these nations. Furthermore, the libraries are geo-blocked, so you cannot access them from another country unless you have the right tools at your disposal.
As annoying as it is not being able to watch all the content you want – even though you're paying pretty much the same subscription price as everyone else in the world – it is understandable since it's directly tied to Netflix's licensing deals managers to sign.
With Thor being available on Netflix Canada, there is still a chance for anyone with a subscription to watch the film. In fact, it's relatively easy to do that because you only need to have a VPN. VPNs are complex tools that allow people to route their internet connection through foreign servers in order for new IPs to be assigned to their devices. In this way, when you're accessing Netflix, you will appear to be in Canada and get all the content that is available in this specific library.
Our recommendation is to use a premium VPN like NordVPN, which has thousands of servers all over the world and makes use of military-grade encryption to protect everyone's privacy.
Here's what you need to do to watch Thor on Netflix.
Start by subscribing to NordVPN – and hurry up because they offer our readers 68% OFF for the 2-year plan at $3,49/month.
Once you set up your app and get into your account, you can go ahead and look for a server that is located in Canada.
As soon as a connection to the new server is established, you can go ahead and load Netflix in your browser or relaunch the app on your device. You will now be able to stream all the content that comes from Netflix Canada, including Thor.
There it is! It's really not that difficult, and we do hope you found it easy.
Won't Netflix know I'm using a VPN?
Some years ago, Netflix decided that it wanted to stop people from using VPNs on their platform, so they managed to find a way to blacklist various IPs coming from what seemed to be VPNs. The whole technology doesn't really work against premium VPNs, as most of them fly under the radar.
We haven't had any issues like this with NordVPN, but it doesn't mean that this cannot happen. That being said, if you do run into any problems when using NordVPN, you can always contact the NordVPN customer support team, and they will be more than happy to guide you towards a server that works with Netflix in your desired country. Of course, you can try to change the server beforehand and even clear all your cookies, as you may be able to fix the problem on your own.
Can't I use a free VPN instead?
Free VPNs are easy to find online, but they are often useless in an effort to watch anything on Netflix, including Thor. First of all, we're going to mention one particularly dangerous situation, which involves VPNs that were actually malware. Time and time again, so-called VPNs were discovered in the app stores carrying malware in the code. Once installed on a victim's device, it would start collecting information about them, including credentials for email accounts or social media, banking details, information about your employer, and so on. Banking fraud, identity theft, and phishing attacks against your friends and family are among the possible outcomes of this situation.
Another thing you need to take into consideration is the fact that free VPNs are also the first to get blacklisted by Netflix since they are super-easy to track. However, even if they were capable of bypassing the blockade that Netflix has, they would still be useless because Netflix requires a certain internet quality to be able to stream content. Since they have few servers at their disposal but there are loads of users involved, the internet speeds will be extremely low.
There are also VPNs that work with peer-to-peer routing technology, which enables users to trade in access to their devices so they can work as servers for other people. Sadly, the free VPNs do not stop working when you stop using the app, and they will continue using your device's resources in the background. This can have a considerable impact on your device's performance. There is also the fact that these apps are known for not using encryption on any of the connections – and even worse, keeping logs of people's online activity. Since VPNs are supposed to be a synonym for privacy, this is a major red flag.
Premium VPNs will add an extra bill to your account monthly. Still, it's something that you should definitely consider if you want to watch Netflix in complete privacy anywhere in the world and to also protect your identity.
Final thoughts
We hope that you're going to take a look at Thor with your Netflix account, even if it means traveling virtually to Canada. Hopefully, the film is there to stay for yet another while longer, so let's go and enjoy watching young Chris Hemsworth and Tom Hiddleston in this awesome film.