Record Audio And Video In Office OneNote 2010
Microsoft OneNote 2010 allows users to record audio or video files, which is very useful to capture audio/video content that enhance or complement the content of your note. It facilitates users to record lectures or explanation of complex processes during meetings along with writing the notes. For audio & video recording you need to have a microphone and web-cam respectively.
To start off with it , launch Microsoft OneNote 2010 and create new or open existing Note.
Navigate to Insert tab, and click Record Audio.

click anywhere in the editing pane, to start recording.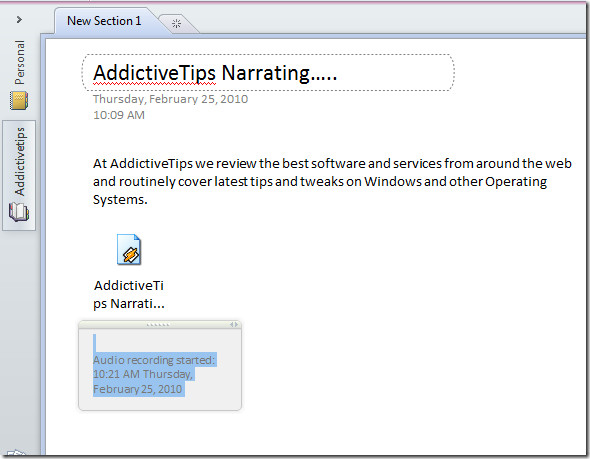 On placing audio file, you will can see the description box along with an icon which show time and date of recording. A new Recording tab will appear, you can pause or stop the recording by clicking respective buttons,

Once recording stopped, you will see Playback tab, which will provide you with Play, Rewind 10 Minutes, Rewind 10 seconds, Fast forward 10 seconds and Fast Forward 10 Minutes buttons.

For Inserting video in OneNote, hit Record Video button and click on any location in OneNote editing pane to start video recording.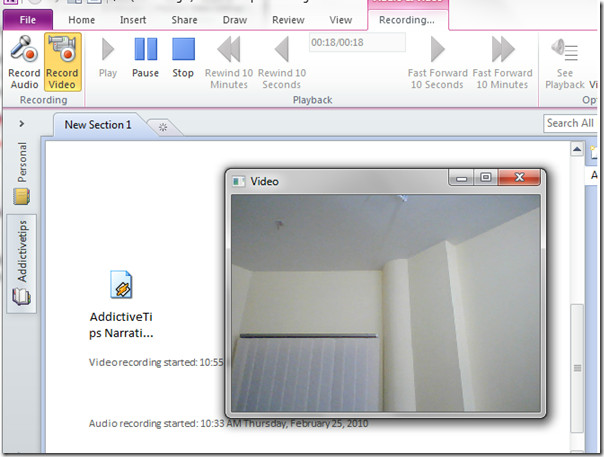 For configuring audio & video settings, click Audio & Video Settings.

OneNote Options dialog will appear, from Audio recording settings you can select desired Device, Codec, or Format to be use for the audio recording. From Video recording settings you can select Device and desired Profile.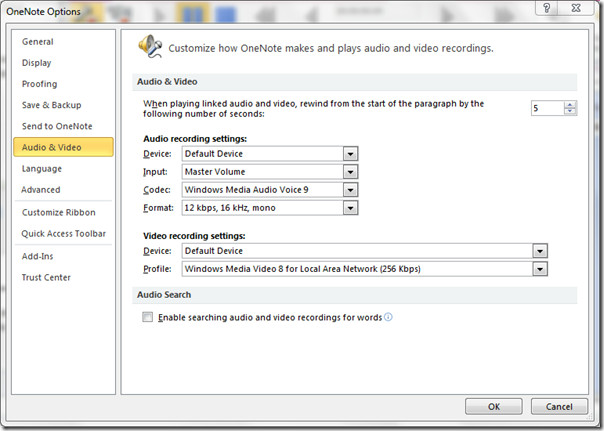 Another good feature of OneNote is that it can record audio even when minimized to the system tray. Right-click the OneNote icon in the system tray and hit Start Recording Audio to record the audio instantly.