Audio Control: Define & Switch Between Multiple Sound & Alert Profiles [Android]
We've seen some very effective ways of instantly switching to a user-defined volume present on Android with sound profile management apps, such as, Volume Rocker, Fine Volume Control and Volume Sync. Adding to the long list of apps from said genre is Audio Control, a free tool that lets you define volume profiles as per requirement. There is no restriction on the number of profiles that can be created, and for each profile, you can specify individual volume levels for your calls, ringer, notifications, media, alarms, speaker phone and the operating system itself.
In addition, the app provides you with an option to specify a custom ringer mode (silent, vibrate or normal) and separate vibration settings for your calls and notifications. With Audio Control, not only can you set the required vibration intensity level, but also view all volume levels within the currently active sound profile on your homescreen using the app's customizable widgets.
Audio Control easily qualifies as one of the the most feature-rich and customizable volume control tool for Android devices (although its looks might suggest otherwise). Not only does the app offer ample customization, but is also quite simple to use owing to its uncluttered interface.
All you need to do in order to define a sound profile is tap the Profiles button at the bottom of the app's homescreen, hit Create New Profile, provide a name, adjust the various volume sliders, Ringer and Vibrate settings as per your liking. Once done, hit Save.
The icon of each sound profile depicts the volume levels set within to help you identify them. To help you easily understand its various controls, the app contains a very helpful tutorial (Menu > Tutorial) that guides you through the entire interface, step-by-step. Selecting Menu > Settings takes you to the app's preferences screen from where you can set the preferred vibration intensity level, select a Widget Color of your choice, and tweak several other sound settings.
Audio Control's homescreen widget comes in as many as four different sizes. The bars displayed on each widget represent the user-defined volume levels for your device's various sounds.
All the aforementioned features are available with the Lite (free) version of Audio Control. Users willing to spend $2 for the app's Pro variant can avail additional features such as scheduled sound profiles, speakerphone volume control, a Profile Widget that helps switching between various profiles from the homescreen, and lots more.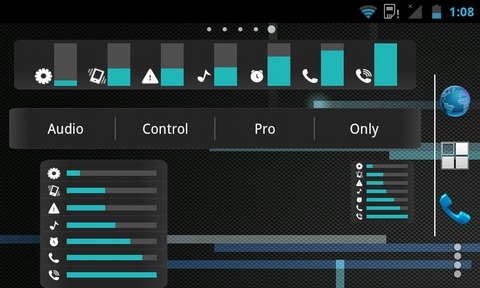 Download Audio Control Lite for Android (Free)
Download Audio Control Pro for Android (Paid)